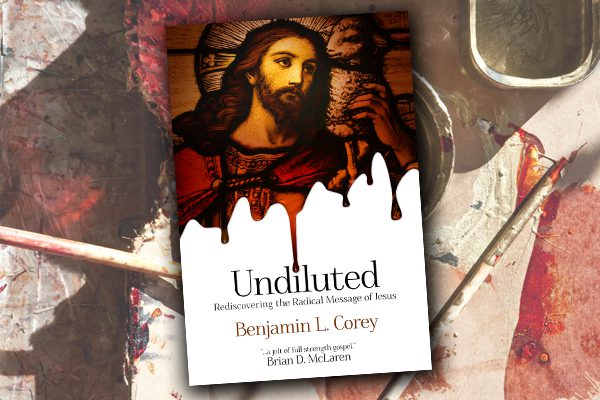 A book title about Jesus called Undiluted can make you roll your eyes at first if you come from the evangelical world. Because it trots out a long-standing trope that's endemic to evangelical identity: "Those nominal mainline Christians have a 'watered-down' gospel, but we've got the undiluted, fully potent, Jesus plus nothing version that's been stripped of all those religious traditions and worldly values that get in the way, etc." Every evangelical has been told from day one that we're the only Christians with the real undiluted Jesus. So it's a delightful act of mischief for Ben Corey to turn the "undiluted" trope on its head to narrate his escape from fundamentalist Christianity by way of Gordon-Conwell Theological Seminary.
Corey didn't write this book to make exotic new claims about any of the -ologies. He barely cites any scholars even though he's unpacking the story of how seminary ruined his fundamentalism. He keeps the language very simple and conversational. It's gruff and manly. It's definitely not liberal. It seems like it's designed to be a book that someone who came from the place Corey came from could read and follow the trail of bread crumbs to freedom.
In the story of Jesus calling his first disciples from the shores of Galilee, Corey discovers a great metaphor for where he found himself at the beginning of seminary:
The weight that's in your arms right now…it's heavy, isn't it? The dogma. The tradition. The theological labels. The long list of dos and don'ts. Like with his first disciples, Jesus has rolled up on the scene and found us to be carrying a lot of nets too. These nets grow so very heavy. So heavy sometimes that we see Jesus slip off into the horizon because we're trying to carry so much that we can't keep up with him even though we intend to. I know it is, because I have been there… It's time to lay down tradition, theological labels, reliance on denominational identity… While culture places high value on tribal identity, Jesus simply says, "If you want to put down your nets, you can come follow me." [32-33]
In each of Corey's chapters, he explores a radicalism to Jesus' true gospel that is often the opposite of what we were taught in conservative evangelical Christianity growing up:
Prior to my arrival at Gordon-Conwell… it was continually drilled into my head that the gospel of Jesus was "offensive," and was something that would earn a faithful Christian a predictable level of persecution throughout life… Offensive, because the lines are drawn in such a way that a select few get in, while most everyone else, is out… The truth I came to see is that the message of Jesus isn't offensive because of who gets left out, but who gets let in… Jesus began and ended his public ministry the same way: by infuriating the religious conservatives through preaching a radical message that included the excluded and embraced the outcast. [48-50]
Corey's chapters cover all the bases of the basic ethos of the post-evangelical movement: a hunger for authentic community, an insistence on living in the tension between faith and doubt, a concern for the vision of social justice laid out in Jesus' proclamation of God's kingdom, and a grander vision of atonement as God's reconciliation of the universe. All of these themes are certainly radical and "undiluted," but I really appreciate the way that Corey articulates them in a manner that isn't unnecessarily hostile or alienating to a conservative readership. His words are bold and tough but not condescending or inflammatory. We experience Corey's exploration of each theme as a personal journey of liberation on which we have accompanied him.
So if you've got any relatives who seem like they're ready to leave the fundamentalist prison and step out into the sunshine, this book might just be the jailbreak they need.
Note: This review is part of the Patheos Undiluted Book Club. I was given a free review copy of the book but received no compensation for this review.