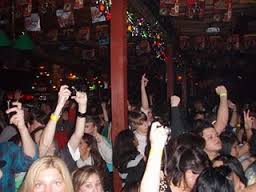 It's one of those phrases you know not to use in mixed company. But there's a code of honor among heterosexual young adult men at bars and parties. To use nineties parlance, when another man is "busting a move" or "getting his mack on" with a woman, you don't interfere. Because that's "cock-blocking." And I have no idea why it wasn't completely obvious to me before that this unspoken law of young adult male sexual "ethics" is a cornerstone of rape culture.
In my first two months of campus ministry, nothing has been more disturbing than getting re-exposed to the ubiquity of campus rape culture. When I was in college, I knew that women got raped. I even knew that the percentage was alarmingly high. I knew women personally who were survivors. What I didn't recognize was the degree to which I myself was contributing to a cultural attitude about sex that makes rape happen. I simply thought that sex was the reward for being a smooth pickup artist at the bars and parties I went to. Rape was breaking the rules by using force. But I never recognized that framing sex as a manipulative conquest is already misogynistic and helps produce rape culture.
Oh, I definitely believed that premarital sex was a sinful temptation, but as an evangelical Christian, I defined sin as something between me and God. My sexuality had nothing to do with behaving justly or unjustly towards other human beings. See, I'd heard evangelical preachers praise the "virtue" of King David telling God, "Against you alone have I sinned" (Psalm 51:4) after he'd raped a woman and murdered her husband. When sexual sin is strictly a question of "holiness" between you and God, then your duty as a young Christian man is to avoid letting yourself get "baited" by seductive women so that you can stay pure for God. And of course the duty of young Christian women is to avoid being sexually attractive to Christian men and to fend them off successfully if they happen to "fall."
George Will wrote a very offensive column that captures the typical conservative response to the problem of rape culture, which he dismisses as the "cocktail of hormones, alcohol and the faux sophistication of today's prolonged adolescence of especially privileged young adults." In other words, you liberals wanted a sexual revolution and now look at what a mess you've made of it! If you don't want rape culture, stop having premarital sex.
The ancient "solution" to the problem of rape was patriarchy. As long as women were under the protection of their fathers or husbands, they were "safe" (presuming that the men in their lives were benevolent dictators and not abusers). And of course if they happened to get raped by a man who just couldn't control himself, that was an easy fix — just do a shotgun wedding! Over the past several decades of backlash against the sexual revolution, many conservatives have been promoting a return to patriarchy that features things like daddies pledging to protect their daughters' virginity at purity balls and young men and women entering into courtships with elaborate contracts between them, their parents, and pastors (see Addie Zierman's When We Were On Fire).
So what would a non-patriarchal response to rape culture look like? I think we need to do more than just sit boys down and remind them over and over again that no means no and someone who is drunk can't say yes. Honestly, those boundaries should be self-evident and obvious to anyone with even a kindergarten level of social awareness. What we're up against is not genuine ignorance, but a very toxic, powerful socialization that all men in our culture have received from the way that capitalism uses sex to make money.
Men have been socialized to view sex as entitled consumers. Women's bodies are products made for our consumption. One Tulane student blog actually refers to women's bodies as "burgahs," sharing this gem of a poem: "Buns golden brown / A carnivores delight / I've seen you down town / And I want you tonight." And no, I'm not going to link to it! I don't want to give him traffic. It's a great example of the predatory attitude that lays a foundation for rape culture.
Men need to be deprogrammed in a very fundamental way. That's important work that I see as a major part of my role as a campus minister. In the meantime, we need to have whole communities full of unashamed "cock-blockers." I'm not saying that men should not be held responsible for their own behavior. But since too many men refuse to behave responsibly, the bystanders at clubs and parties need to feel empowered to intervene when predatory behavior is occurring that can lead to rape. Tulane is going to be doing some bystander intervention training this year that I hope will be helpful.
I just don't think sex needs to happen the way that it's come to be normalized in the world of hookups and one-night flings. If some dude is trying to manipulate an intoxicated stranger into spending the night with him, whether or not he's actually slipped something into her drink, I think it's perfectly legitimate to hijack his conversation and sabotage his plans. I'm not trying to take any of the onus off of rapists for what they do. But we have normalized a script for sexual behavior that is very easy for predators to exploit. We need to be more proactive as a community on the prevention side of rape culture. In addition to building a culture where survivors are respected and their rapists are prosecuted, we need to build a culture where communities take responsibility for keeping everyone safe.