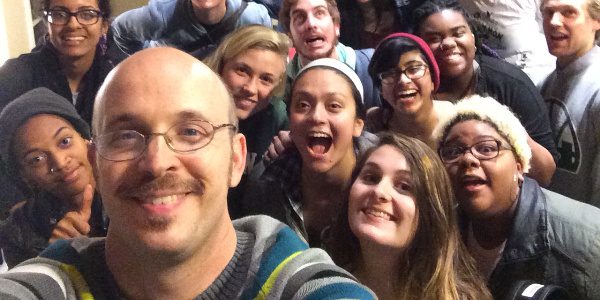 There is not a more critical time in the spiritual journey of Christians today than when they go off to college. This is especially true in a day when many good Christians are ambivalent about their faith because of the ugly toxicity of our nation's culture wars. Our campus ministry NOLA Wesley is a place where Christian students can discover a rich, authentic faith amidst vulnerable, safe community. We believe that the real gospel of God's grace has never been more urgently needed in the hyper-competitive meritocracy of university life. And we need your help! In a time when the future of the United Methodist Church is uncertain, we will not survive without the support of private donors. Our goal is to reach $1000 in monthly pledges through our Patreon account. We are currently at $168 and we trust that God will provide through the generosity of his people.
NOLA Wesley is currently the only campus ministry in New Orleans and the only United Methodist campus ministry in the state of Louisiana that is fully queer-inclusive and affirming. About half of our student leadership is queer. We also have a racially diverse community. Last year, we started Prism, a small group for queer Christians and allies that is our most thriving discipleship group. Every week, we had some of the most spiritually stimulating conversations I have ever been a part of. Our students are incredibly wise and gifted. It has been so exciting to see them grow in their love of Christ in a space where they are fully, unconditionally accepted. We believe that self-acceptance is the foundation to gaining the integrity to improve our characters.
My wife Cheryl led a group of students last spring through a class on relationship boundaries that was critically important and helpful to college students. This fall, she will be leading a group based on the
Freshman Survival Guide,
a resource that allows for honest conversations about all the taboo topics of college life and spirituality regardless of the faith background of students.
We are super-excited about the class of new freshmen that we have coming in this year. We've already met about half a dozen of them, which puts us way ahead of where we were the first two years of our ministry. We have a student who was the president of her state United Methodist Youth Fellowship. We have another student who was studying vocal performance at an elite magnet arts school in New Orleans. Based on the musical talent of all of our incoming freshmen, we hope to have a fully functioning praise band by midyear.
We will continue to pursue our commitment to service in the community through our work preparing meals for several hundred homeless people each month at a local United Methodist church as well as Habitat for Humanity.
We will be working with the Office of Multicultural Affairs and Office of Gender and Sexual Diversity at Tulane to create contemplative spiritual space for students from a variety of backgrounds. I continue to be convinced that what Tulane students most desperately need is Sabbath. They work hard and play hard. Very few know how to spiritually rest. So inviting them to consider spiritual practices is the primary form that evangelism takes in my context.
Thank you so much for supporting our ministry! Please pray that God would use us to cover the campuses of Tulane and Loyola with his grace.
Click here to consider making a monthly pledge to support our ministry!