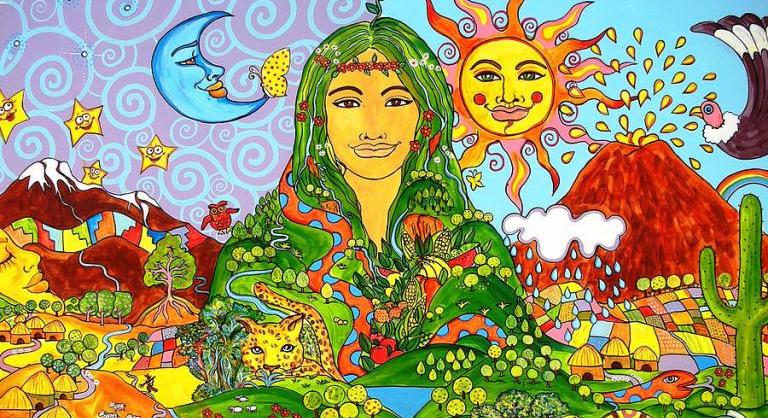 I met you once on a bus
That was going to Zihuatenejo;
You had to get off in Chilpancingo;
I made you say it twice because
I was enamored with the way that
Air vibrates differently out of your
Mouth than it does out of mine, just
Like your skin is so much darker
Than mine; and you were wearing
Pink flip flops and you knelt in your
Seat the whole time looking out the
Window and giggling as I tried in
My clumsy Spanish, but you weren't
Snobby like the white girls are;
You just preside over the rainforest
Like a mother who has no worries
Because her children know their place
And they perform their dance perfectly
And nobody gets too big nor does anyone
Ever die off because there's room for all.
And yet you're such a young mother in
The painting I stole off the internet and hung
Up as one of my icons; your green hair never
Goes gray; your skin is always moisturized;
But sadly it isn't; I have seen your other faces;
You called me out of my sin that day in
San Cristobal when you came to me in not
One but two indigenous little girls, each of them
Barefoot and wearing the colors of their village;
They had Zapatista dolls that were unraveling;
A peso a piece, and they each grabbed a finger
"Por favor! Señor. Cómpralo señor, por favor."
I can never be a tourist again
, I wrote in my diary
And those girls have been chasing me through
My dreams ever since, letting me know that all
Is not safe in the jungle and making it clear that
My people would need me to spend a lifetime
Atoning for our sin; and so your voice was calling
Me to the jungle while I felt entirely unworthy
Of the jungle; what good could a gringo do down there?
What would have happened if I had sought a mate
In the jungle? Would that have been as grossly colonial
As it feels to say? I have always liked my chocolate
With a bite to it like the abuelita ice cream I bought
Every day in Rio Bravo. You keep on teasing me
From afar as I languish away in suburgatory;
I want to reggaeton with you in the hottest club
In Bogota; I want to stumble and crash into
Every tree in the forest with you, and yet
I belong to another God — the desert one;
Oh I really want you to be the same God
Because God, if you're also a chocolate cinnamon goddess,
Then heaven is going to be the tastiest
Soda fountain of all of my teenage fantasies;
You can't stop me from seeing you in my mind

On that bus giggling at me speaking in tongues at you.