It is snowing outside and the Carnahan household couldn't be more delighted! Snow-bibs and mittens have been pulled on. Little boot prints merrily break up the smooth blanket of freshly fallen snow outside. There is a fort made of chairs and bedding set up in front of our fire-place. Tea is steeping. Home smells like cinnamon and popcorn. The anticipation of coming celebrations hang joyfully in the air.
I read a funny exhortation today about social media over the holidays. In it, the author suggests that readers cultivate contentment as they scroll through Instagrams of Christmas trees decorated to Pinterest perfection. They suggest remembering that nobody's life is that perfect as we read too-good-to-be-true Facebook status updates. Of course, contentment is worth cultivating, and the fact is, most people aren't very chatty about less than ideal experiences, however, this sort of rally for contentment can incline our hearts to foster sin and call it virtue.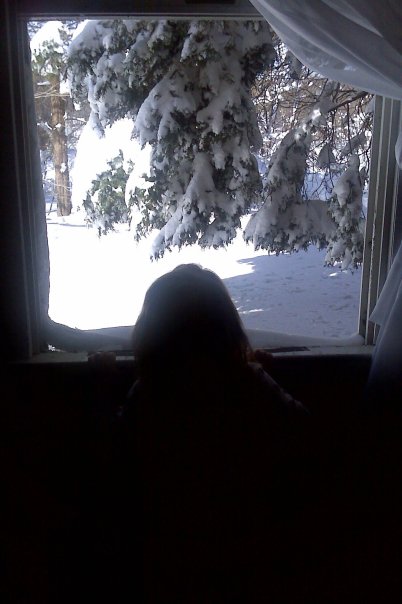 Allow me to explain, say you see Super Crafter Suzy's home-made ornaments and (sometimes without even realizing it) wish you could make ornaments like that. Then there is Rhonda's photograph of a magnificent snowy landscape and you find yourself wishing you had taken it. A post about Jane's family roasting s'mores pops up on your feed and you begin to resent your lack of fireplace, or marshmallows, or graham crackers, or chocolate. If we were to examine each of these stories, the common denominator would turn out to be you.
Comparison is one of those things we know we shouldn't do, but it tends to slip in anyway. Comparison is a stealth ninja. It sneaks into our hearts masked as humility, "Lucille is so good at _________, I wish I was more like that." Other times, the disguise is that hint of snark in a joke when someone asks if the cupcakes you brought are homemade, "Do I look like Martha Stewart to you?". And then there are those times when comparison shows up in apparel fit for a pharisee, "I can't believe so and so is actually lets her husband dress that way in public! Doesn't she care how he looks? I can't imagine why someone would allow that!"
Do you see what I mean? The real problem isn't that someone has more or less than you. The problem isn't that someone is more or less talented, perfect, organized or pretty than you. The problem is you and that you are allowing yourself to compare.
In Timothy Keller's book, The Freedom of Self-Forgetfulness, he argues that low-self esteem and pride stem from the same problem. To have either, you must be focused on yourself more than anyone else. You have to be somewhat self-obsessed and I know Keller is right, because I've been there – I've done that. As Christians we are called to keep our eyes on Christ. We are to devote ourselves to Him and as we do so, a side effect is that we will begin love our neighbor more than ourselves. Keller says,
"…the essence of gospel-humility is not thinking more of myself or thinking less of myself, it is thinking of myself less."
Contentment is not cultivated by looking less at others, but by taking our eyes off ourselves and training them, instead, on Christ. If perfectionism rubs you the wrong way, recognize your sin, confess it and make restoration. If not-perfect really gets your goat, recognize your sin, confess it and make restoration. Read your Bible more. Pray more. Turn your focus away from yourself, away from social media, away from Thanksgiving, Christmas, and New Years and saturate your soul in the Gospel. The more you practice this (worshipping God), the more glory and beauty you'll begin to see because Christ is glory and beauty. You'll wake up one morning and realize you're content with what you have and happy for those who might have more and you'll begin to give away what you have to those who have less because you'll realize that everything belongs to the Lord anyways. I promise. You will begin to laugh more, you'll certainly love others more and you will become more fulfilled (nothing can fill you up like love from your Father). When you remove comparison from your heart, you give joy room to grow. Eventually, it will will bubble up inside you until it overflows out all over your family and friends and Facebook feed. After all, joy is contagious! You will rejoice when you see the beautiful pictures on Instagram and celebratory statuses on Facebook, not because life is perfect or you are perfect, but because Christ is.
Instead of using the holidays as an opportunity to gripe or compare and sin, let us remember the reason we can sing and feast and give presents in the first place. Let us fix our minds on Him.
And the angel said to them, "Fear not, for behold, I bring you good news of great joy that will be for all the people. For unto you is born this day in the city of David a Savior, who is Christ the Lord. And this will be a sign for you: you will find a baby wrapped in swaddling cloths and lying in a manger." And suddenly there was with the angel a multitude of the heavenly host praising God and saying,

"Glory to God in the highest,

and on earth peace among those with whom he is pleased!"

-Luke 2:10-14 ESV