Ten years into the marriage and I'm learning to communicate better with my husband. I'm learning to how to talk to him about my day without complaining (per my new years resolution). I'm learning to give him fair warning when the chaos on the home-front is more than average.
"Heads up" I text him. Today was long. It included a productive morning, followed by a series of difficult events, culminating in a little panic attack. I cried, I breathed deeply, I prayed. I did what I could to work out the complications related to the mornings difficulties, including talking on the phone to strangers 3 different times (this was impossible for me to do this time last year — God is so good!). Afterwards, while my little boys napped, I snuck in a little cat nap, waking up with a sore throat and with, what I call, bowling ball brains.
"Heads up" I explain the situation, certainly not grim, but also not ideal: The house is a messy, the girls (one of which also has a head cold) have been watching tv for the last several hours. No laundry got done today so technically, I'm already behind. I have to run back to the pharmacy tonight, but dinner is under control (leftovers).
"No worries. I love you." He responds.
What people don't understand is that this interaction is an excellent example of Biblical headship in the marriage. Yes, I am a wife who submits to her husband under Christ — and the result is that I am safe and loved. I feel free to not be perfect, I know I don't have to be Superwoman. Submission to an ungodly husband is pure hell, but submission to a godly husband is an extension of Matthew 10:29-30, "Take my yoke upon you, and learn from me, for I am gentle and lowly in heart, and you will find rest for your souls. For my yoke is easy, and my burden is light." I can go to my husband with my burdens, lay my shortcomings before him and he gives me rest and comfort. This is a glory of Christian marriage.
When he walked in the door tonight, he held my medications and flowers! Love that man!
I know it sounds like I'm bragging on my husband, and I kinda am. There was a time in our marriage where we thought we might not make it. We've gone to our pastor in tears, dismay and anger. But here we are, working through each other's shortcomings and sins and baggage. We love each other more through it all. So take heart, Sisters. If your marriage isn't what you thought it would be. If it seems like you and your husband are on different planets, don't be afraid. Our God specializes in taking brokenness and making something magnificent out of it! The point of marriage isn't personal fulfillment, it is to glorify God, but the fulfillment is certainly a blessing.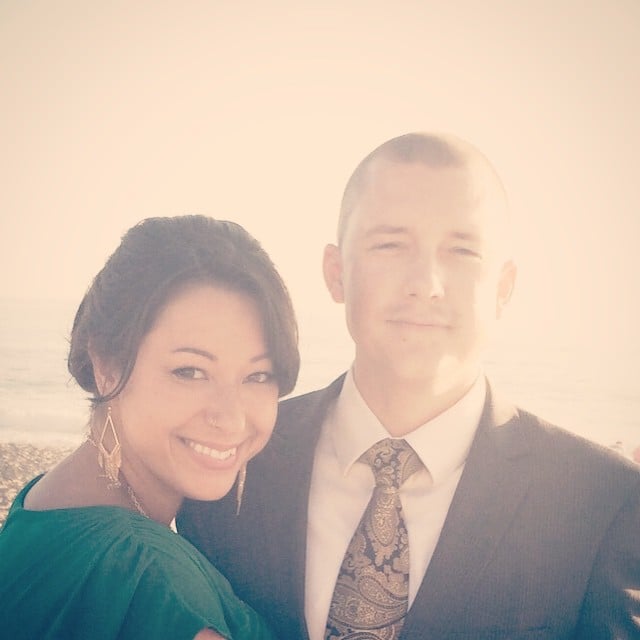 Lord, thank you for Ben. Make us increase and abound in Christ like love for each other. Help me to joyfully honor and respect him as You have commanded. Tune his heart to mine and give him understanding, patience, and delight in me.
Amen