My eyes are swollen. My face hurts. Crying will do that. Do you ever have days where no matter how hard you pray, you simply can't shake feeling discouraged? Today I am crossing another name out of my prayer book and adding his family. Praying for their comfort and peace as they walk through the valley. I'm surrounded by people who are hurting so much; people who have been abused, people who are in pain, people whose hearts are hard and ears closed. Angry people, desperate people. We look for someone, something to blame. People like me. I pray, but that doesn't feel like enough. I can repeat Bible verses, speak encouraging words and proclaim truth, but when it feels like God is giving us snakes instead of bread, it is difficult to trust Him.
Yesterday was hard. The voices in my head said I was a fraud. They said all the hope and help I try to give is trite and useless. They said I was a horrible mother. They said I am failure as a wife and friend. They were so loud. I couldn't drown them out. I spent the day plugged in to books and prayer, but they weren't loud enough.
When good things happen, when God gives us the desires of our hearts, it is so easy to praise Him. But what about when He says no? When He doesn't heal us. When babies to die. When someone you love runs away from Christ instead of toward Him. I tell myself that God allows those bad things, but I don't like to see them as answers to prayers because those are the times when I'm doubting whether my prayers were heard at all.
"I want to help" I cried to my husband. There are people I love walking away from Christ, they are hurting so much. There are people I love mourning, suffering, holding on to Christ by the skin of their teeth. All I can do is repeat what I'm learning. There is nothing original about this message. It's been around since the dawn of time.
God is good.
He loves you, even when you can't see it/feel it/want it.
Run to Him.
He will never leave you or forsake you.
He is the answer. He is enough.
I know I must sound like a shrill and crazy broken record.  The people right in front of me don't seem to hear and I can't blame them.  I couldn't even silence the static roar in my own head.
"Nothing I do seems to help. But I know that is self-centered." 
"Yes, it is." He said. "Abra, the story isn't about you. You can't save them."
My husband's voice broke through the other voices. Failure and Fool fell from the forefront of my mind, shattering. Love God and love my neighbor, that is my mission. Not save the world. Not kiss away every tear away. Not win every battle. Not to know everything. Not to achieve perfection. No, those jobs are reserved for the Hero of this story. He can do it all and He does.  I cannot fail at a job I wasn't even given.
This life is only the beginning. The worst has already happened and God is picking up the pieces and making something better than ever with them. We are in transition. The good stuff, The Glory is coming. Sometimes I can see it so clearly. Other times it is so dark, I can't even see my own hand in front of my face. But that is alright, because He sees and He knows what He is doing.
The only response I know to when bad things happen is that something good, something better, something that will be worth the pain is on the horizon. I know that doesn't seem like much, I know it sounds childish and simplistic, but it has been proven true in my own life; the pain and suffering of being abused, of being depressed, of cutting myself, the times I tried to end my own life, when my loved ones were killed, when friends and family have died, having Hyperemesis Gravidarum, having PTSD, my doubt, my shame, my pain, my mourning — it has all been turned to joyful dancing.  This realization, this understanding, this proven truth —  it comforts my soul, it takes away my fear, it lifts the burdens that would otherwise crush me.
My girls heard me crying last night and called through the door, "Mom, are you alright?" Ben and I assured them I was. After Ben reminded me of the truth and I listened, I was ministered to and comforted, our girls burst into the room; smiles on their faces and a card they made me in hand.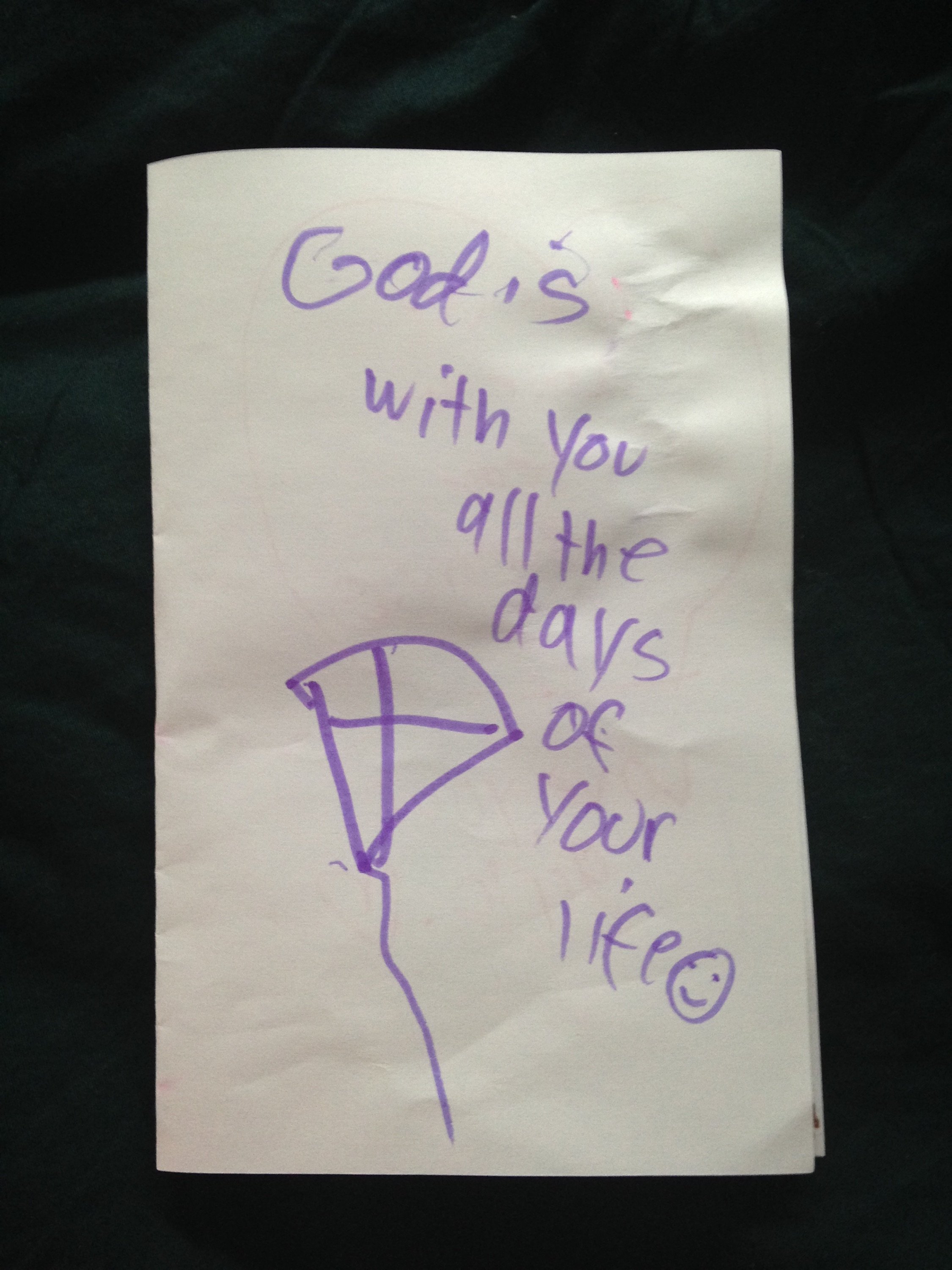 It said, "God is with you all the days of your life."
They are right and that truth is enough, which is good because, sometimes, it is all I got.
"For I consider that the sufferings of this present time are not worth comparing with the glory that is to be revealed to us.  For the creation waits with eager longing for the revealing of the sons of God. For the creation was subjected to futility, not willingly, but because of him who subjected it, in hope that the creation itself will be set free from its bondage to corruption and obtain the freedom of the glory of the children of God. For we know that the whole creation has been groaning together in the pains of childbirth until now. And not only the creation, but we ourselves, who have the first fruits of the Spirit, groan inwardly as we wait eagerly for adoption as sons, the redemption of our bodies. For in this hope we were saved. Now hope that is seen is not hope. For who hopes for what he sees?  But if we hope for what we do not see, we wait for it with patience.

Likewise the Spirit helps us in our weakness. For we do not know what to pray for as we ought, but the Spirit himself intercedes for us with groanings too deep for words. And he who searches hearts knows what is the mind of the Spirit, because the Spirit intercedes for the saints according to the will of God. And we know that for those who love God all things work together for good, for those who are called according to his purpose. For those whom he foreknew he also predestined to be conformed to the image of his Son, in order that he might be the firstborn among many brothers. And those whom he predestined he also called, and those whom he called he also justified, and those whom he justified he also glorified.

 What then shall we say to these things? If God is for us, who can be against us?  He who did not spare his own Son but gave him up for us all, how will he not also with him graciously give us all things?  Who shall bring any charge against God's elect? It is God who justifies. Who is to condemn? Christ Jesus is the one who died—more than that, who was raised—who is at the right hand of God, who indeed is interceding for us. Who shall separate us from the love of Christ? Shall tribulation, or distress, or persecution, or famine, or nakedness, or danger, or sword? As it is written,

"For your sake we are being killed all the day long;

    we are regarded as sheep to be slaughtered."

No, in all these things we are more than conquerors through him who loved us. For I am sure that neither death nor life, nor angels nor rulers, nor things present nor things to come, nor powers, nor height nor depth, nor anything else in all creation, will be able to separate us from the love of God in Christ Jesus our Lord." -Romans 8:18-39 (ESV)