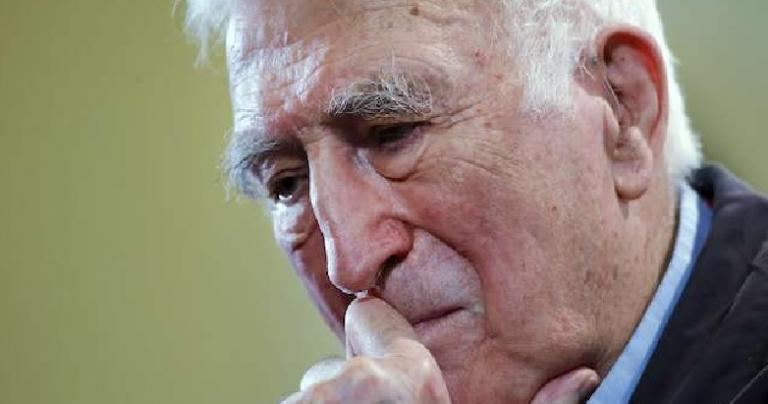 Hero and living saint?—no, just a fellow dying inmate in the mental asylum that is the world.
Hero. Saint. Mystic. These are the words that roll off the tongue for Canadian Catholic philosopher, theologian, and humanitarian, Jean Vanier. He founded L'Arche meaning "the Ark," a home for men with developmental disabilities, in Trosly-Breuil, France. Its work of love spread worldwide. Vanier co-founded Faith and Light, a movement in 86 countries uniting in friendship people with and without intellectual disabilities.
Vanier was a prolific author and his words brim with wisdom, spirituality, compassion, and humanity. Among these are "Tears of Silence" (1970), "Eruption to Hope" (1971), "Followers of Jesus" (1976), "Community and Growth" (1979), "The Broken Body" (1988), "From Brokenness to Community" (1992), "Becoming Human" (1998) and "Befriending the Stranger" (2005).
His accomplishments and wisdom are legendary. He died last year, 2019.  Here is his funeral:
And now revelations are coming out that Vanier allegedly committed repeated acts of sexual misconduct and emotional abuse with six non-disabled women.
Hero? Saint? Villain? Devil?
Michael J. O'Loughlin from America Magazine just broke a story that the late Vanier has been accused of emotionally and sexually manipulating at least six women between 1970 and 2005:
AMERICA MAGAZINE:
Internal report finds that L'Arche founder Jean Vanier engaged in decades of sexual misconduct
Worse, the story explains that Vanier is linked with a priest and Dominican scholar, Rev. Thomas Philippe (d. 1993), also accused of similar sexual and spiritual abuse. Allegedly, Vanier's behavior is patterned after Philippe's own brand of abuse. Six alleged victims have accused Vanier himself of misconduct along these lines and over decades of time. A report conducted by L'Arche itself will soon be released detailing that these allegations are credible.
Many good people working for L'Arche are devastated.
Hero Worship Catholic Style
My day job places me among many lauded "heroes." Where I come from, clericalism is like air: it surrounds us, it fills our lungs, it's breathed in and out. Priests are assumed to be heroes, their worst vice greater than a lay person's highest virtue. But there are also "lay heroes" where I live. The drugs of acceptance, applause, and approval are sold at every Catholic event. They get injected, inhaled, imbibed, snorted up the nose, with the teeth grinding for more. Instead of metanoia, we set ourselves up for these cosmic failures like Vanier in a much smaller scale.
But Vanier helped me. His words continue to help. This scandal hits hard even though I never met the man. My mother suffered from severe mental and emotion disorders throughout her life. She spent her last years in agonizing weakness. And I was so weak in the situation, myself. Helpless. Got wounds from those times. Years later, Vanier would speak healing words to me through his short films and books. I can't deny the truth of his words. He helped my ministerial work. And yet, it seems credible that he hurt people. Yes, this hits home.
Here comes Dr. Bill Cosby again. Again here comes another Catholic abuser. Here comes revelations that all the wisdom and goodness is just a facade of bullshit hiding manipulation and selfishness. He talked a big game about weakness and finding Christ in it, but maybe he just used it to lure women helpers… or worse. It's hard to testify against a hero. How dare anyone speak out against a living saint? And how many victims have not come forward? How many will never be able to do that?
Supposedly this abuse took place over decades. This "hero" was manipulating and victimizing women sexually. Why didn't we see it? His followers saw the hero, but not the hurt of those who orbited his star?
Come to the Hero
People come seeking spiritual guidance and healing from "living saints" like the hero, Jean Vanier. They place themselves into this amazingly vulnerable place. It's like sitting calmly and trustingly in your favorite barbershop getting your hair cut. If she wanted to, the barber could gouge out your eyes, slit your throat, slice off your bottom lip, and savage your ears. Or she could help you trim what isn't wanted. There's a power exchange similar, but far deeper, going on with a spiritual director. Such a brilliant "wounded healer" can be a godly midwife or instead choose to play God.
Ministry can be exhausting. Being the "hero" and the "living saint," a hundred times more so. This cannot excuse abuse. But it can help to explain why abuse happens. Ministers can escape from life into playing Church. The "good priest" can become so obsessed with being seen as the good priest that he becomes miserable behind a mask of smiles. He begins to do good in order to avoid the guilty feelings of being thought of as bad. Falling into burn-out can wreck a man, and asceticism for the sake of asceticism does not lead to losing the self. How often in Catholic circles do we interpret self-denial to mean going against one's needs.
When the hero is always being praised, always being put on the pedestal, a lot of effort and resources must go into the business of keeping up appearances. This is taxing. And we create the environment for disasters when we forget that there really are no heroes. There are no great ones! Instead all around us are people born between urine and feces and soon to be the feast of worms. Just like you. We ought to expect even a great "hero" to be selfish. Crazy. Inconsistent. Just like me. Just like you.
Hero? Or Fellow Dying Person?
Here is a great wisdom I learned from a Happy Wanderer and Master: For everyone you meet, tell yourself: This person is a fellow dying inmate, lovable yes, but not too loving, with crazy ideas about truth, happiness, peace, love, and God. And I too am dying and crazy. Lovable, but not too loving.
I truly believe that this is the only credentialing we'll ever need. The reason being it is the only real foundation when meeting someone, anyone. Therefore it's the launchpad for empathy.
But love takes being conscious, and we'd rather sleep while the victim suffers. All done in a guise of spirituality. But real spirituality means waking up. Spirituality has to mean contact with reality, otherwise it is nothing (Cf. Mark 1:15; Matthew 3:2; 4:17; Isaiah 60:1; Ephesians 5:11-14).
The Happy Wanderer taught me that "most people, even though they don't know it, are asleep. They're born asleep, they live asleep, they marry in their sleep, they breed children in their sleep, they die in their sleep without ever waking up." Yes. And they go to Church asleep, too (John 5:25, 28; 8:51; 11:25-26; Revelation 3:1).
Wake up, Hero!
No one wants to get out of bed when they'd rather be dreaming through life. But life is lived, and meant to be lived awake. Anything that does not help us wake up—i.e., bring us back to reality—is counterfeit. Including religion-play, verbal orthodoxy, going through the motions, tradition-worship.
But we go on sawing zzz's in moral cowardice. Most so-called "Christian" activities and programming are just escapes from reality, distractions and drugs meant to dull the pain of the necessary amputations that must take place so that we can become sensitive and loving.
It looks as if our fellow dying inmates at L'Arche are waking up. It looks like they are behaving admirably here and allowing victims to be heard. If so, then may L'Arche raise phoenix-style from the ashes of the scandal unscathed. We need to listen to those who have suffered injustice and not worry about cover-up. We need to go "ouch!" when others are hurting. And the good work done to those on the margins needs to keep on in these dark, dark days!
Thoughts are welcome…