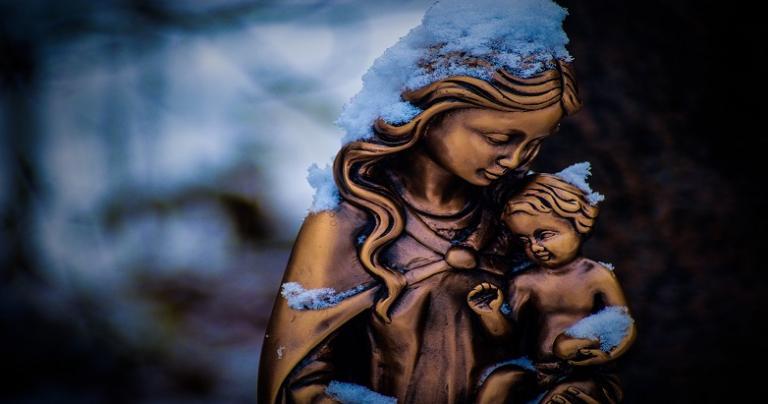 Mary, the Mother of God, will be explored rigorously by Messy Inspirations throughout the month of May.
Mary is important for Catholics. So I would like to invite you all to explore the subject of Mariology—a theology of Mary—over the month of May with special video presentations and reflections. Many Catholics often approach the Mother of God through the devotional and the emotional. This sentimental approach only becomes problematic when it becomes the exclusive way of approaching and living out religious truth with no regard for critical reflection of the faith.
Mariology: Theology of Mary
First, an invitation: please read over this earlier blog post, Contrarian Marian.
Next up are two videos to help broaden our theological horizons on understanding our sister and fellow creature. The first begins an exploration of a Mariology. It gives a number of resources we will be using this month. In the hierarchy of truths of the Christian Faith (see the Second Vatican Council's Decree on Ecumenism, n. 11), where does Mary fit?
If Mary is so important to Catholics and Orthodox, why is she mentioned only about a dozen times in the New Testament? How is she so important to the faith and devotion of so many Christians?
Overview of Mary in the New Testament
The second video offered today offers an overview about what the New Testament has to say about Jesus' mother. This fills only a scant few verses!
What else does the Infancy Narrative of "Matthew" (Matthew 1—2) say about her besides reporting the virginal conception? Certainly the author called "Luke" does esteem Mary in his Infancy Narrative (Luke 1—2). However he only mentions her just one time in his other work called "Acts."
When we get to the Fourth Gospel called "John," she is never named—this person is only referred to as "the mother of Jesus" or "his mother" or by Jesus himself as "Woman."
Paul only refers to Mary indirectly when he calls Jesus human: "born of a woman" (Galatians 4:4). There is no mariological significance to that. "Born of a woman" simply means "he's human."
More Marian Exploration All Month Long!
We have an exciting month ahead. Take a little time with these video presentations and let's deepen our faith journey together.