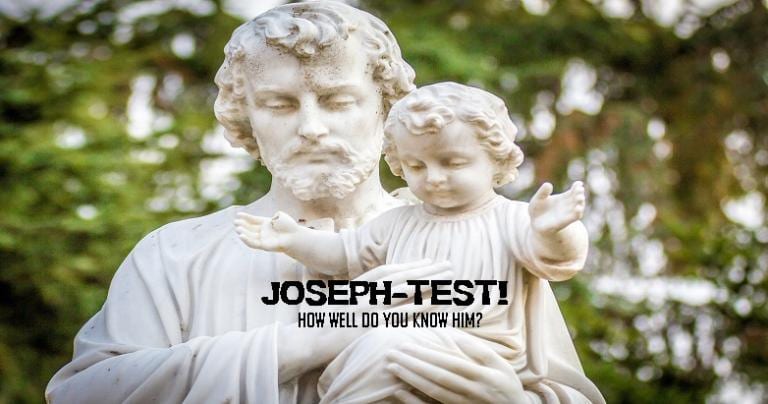 In this Year of Joseph, here's a Joseph-Test quiz to see how well we know the saint.
So today is the Solemnity of St. Joseph, Husband of the Blessed Virgin Mary. And I've got a fun quiz for you, a Joseph-test if you will.
Pope Francis declared December 8, 2020, till December 8, 2021, Saint Joseph's year. This commemorates the 150th anniversary of Joseph being declared Patron of the Universal Church. See Francis' Apostolic Letter "Patris corde" ("With a Father's Heart"), here.
A lot of things about Joseph go "unnoticed." So I thought that, in the Spirit of "Patris corde" and the holy year, I could give us a fun little quiz on what we know about Joseph. Think of this Joseph-test as a good exercise for both Lent also for this Year of Joseph.
So let's get to the Joseph-test. First, try to answer the questions below. When finished, jump to this blog post last year about Joseph and find the answers within it. See if they correspond with yours. Joseph is highly misunderstood by many Catholics. How can we see him in a historically and culturally plausible way?
Joseph-Test Questions on Mary & Joseph
1) Before Joseph lived with Mary, what was their most probable relationship?
A. Childhood sweethearts
B. Best friends
C. Both A and B

D. Patrilateral first cousins.
2) When did Joseph and Mary get engaged?
A. After a significant amount of prayer.
B. After Mary had spent time in the Temple.
C. They never were engaged.

D. After they fell in love.
3) Which of the following best describes the union of Mary and Joseph?
A. A religious union called marriage.
B. A civil union called marriage.
C. "A covenant by which a man and woman establish between themselves a partnership of the whole of life and which is ordered by its nature to the good of the spouses and the procreation and education of offspring."
D. It is the union, or the pooling of honor, between two Middle Eastern families. The two spouses merely represent both families.
4) In Biblical marriage, God's will means…
A. …that the spouses, a man, and a woman, freely choose not under any constraint.
B. …that the consent between the spouses is an indispensable element that "makes the marriage."
C. Both "A" and "B."

D. …that the fathers and mothers of bride and groom do the choosing.
Joseph-Test Questions on Mary's Pregnancy
5) According to the Matthean Infancy Narrative (Matthew 1—2), Joseph discovers that Mary is pregnant; initially, he is…
A. …overwhelmed and feels unworthy of playing a role with the Holy Mother and Child.
B. …humiliated as a cuckold, probably the last one in the village to find out.

C. …grateful to the God of Israel.

D. None of the above.
6) Who were the first villagers to discover Mary's pregnancy?
A. The women, the intelligentsia of the Middle Eastern village.
B. Joseph, when the Angel of the Lord told him.
C. Mary's best friend, Johanna.

D. Mary's dad, Joachim.
7) How did people find out that Mary was pregnant before living with Joseph?
A. The Angel of the Lord told them.
B. They just knew it had to be a miracle.
C. Either when Mary didn't show up at the sole village bath or when she tried to hide it but couldn't.

D. When Mary went around the village with a tambourine, singing praises to God because she was pregnant.
Joseph-Test Questions on Joseph Being Righteous
8) "Matthew" informs his readers that Joseph was a righteous man. This means that he was…
A. …a morally upstanding person.
B. …an Israelite holy man, what anthropologists would call a "shaman," someone who can talk with spirits.
C. Hardly ever did anything to be guilty about.

D. Someone who prayed a lot.
9) "Righteous men" like Joseph always want to please God. In "Matthew," when Joseph learns of Mary's pregnancy, he does not wish to accept the child because…
A. …Joseph knows that the child cannot be his, and accepting the child would make Joseph a thief, something that would displease God.
B. …he feels radically unworthy before the Holy Mother and Child.
C. …he feels confused and betrayed.
D. None of the above.
10) Because in "Matthew" Joseph knows that Mary is pregnant already, that means…
A. …God must have done this.
B. …the devil must have done this.
C. …some other human male must have done this.

D. …there is no way to consummate the marriage and show the blood-stained sheet to the village and the wedding. This will lead to shame and death.
11) How do Mediterranean people like Joseph solve seemingly impossible dilemmas and crises?
A. Just like Americans do, with intelligence and hard work.
B. Getting advice from family members and friends.
C. Through an alternate state of consciousness (ASC) experience.

D. By talking with a priest.
12) When Joseph "took Mary into his house," that means that…



A. …they lied to everyone at the wedding celebration by faking the blood-stained sheet.
B. …they told everyone that it's okay that Mary was pregnant early because it was God's will.
C. …they eloped, skipped town and hid out in a nearby village until things blew over.

D. …they paid off everyone to keep their mouths shut.
Joseph-Test Questions on Parenting Prepubescent Jesus
13) How do you imagine Joseph acting as a father to Jesus?
A. Joseph was a warm and kind-hearted Daddy.
B. A hard-working but quiet provider for Mary and Jesus.
C. Both A & B.

D. Like a Middle Eastern North African (MENA) father, someone mostly absent from a boy's early life.
14) Thinking about Joseph and Mary, what is the strongest emotional bond among Middle Eastern personalities?
A. Between mother and firstborn son.
B. Between husband and wife.
C. Between brothers.

D. Between masters and slaves.
15) And what is the weakest emotional bond among Middle Eastern personalities?
A. Between mother and firstborn son.
B. Between husband and wife.
C. Between brothers.

D. Between masters and slaves.
16) How do you think Mary would have fared in Joseph's father's home (the patriarchal compound)?
A. Always suspect and never truly fitting in.
B. Loved and cherished as one of the family.

C. Reverenced as the Holy Mother of God.

D. They didn't live with Joseph's father. The Holy Family was nuclear, just like Americans imagine.
17. In the Biblical or Mediterranean world, all women in the patriarchal compound do what to their prepubescent sons?
A. Teach them to read the Bible and pray.
B. Let them play wherever they want.
C. Treat them equally with the village girls.

D. Spoil them rotten, doting on them and keeping them pampered, pleasured, embraced, and drowned in warmth.
Joseph-Test Questions on Raising Postpubescent Jesus
18) When MENA prepubescent males like Jesus grow up, they necessarily are haunted their entire lives by…
A. …a longing for their fathers.

B. …a sense of deep compassion, given them by their mothers and sisters.
C. …gender ambiguity.

D. …a more profound commitment to religion.
19) Because they are forever haunted by (the correct answer to question 18), MENA males compensate for this by…
A. …constantly proving their manhood through MENA hyper-ethnomasculinity.
B. …trusting in God.
C. …listening to the advice Mother gives.

D. None of the above.
20) Depending on how long he lived past Jesus' puberty, how would Joseph have probably raised the teenaged Jesus?
A. With deep prayer and teaching him to be a carpenter by trade.
B. Like any great Daddy would.

C. Both A & B

D. By severe physical beatings, conditioning Jesus to withstand any punishment without complaining.
21) Say as an American Christian, I treat the Bible as a manual on how to raise sons or daughters in our American setting. I follow it closely and act out its prescriptions. What probably will be the result?
A. Psychopathology and prison time.
B. Holy children who fear the Lord.
C. The salvation of America!

D. Both B & C.
Joseph-Test Questions on Joseph's Profession
22) What was Joseph's profession?
A. Carpenter.
B. Teacher.
C. Peasant village artisan.

D. None of the above.
23) Given Joseph's work, he and his family were…
A. Middle-class.
B. Wealthy.
C. Poor.

D. Extremely poor.
24) Joseph had to travel to find work. That meant he was viewed by others as…
A. A righteous man who worked hard for his family.
B. A social deviant.
C. Someone famous throughout Galilee.

D. Someone with connections.
After you write down your answers to these questions, check out the blog post here to see how you did. You might be fascinated by what you learn! Enjoy!