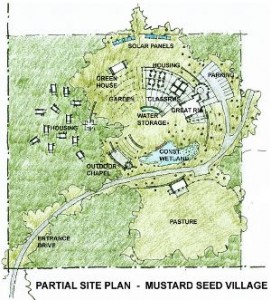 Christine Sine of Mustard Seed Associates announced on Tuesday, "This morning was a momentous one for Tom and I. We left home at 5:30 am to drive out to the future site of the Mustard Seed Village on Camano Island. We were so excited because the poles for our first building — the pole barn classroom were arriving. This may not sound very momentous to some of you but for us it is huge."
Paul Sparks of the Parish Collective responded by issuing this beautiful appeal (which he gave me permission to pass along to all of you),
"There has never been a more important time to consider giving to the legendary work of the team at Mustard Seed Associates. Elizabeth Sparks and I are committing to give a monthly contribution for the next twelve months. This is a pittance of return for all the years that they have given in so many ways to us. How could we not support this? This is a beautiful beginning to the Mustard Seed Village, and a result of a tenacious and imaginative dream.

"The work of Tom and Christine Sine and the team at Mustard Seed Associates has changed our lives. For decades their imagination, resilience, and hospitality has led the way for new sustainable, on-the-ground movements in the church. They have given up their home, their lives, their time, and their resources for this passion, and Liz and I are eternally grateful for their mentorship and friendship."
Will you please consider supporting Mustard Seed Associates as they seek to raise $100,000 for the Mustard Seed Village?