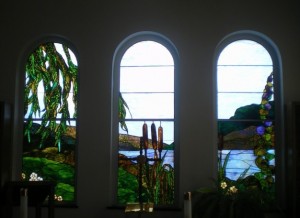 Michael Novak
How far-reaching is the redemption of Jesus Christ? The question is almost too elementary; so simple that we take the answer for granted. But if you're engaged in Christian ministry, it's a question worth pondering from time to time. It is a question that can recalibrate your ministry focus. Your answer will directly affect how you engage in the daily task of ministry. After all, as ministers of Christ, you and I are called to bring the message of redemption to bear on people's lives. Before we can do that, we have to ask, "What exactly is Jesus redeeming?"
To answer that, we have to start at the beginning. This is where things can get a bit confusing. Where you begin can have a profound impact on your ministry. The grand story of redemption begins with the doctrine of creation. If we miss this, we run the risk of severely truncating the message we are called to preach. It's easy to miss. After all, the doctrine of creation is only given two chapters in Scripture. That is not much real estate! If we get these two chapters wrong, however—or, as more often happens, we disregard them–then our message of redemption is curtailed.
It is tempting to begin our ministry with Genesis 3 and the doctrine of the Fall. After all, we want our message of redemption to directly address people's struggles and frustrations. We long to be relevant. And so we start with the fall of humanity and allow it to direct the focus of our redemption message.
But if we skip creation, if we fail to allow creation to focus our message of redemption, we run the risk of becoming present-day gnostics, ignoring the created order in favor of the spiritual order. Gnostics were a sect in the first and second centuries that believed only the spiritual mattered, while the physical aspect of life was disregarded. Without recognizing it, when teachers allow Genesis 3 to direct the focus of the message of redemption, modern gnosticism can result. By starting with Genesis 3 and the doctrine of the Fall, we unwittingly cut out large swaths of the effects of redemption.
As Christian ministers, we must have a robust vision for our message of redemption. If we miss the importance of Genesis 1 and 2, we will focus solely on "saving souls" and ignore the fact that God is in the midst of redeeming the entire created order—in fact, the entire cosmos! If we miss Genesis 1 and 2, the redemption we proclaim will fall short in both scope and beauty.
This message of redemption directly affects our belief and practice of vocation. In Genesis 1:28, God gives humanity a vocation: "Be fruitful and multiply and fill the earth and subdue it, and have dominion over the fish of the sea and over the birds of the heavens and over every living thing that moves on earth." In the beginning, God created humanity and gave humans a vocation to subdue and practice dominion over all creation. Vocation was a pre-fall institution, just like marriage. These institutions were dramatically affected by the fall, and they are institutions that Jesus Christ came to redeem. By starting our ministries with Genesis 3, we preach a partial message of redemption that doesn't touch the full scope of our humanity.
Anthony Bradley, research fellow at the Acton Institute, recently touched on this reality in an article titled, "A Conflict of Christian Visions: Gen. 1-2 vs. Gen. 3 Christianity." At one point, he points out how ignoring the doctrine of creation dramatically affects our message of redemption:
"One begins by constructing an understanding of the Christian life oriented around Genesis chapters 1 and 2 and the other begins with Genesis chapter 3. A Gen. 1 and 2 starting point views the gospel as a means for human beings to have a realized experience of what their humanity was meant to be and to do, whereas a Gen. 3 orientation sees the gospel as a means of saving us from our humanity in preparation for the eschaton (heaven)."
So, how would you answer the question, "How far-reaching is the redemption of Jesus Christ?" Your answer will have a profound effect on your ministry. How I answer determines how I decide to apply a particular passage as I preach. How I answer dictates what I discuss during pastoral counseling. Is it OK to discuss concerns beyond the spiritual? Is it OK to discuss vocation, environmental concerns, poverty, and justice?
Our message of redemption should address both spiritual and physical aspects of our humanity. Jesus came to redeem our soul, but he came to do much more than that. He came to redeem all of his created order: marriage, environment, vocation. The great hymn by Isaac Watts, "Joy to the World," reminds us that Jesus "comes to make His blessings flow, far as the curse is found."
Michael Novak serves with Reformed University Fellowship, as the Campus Minister at Trinity University in San Antonio, Texas.
---
Reflection Questions:
In what ways are you ignoring the doctrine of creation in your preaching, teaching, and pastoral counseling?

How would a robust view of creation change the overall effect of your ministry?
What keeps you from focusing on the doctrine of creation and preaching the redemption of the entire cosmos?
From the Kern Pastors Network. Image: Jennifer Woodruff Tait.