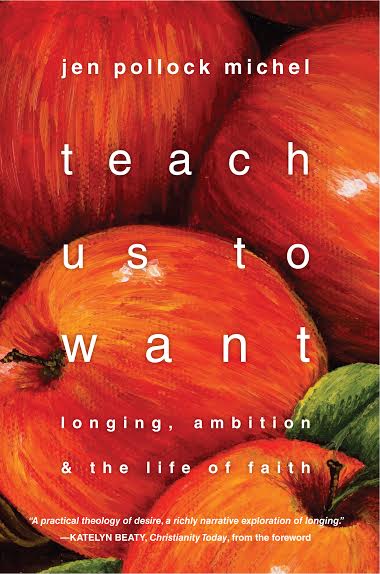 This interview from The Gospel Coalition's "TGCvocations column" caught our eye recently, since the book it talks about is one of the monthly features in the Patheos Book Club this month.
Every week over at TGC Bethany Jenkins talks to someone about how they are living out their faith through their work.  A few weeks ago, she sat down with Jen Pollock Michel:
Jen Pollock Michel lives in Toronto with her family. She's the author of a forthcoming book from InterVarsity Press, Teach Us to Want: Longing, Ambition and the Life of Faith. She also regularly contributes to Christianity Today's Her.meneutics blog and Today in the Word, a devotional publication of Moody Bible Institute. You can follow her on Twitter: @jenpmichel.
Jen described her life to Bethany:
My life fragments between a lot of different roles. I'm a wife, mother of five, author, and writer. I also currently serve as the director of children's ministry at my local church. Most days lurch between laundry, essays, book marketing, cooking, email, and ministry responsibilities. It can often seem pretty spasmodic.
How does she make sense of it? Recently, a passage in Numbers 18 about work being burden, boundary, and blessing spoke to her:
Many days, a lot of my work feels like burden. I get exhausted by the responsibilities. Still, in that fatigue, I am finding an invitation to live into the boundary of my callings. Am I doing too much? Am I trying to play God? But ultimately, work done for God's glory (and by God's strength) is a blessing. I can't think of anything better than following Jesus in the work he's calling me to do, whether that's caring for my family, helping my church, or tending to my craft.
Some of her callings–mother, dedicated church member–were easy for Jen to claim. But she struggled with being a writer:
For the calling to write, though, there's been a lot more timidity. Over the last 15 years, I have taken hesitating steps of faith into what I knew was my desire to write, and God seemed to meet me as I risked on that desire. He granted more certainty to nudge me forward. If anything, I feel like I'm puzzling out that calling. Even now, I'm still making sense of it.
Visit TGC for the rest of the interview, including how Jen sets (and keeps) a schedule and overcomes the obstacle of wanting to look good in public.  We'll feature some more "TGCvocations" folks here from time to time too!  You can buy Jen's book at Teach Us to Want: Longing, Ambition and the Life of Faith.