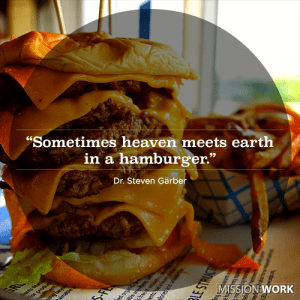 Is there a Christian way to make and sell hamburgers?
Meet Hans Hess, founder/owner of Elevation Burger. The "Come and See" conference of this past week became a "taste and see" event when we headed for Hans's burger joint down the street from The Falls Church Anglican Church's original site, on S. Washington St. in Falls Church, VA.
Before our meal (which was delicious and did not leave me, as have so many other "fast food" experiences, feeling like I'd ingested a large anvil), as we sat together at Little Falls Presbyterian Church in Arlington, Hans shared his journey.
A Carmel, California native who followed up an undergraduate physics degree with a stint at Dallas Theological Seminary, Hans was sure in those days that he was marked out for the missionary life – specifically, in the former USSR. When that didn't work out, a friend encouraged him to try working on Capitol Hill, and he's lived and worked in the Washington area ever since.
Along the way, Hans and his wife April began musing about making a better hamburger – and a two-year conversation resulted in . . . well, I'll try to tell the story in pretty much the words Hans used:
"It became very very clear to me that I should not be a missionary. I had to grapple with that theologically: 'Am I letting God down – not doing the right thing?' But I was directed in a crystal clear way – and then I didn't struggle more.
"My watershed moment was triggered by a book. My father gave me Gene Veith's The Spirituality of the Cross (1999), which lays out Luther's understanding of vocation. Luther taught that your first identity and vocation is as a believer first, but that it doesn't stop there. What follows from his understanding of 'the priesthood of all believers' is thatwhatever you're doing is for the glory of God, is meaningful to God. I had my whole view of things reset by that book. [Ed.: Veith later wrote a whole book on Luther's view of vocation, God at Work, 2011.]
"So now I had all this theological training, along with various work experiences, and I spent 4-5 years trying to figure out what my for-God's-glory work in the world might be—my 'work as unto the Lord.' What was something meaningful I could engage in?
"I asked myself 'Since the Kingdom of God is at hand – is this or that idea more in line with that kingdom? Or is it more in line with the present kingdoms of the world?'
"In my first Washington job, I read a white paper on Capitol Hill. The year was 1999, and at that point there were 10,000 deaths each year directly attributable to bacteria that had become resistant to antibiotics. So the core of the idea for Elevation Burger became to make a burger that was sustainable, antibiotic free, and organic—this was a matter of stewardship, a righting of what was wrong. It had to do very directly with what I had learned at seminary. In coming to understand my calling, I was breaking out of the old view that you go to seminary justto be a minister or missionary.
"The Lord opened doors for me to quit my job, sign a lease, and figure out how restaurant systems worked. I ran the first restaurant for 2 years. My wife is a financial genius, and she also had what it took to run the first restaurant for two years."
Elevation Burger now has about 45 locations, including 30 in the U.S. and a dozen very successful stores in all the major Middle Eastern countries. Hans expects to see this dramatic growth continue, with 150 units not out of the question in the next 5 – 10 years. "I can't take the credit," he says. "It was God in so many ways."
A lively question time ensued, and at one point Hans mentions that Elevation Burger doesn't screen out non-Christians from their franchising process, as Chick fil A does. "That's not our approach. That wouldn't have been realistic for us at all. Our rationale for entering the Middle East was that the kingdom is at hand – we're not going to withhold our restaurants because it's the Middle East—because they don't believe what we believe. Yeah. That's why we're going there! This was very counterintuitive to many."
As our time with Hans winds down, Steve Garber gives him a friendly poke: "But after all this time, you still haven't learned how to make a Christian burger?" Hans's reply is quick and sure: "No, but I have learned how to run a business Christianly."
Kidding aside, Steve refers to the staples of Hans's product line as "eschatological hamburgers" – food that gives a little foretaste of the marriage supper of the lamb, at which all the food will no doubt be both tasty and healthy, with no trade-offs.
Steve (who has written about Hans on his own blog) elaborates:
"One sign in Elevation Burger reads: 'Burgers as they were meant to be.' This makes the connection, however subtly, to the metanarrative of our faith (Creation-Fall-Redemption-New Creation). When we use that 'Things as they were meant to be' language, we are pushing back against the operative word in our culture: 'Whatever.' The idea that some things are meant to be in such and such a way – even allusively, playfully, referring to burgers – that's really important."
But not every Christian observer has recognized Elevation Burger as a kingdom thing. Steve remembers when a seminary sent some folks to visit with Hans: "These good people with good theological education asked him 'Aren't you kidding yourself about the faith aspect of all this? Where are the Christian signs and symbols? Where are the Bible verses on the walls?'"
He pauses, brow furrowed, then adds firmly: "We have a lot of work to do. A lot of theological work."