This story comes to us from Paul Sohn, who let us know via our Twitter account (which you should be following. Do it now!) and is based on the book The Search for God and Guinness by Stephen Mansfield .  Did you know that the Guinness family originally were pioneers in treating workers humanely? And that one branch of the family went into the Christian ministry? Let Paul tell it:
Arthur Guinness was a man of faith.  Born in 1724 in a family where his father was an archbishop, he embodied the words that were his family motto: Spes mea in deo (My hope is in God). His influence from the famous revivalist John Wesley inspired and enabled him to use his God-given talents in entrepreneurship as a vehicle to follow the footsteps of Jesus Christ. Wesley's mantra which is known as the statement, "Make all you can, save all you can, and give all you can" profoundly impacted Arthur Guinness' perspective in life and his wealth.

Arthur Guinness was infuriated with this drunkenness. He constantly prayed to God to do something with the alcoholism on the streets of Ireland. In fact, he felt God calling him to "Make a drink that men will drink that will be good for them." He then developed a dark stout beer called Guinness. Guinness contained so much iron that people felt full before they can drink more pints. During its creation, the alcohol level was lower than gin and whiskey.  Guinness truly was doing business as a mission instead of business for mission.  With the preserving influence of the salt and penetrating influence of light, his life truly exemplified Lord's mandate to be the salt and light of the world.
Guinness not only wanted to help Ireland's poor with what he sold, he wanted to help those who worked for him:
Guinness's investment in their employees were impressive. If you had worked for Guinness in 1928, a year before the Great Depression, you would have had 24-hour medical care, 24-hour dental care and an on-site massage therapy. In addition to this, your funeral expenses was paid by the company as well as your pension all paid with no contributions needed to be made. Your education as well as your children and wife were all paid for. The company had libraries, reading rooms, athletic facilities and so on. Now, think again. This was 1928…not 2012.
If you think Google or Facebook has great perks, Guinness was one of them. A key belief that the Guinness family subscribed to were the belief that "You cannot make money from people unless you are willing for people to make money from you." This starkly contrasts the traditional thinking of today's corporation where they think of employees as a disposable resource instead of a unique human being created by God.
One of Arthur's descendants, Henry Grattan Guinness, became one of Ireland's foremost evangelists.  Os Guinness, the modern writer and apologist, is descended from Henry Grattan.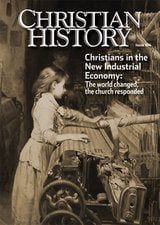 For even more on the story, and the stories of several other businessmen who used their businesses for good, you might want to check out an article from our friends at Christian History Magazine: "Godless Capitalists?"  It tells the story of Guinness, Quaker cocoa merchants John Cadbury and Joseph Rowntree, grape juice manufacturer Charles Welch, and founder of Coca-Cola Asa Candler.
Images: Paul Sohn and CHM.