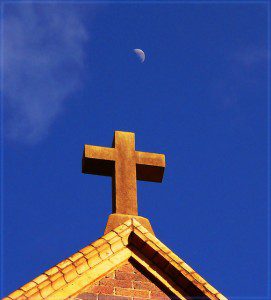 We're not the only ones on Patheos thinking about this question. A few days ago I ran into a post on the same issue at Patheos' Religion Q and A, called "How should Christianity mix with commerce?"
The questioner asks:
Businesses like Hobby Lobby and Chick-fil-A overtly follow Christian principles and thus promote Christianity. Is it profitable for them to have this 'brand,' or do you think the CEOs have some deeper evangelical goal?
The Ridgewood Religion Guy, who runs the blog (and is Richard Ostling, a former religion correspondent for Time Magazine), answers in part:
With both companies, Christian commitment is accompanied by prosperity, and the question suggests their religious image may be calculated for "profitable" advantage. But The Guy concludes that the companies' unique cultures result only from evangelical Protestant convictions. Both firms surrender huge revenues by closing all stores on Sundays, and give away sizable profits to charity. As privately-held family operations they're free to do such things with no need to appease public stockholders.  No question the self-conscious Christian stance gives these firms a special responsibility to uphold ethical business practices and by most accounts they do so…..

Numerous smaller firms  also conspicuously apply religious ideals. On The Guy's own northern New Jersey turf we find the unusual Atlantic Stewardship Bank, which states that it "stands on solid Christian principles." The bank's 13 area branches have $674 million in assets. Devout business executives created the bank in 1985 with the purpose of donating 10 percent of profits to Christian and community non-profits. The firm has given out $8 million to date and does well by doing good, prospering in bottom-line terms. Something more businesses might emulate?
A lot more about the Christian background and current practices of Hobby Lobby and Chick-Fil-A can be found in his post. Worth checking out.  As you know, we hope every day here in this space (and on this channel) to provide resources for people who are trying to be Christians in the marketplace. Let us know how we're doing.
Image: "Cross with moon."