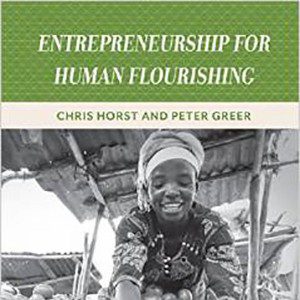 That question is at the center of a new book reviewed by Drew Cleveland recently on Kern Pastors Network and called  Entrepreneurship and Human Flourishing.  As Drew says:
Written with Christian college students and entrepreneurs in mind, Horst and Greer marry biblical wisdom with insightful data. Full of great quotes, biblical foundations, dozens of real world stories, and above all, a big heart and a joyful tone – this succinct resource is a gem.

Here's a taste:
"Entrepreneurship occurs when people use their God-given skills and abilities to create and grow organizations."

"In general, entrepreneurs are in the business of solving problems, not creating them. Their initiatives and inventions—and the businesses that sustain them—meet human needs. Tables allow families to share meals together. Telephones enable friends to communicate in real time. Airplanes permit people to travel the globe."
and
And yet they admit early on that not all entrepreneurship is good all the time. We live in a broken world after all, and greed, selfish ambition, and vain conceit can still infect our thinking. But because of their Christian faith, they are hopeful for the good that can be accomplished when we view all good work as noble.
"We hope that current and future generations learn to bridge the unhelpful chasm between the work of nonprofit activists and the work of businesspeople. It's time to erase the lines between a "noble nonprofit" and an "ordinary business." All work is infused with meaning. Entrepreneurs who pursue their God-given potential—and in time employ others on the basis of creative ideas that fulfill human needs—are undertaking incredibly noble work." (p. 87)
One of the best things about this book are the real stories about real people and businesses. These help ground the ideas in practical and accessible ways. If the story of Rising Tide Capital (p. 60-63) doesn't affect you, check your pulse to make sure there's not just a stone in there. God is weaving his grand story through every sphere, if we have eyes to see.
More stories, a video, and a list of more helpful books by the same authors in Drew's post. Check it out!