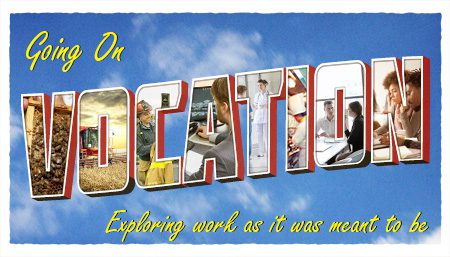 Work is no vacation, right? We have some good friends at Christian History Institute, as you know from previous posts, and they've just released a video exploring work as it was meant to be in God's design. Here's what they have to say about it:
Adam knew it, and you know it too. Ever since the Fall, work is no vacation.

But what if work can be redeemed? What if a day on the job could be a day living out your calling?

Explore these questions and others through personal stories and solid teaching by scholar-experts in Going on Vocation, a new video series from Christian History Institute. This video is suitable for individuals and groups who are seeking a Biblical foundation for work as it was meant to be.
Some of the scholar-experts are names you'll recognize from this blog: Chris Armstrong, Greg Forster, Vincent Bacote, Gene Veith. (If you are dying to know what these folks look like, click here.) And there are many interviews with ordinary workers, from a waitress to a police officer to a hairdresser to a mayor to a beekeeper to a chocolate maker.
Hop on over to the website and check it out. It will be available in April. And watch the trailer below!