By R. Dale Hale
Last Saturday, I was privileged to play a very special role in our church's observance of Palm weekend.  Saturday, we had an all day event that mimics VBS with crafts, music and a Bible lesson.  The Bible lesson is obviously about Palm Sunday.  I was asked to play the role of Jesus.  In about an hour, the triumphal entry, the last supper, the Garden scene, and the resurrection all occur.  As Jesus, I don't say a word; merely act out the parts that are narrated.  Among other things,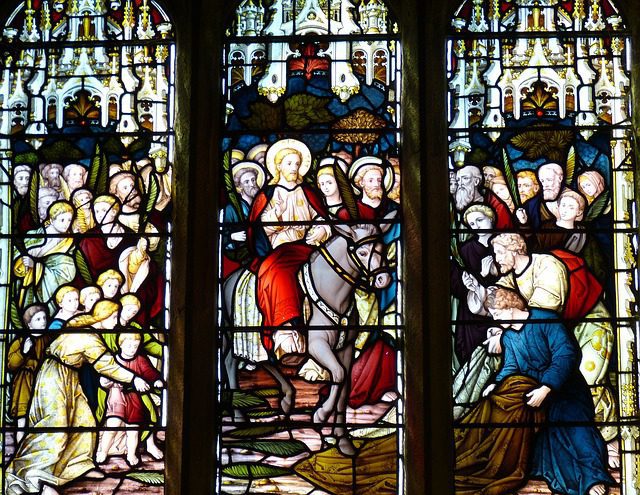 during this one hour I wash "the disciples" feet.  One of the narrators becomes a disciple whose feet I wash.  Then each of the children and their teachers come, one by one, to have their feet washed.  At the time of the washing, the narrators ask "I wonder" questions.  "I wonder who would wash your feet.  Would your teacher at school?  How about your principal?"  The list grows until it comes to Jesus.  Then, should He wash their feet?  Questions of significance hang in the air.  Purpose.  Why did Jesus do it?  Why didn't a servant do it?
For fifty to sixty participants, I'm kneeling on the floor (thankfully, not all 60 at once but in six sections), bent over, pouring water and then drying their feet.  Gotta admit, sometimes I think, "How much longer do I have to do this?"  Seriously, it's tough on the back, knees, legs, neck.  Muscles ache that haven't ached like that for a long time.  Besides my own discomfort, I am also aware of the discomfort of the participants, adult and children alike.  Washing feet is an awkward setting at best in our society.  It just feels really odd.  I've seen shyness and embarrassment.  It's just awkward.  I also note the feet.  Some are long and skinny, boney, short and stubby.  Some look deformed and ill proportioned for such small tykes.  There are bandaids, nobs, bumps, bruises, callouses, dirty toes, etc.  You get the idea.  It's not pretty.  There aren't any foot models among any of them.
Because this is done in assembly line fashion, one right after the other, I have to concentrate on speed and efficiency of movement.  Speed for a couple of reasons.  Each class has a certain amount of time to get to the next activity, so we are limited in how much time we can take there.  Speed is also important for my own endurance.  The quicker I can get their feet done, the quicker I can get out of the uncomfortable position.  However, in spite of the efficiency and time, I like to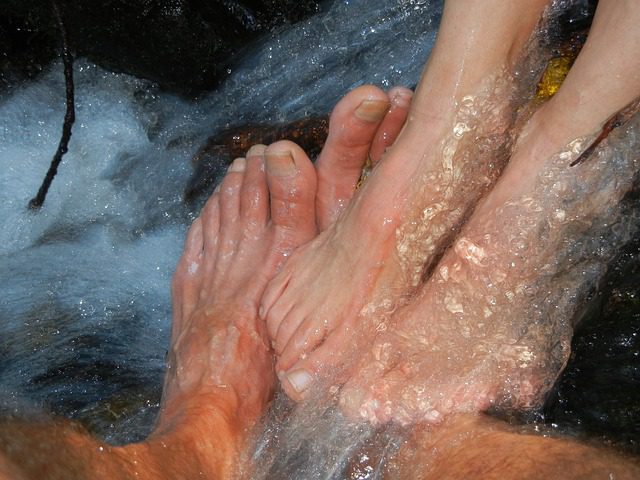 make sure I get as much of the water dried off while treating each foot gently.  I'm trying to be Jesus and I just can't imagine Jesus being rough, no matter how painful it was.  After the feet are done. I like to make eye contact with each participant.  Just a little connection.  Sometimes with the adults, there is a flicker of some much deeper, serious emotion.  For the children, there is an awkward feeling like the "pretend" time just took a step beyond what was expected.  They participate, but it feels funny, as if something meaningful happened but they can't label it.  So, it feels mysterious.
Can you imagine the thoughts that went through Jesus' mind when He washed His disciples feet?  I am no Jesus, but I can't help but imagine Jesus saying to himself something like, "Peter, couldn't you have at least missed one of those mud puddles?"  "John, how many times have you broken that toe?  Wow, look at that thing!  One more break and it'll be at a right angle!"  There is no doubt in my mind that Jesus would have thought, "Oh my!  What have I gotten myself in for?  I've only done three of these and my back is already having spasms."  Yet, he continued.  I'm equally sure that He prayed under his breath for each one of those disciples.  "Father, none of these have been lost.  Please strengthen each one for the days ahead."  Don't you think He paused when He reached Judas?  "Father, forgive him for he knows not what he is doing!"  I'm sure he looked Judas in the eyes with a knowing look.  Judas probably turned away so as not to betray his own tumultuous thoughts and misgivings.  Yet, in spite of the discomfort, Jesus' own physical and the disciples mental discomfort, something else happened.  Looks exchanged between disciples, as well as between the Master and the disciple, that spoke more than mere words.  Deep, unspoken words that impacted each one to the core of their being. "The Master is a servant!  What manner of man ought I to be?"  Perhaps, one more thought, one more pervasive, uncomfortable, outlandish, frightening thought – "Jesus is preparing us for His departure."  How odd!  They are not in control.  In fact, there is nothing that is happening that is within their control.  So much is said in this simple act of washing the disciples feet.
So much happened in that one meal at that one time.  We don't have time to address all of it.  However, I think this simple act reflects a very important point and could very well sum up what was about to take place.  In this, Jesus shows what is His last will and testament.  Service to others.  He demonstrated that service first by washing their feet.  What followed showed the depth of His service.  Likewise, we should serve others and by so doing we serve God.  What a novel and yet honorable thing.  Friends, during this season, let us live by the example so beautifully shown in the selfless, painful and yet rewarding way of serving those around us.  Remember, He didn't stop at the feet, He served the heart.
R. Dale Hale is Director of Distributed Learning at Asbury Theological Seminary.