This post is reprinted from Marion Be The Change, a community development and advocacy organization in Marion, IN "aimed at giving those living in poverty a voice, while seeking tangible solutions to improve their lives."  The organization focuses on talking seriously with those in poverty to hear their own stories and suggestions. Check out some other organizations doing similar work in our community development forum last November, and stay tuned for more posts from MBTC from time to time.
---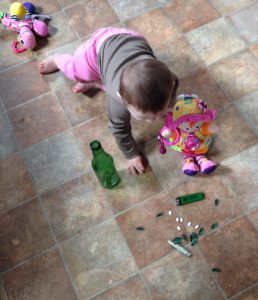 By Jessy Pearson
Imagine a community that is thriving. A community in which its members find purpose and passion in the city they live. Imagine a community where children are safe and healthy and are given opportunities to grow and develop into happy, productive leaders who want to stay in their hometown and enhance their community through their chosen career. Imagine driving down streets where children are playing in the yard with their parents and every child on the baseball field has someone in the stands cheering for them. Imagine a community where parents are able to spend the weekends with their children at a local zoo or museum. Imagine a community where young adults are not forgotten, but rather they are the focus of the community's time and resources, because that community knows children are their greatest asset.
Imagine if that community was Marion, Indiana.
Kayla, a twenty-five year old mother of three, has lived in Marion her entire life. Kayla has personally experienced the other side of the vision described above. Kayla did not receive support she needed from her parents and her community. As a young adult Kayla was forgotten and quickly made choices that drastically shifted the trajectory of her life.
Kayla has one drug related charge from when she was eighteen. It was, by many standards, a minor offense. So why is this young woman, mother of three, still atoning for a mistake she made seven years ago? The consequences of her mistake affect every facet of her life. This mother continues to struggle to secure housing for herself and her children and safe and reliable day care. This woman is overlooked for jobs as soon as employers see the felony she discloses on her applications.  This member of our community fights to create a balanced personal life amidst the demands of working seven days a week, fulfilling her probation obligations, and caring for her three young children.
In less than a year Kayla will finally be off of probation. Yet, this is only one piece of the puzzle for her. Kayla is still working to shift the direction of her life so that she does not take the same path as her mother. Kayla wants to be the mother to her children that she needed when she was a child. Kayla wants to be sober and healthy, able to provide her children stability, and she wants to be present physically and emotionally to meet their needs. Kayla cannot do this alone. No parent can. Parents need the support and resources of an entire community to rally behind them as they bear the responsibility of caring for our children, our future.
There was one key argument Kayla emphasized many times during our interview. She directed the spotlight on a fatal error that, had it been corrected many years ago, may have changed everything for her. The message was this:
Give our kids something to do. You can't be mad at children walking the streets getting into trouble when they have nothing better to do. If children don't have something to do, of course they will get in trouble. Give children something to do and see how their lives change.
Our community does offer many opportunities for our children but, as Kayla is finding as she raises her own children, those options diminish rapidly as our youth become teenagers and young adults. Our teens are in crisis, and the community is upset that they are getting trouble, yet our community offers very little for the teenagers to engage in. Younger children have sports clubs, dance, and kid-friendly activities. Kayla worries about her own children and her nieces and nephew. Kayla wants to know, "what about our teens, what can we do for them?"
It's an important question. Kayla is especially concerned for children who have absent parents, a situation that is rampant in our community. Too many children are in a battle where they must fight drugs for their parent's time and resources. Kayla was passionate about the need to engage the youth in our community and provide them support and opportunities in their hometown. Inevitably, there will be children who lack the support and guidance they need from their parents, but isn't that the void that our community should be willing and able to fill? Even in idyllic parent-child relationships, youth need opportunities to grow and explore that extend past their families; they need the network of their community to capitalize what they have to offer.
Don't we all want a community where mothers have the ability to not only financially support, but emotionally invest into their children? Don't we want children to know that even if their parents are absent, they have a community to fall back on? If we know and agree that our children are in desperate need from parental guidance and support, why is there not more focus on creating ways opportunities for our parents and resources for our children? The answer to these questions could change everything for Kayla, because for Kayla the answer is "yes".  That's the change that Kayla would like to see.
Image: MBTC.