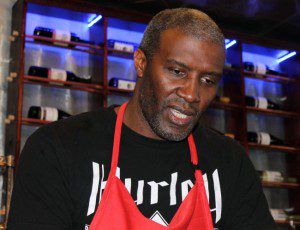 By David Spickard, originally published in March 2015.
Jerome Jenkins is a business owner. It's in his DNA and he has big plans. Already an owner of a chemical company and a thriving restaurant, Cathy's Kitchen with his wife, Cathy, he has plans to start a grocery store, a gas station, and five new restaurants. All in his hometown.
But people wonder why?
After all, he lives in Ferguson.
By now, we all know Ferguson. Six months ago, very few of us outside of St. Louis would have known much about Ferguson. But the tragic death of Michael Brown changed all that. Now you say the word, "Ferguson," and we immediately know what people are talking about.
Or do we?
Ferguson is home to over 21,000 people and located just outside of St. Louis five minutes from the airport. These days it's difficult to read anything good about Ferguson. Just this week, we learned the U.S. Department of Justice ruled there has been significant racial bias in the Ferguson police force. A quick Google search on Ferguson, and you would be hard pressed to find anything positive.
When I told friends and acquaintances, I was headed to Ferguson at the invitation of pastors and business leaders to share with them our work at Jobs for Life, their reaction made me feel like I was going into a war zone. Even the woman sitting next to me on the plane to St. Louis said, "What good can come out of Ferguson?"
Sound familiar?
When Nathanael was told by his buddy Phillip to come and see the Messiah, Nathanael said in John 1:46, "Can anything good come out of Nazareth?"
Nazareth was a small town of 2,000 people in Jesus' day and like Ferguson had a reputation. It was a hotbed for radicals such as Judas of Galilee who led an armed uprising against the Roman census that forced Joseph and Mary to travel to Bethlehem when she was "with child." Judas also founded the Zealots, a militant Jewish sect whose revolt years later would result in the complete destruction of Jerusalem. Nathanael had reasonable cause to question what good could come out of Nazareth.
But Phillip's response was simple, "Come and see."
When v
isiting Ferguson, it's easy to see the wound left behind from all that took place around Michael Brown's death. Burned buildings are left abandoned, chain linked fences block areas that have been condemned, and messages of pain and hurt line the streets.
But that's not Ferguson. In my time with Jerome, he reminds me people in Ferguson aren't hopeless. There is not a sense of desperation, it's not a dangerous place, nor is there a need to close up shop.
Jerome and his wife Cathy have become local celebrities as their restaurant was protected from the looters the night of the riots. As Anderson Cooper from CNN said, it was the one bright spot in Ferguson during the night of the violence.
If you listen to Jerome, there are many bright spots in Ferguson, and nothing will get in the way of his dream.
Hear Jerome explain his dream from Cathy's Kitchen (2 min, opens in Windows Media)
Having been invited to Ferguson by Jerome's brother, Pastor Ken Jenkins, pastor of Refuge and Restoration Ministries, a close friend and brother in our work at Jobs for Life, I was able to see a bit behind the scenes of what we are not seeing on tv.
Here's what I learned:
The wound in our cities is real. All it takes is one incident to expose it.
What happened in Ferguson can happen anywhere.
It doesn't take long to be inspired by the character and determination of the people of Ferguson.
The Church is alive and well and taking the lead to bring hope to the community. That's why I love hanging out with Ken.
Hear Pastor Ken Jenkins describe the power of the Church in Ferguson(1 min, opens in Windows Media)
When Nathanael went with Phillip to see this Jesus, he found something really good
can come out of Nazareth
– the one who came to bring good news to the poor, to bind up the brokenhearted, to comfort all who mourn, and to give them a crown of beauty instead of ashes.
So, can anything good come out of Ferguson?
Of course.
---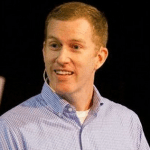 David Spickard is the President and Chief Executive Officer of Jobs for Life (JfL), a global non-profit organization that engages and equips the local church to address the impact of joblessness through the dignity of work. He lives in Raleigh, NC with his wife, Alice, and their four children.