By David Spickard, originally published in August 2016.
Jameel McGee was walking out of a store in Benton Harbor, Michigan after he had just picked up a few items on his way to meet his newborn son for the first time.
Andrew Collins was a young Benton Harbor police officer looking to make an arrest.  He saw Jameel and confronted him.  Jameel looked like someone the police were trying to find for possessing and dealing drugs.
Sure enough, Andrew arrested Jameel.  Jameel was convicted for drug possession and sent to prison.  He never got to see his son.
Four years later something happened.  Andrew confessed.  No longer could he hide what he had done.  Not only had he falsely accused Jameel, but he had done the same thing to many others in Benton Harbor.
Andrew was convicted and sent to prison.  A week later Jameel was exonerated and returned home having spent four years in prison for a crime he did not commit.  It was then that he finally got to be with his son for the first time.
Last month, I was sitting with both Jameel and Andrew at a table in Café Mosaic in Benton Harbor.  It was the day of the Alton Sterling and Philando Castille shootings.  I listened as Jameel, a black man, described how he forgave, Andrew, a white former police officer, for what he had done.
They are now best friends.  Yes, you heard me…best friends.
In a day and age when we have more questions than answers in our country, I watched as these two men laughed and shed tears telling me their story.  For most of us, we'd consider the circumstances unforgivable especially given this all too familiar scene – a black man unjustly treated by a white police officer.
I asked Jameel how he forgave Andrew.
His answer was too simple.  "I just did," he said.
Jameel and Andrew became friends when out of sheer happenstance Andrew was assigned to be Jameel's mentor in the Jobs for Life (JfL) class at Mosaic.
Founded by Overflow Church and supported by many churches in the area, Mosaic is a ministry that prepares men and women for work and for life.  The average median income in Benton Harbor is just over $18,000 per year and over 50% of the population live below the poverty line.
To create jobs and prepare people for work, Mosaic leads JfL classes and employs the graduates in four businesses it has started –
Café Mosaic
,
Mosaic Resale Store
, a landscaping and snow plowing business called
Harbor Shine
, and
Harbor Market
, a weekly farmer's market.
Working at these businesses provides on the job training for JfL graduates and serves as a stepping stone for them to pursue full time positions at various companies in the area.
A few years after Jameel was released, he found himself sitting in the JfL class at Mosaic. Jameel was in need of a job and someone had referred him to the class.
Meanwhile, Andrew had already connected with Mosaic.  He had owned up to his mistakes and sought forgiveness from those he had harmed.  It was not an easy process, but God had begun an amazing work of restoration in his life.
On the night mentors were assigned for the students, the leaders knew nothing of the background between Andrew and Jameel.  They just felt like they would be a good match.
During his time in prison, all Jameel could think about was how he was going to find Andrew and hurt him.  Because of Andrew, he had wasted four years of his life sitting in prison.  Since then, though, he had come a long way and God had removed much of the anger he had previously felt toward Andrew.
When Jameel forgave Andrew and received him as his JfL mentor, Andrew wept.
Today, they are not only friends, but they are sharing their story all over the country at police departments, government entities, churches and non-profits.  Recently, they were featured on the CBS Evening News and appeared on the Steve Harvey Show.   
As I left my time with them, I wondered,
Did I just experience a cure to our culture's cancer that's tearing us apart?
Is it really just about forgiveness?
Certainly, there's more.  But that's a great place to start.
P.S. If you are interested in having Jameel and Andrew come speak at your church or organization, you can email Andrew directly at acollins0506@gmail.com.
---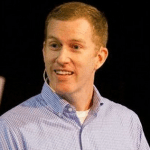 David Spickard is the President and Chief Executive Officer of Jobs for Life (JfL), a global non-profit organization that engages and equips the local church to address the impact of joblessness through the dignity of work. He lives in Raleigh, NC with his wife, Alice, and their four children.