In the past few weeks, Chechnya has been in international news after the president of the independent republic, Ramzan Kadyrov, made few remarks supporting and justifying honor killings.  After years of war in the region, including the First and Second Chechen wars, Chechnya has undergone a challenging road to reconstruction. Although it seems that Kadyrov's alliance with the Kremlin has appeased Russian-Chechen relations, occasional bombings and clashes between federal troops and separatist militants are still common.  In addition, Kadyrov has been accused of human rights abuses in his attempt to fight the insurgents and incorporate religion into government policies.
It is in this environment that Kadyrov's recent comments have come under fire in the Western (particularly North American) media. Yet this is not new. Since 2007, Chechen women (Muslim and non-Muslim) are required to wear headscarves to enter government buildings, which has been said to violate the Russian constitution. Moreover, in 2011 Kadyrov's regime requested models' hair to be covered in advertisement pictures. Kadyrov's ideal, as he has publically explained, is to make Chechnya "more Islamic than the Islamists." This project has also been backed up by Kadyrov's wife, Medni Kadyrova,  and her engagement in the fashion industry through her Islamic clothing line, called Firdaws.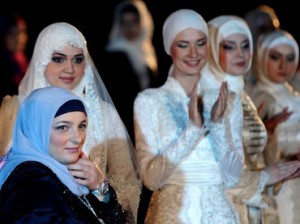 The focus on women in Chechnya either from a policy side or a media one is not uncommon this days. Some of us recall the famous images of Chechen female suicide bombers labeled as Black Widows. These women's motivations, intentions and actions are sometimes seen as both as symbol of rebellion but also subservience to a male-dominated insurgency, which may be in itself a sexist way to look at women's involvement in conflict. Yet, the Muslim women dressed all in black and holding weapons are constantly identified as symbols of the Chechen insurgency.
Similarly Kadyrov's comments and restrictions on women's agency and sexuality are an attempt to "re-appropriate" the female body for the "good" side of the conflict. Women's bodies continue to be appropriated in Muslim and non-Muslim settings. In the case of Chechnya, Kadyrov's comments are concerning because they endanger Muslim women's agency in terms of their own sexuality and jeopardizes the lives of those who do not comply with Kadyrov's understanding of Islamic law. This is a typical approach to conflict. Women are considered to be the keepers of morality (where men seem not to play a role), reproducers of the "nation" and cultural gate-keepers.
The situation in Chechnya, regardless of whether or not one supports the development of an Islamic republic, makes women's agency dependant on the personal views a desires of a strong male figure. Yet we cannot say that Kadyrov is the only supporter of such a restriction of women's sexual behaviour. His wife seems to align with his "Islamization" project, either by choice or due to her political position. Her involvement in the fashion industry seems to have just the right amount of female Muslim "agency" to appease those concerned about women's situation under Kadyrov's regime, but yet, it still holds his political stands and aims for a closer relationship with Middle Eastern regimes. Women's involvement in the restriction of other women's rights is one of the main successes of some patriarchies and indicates that some women benefit from this environment.
Now left to wonder is what is the future of gender and sexuality in Chechnya? Will the Russian constitution play a role in curbing Kadyrov's restrictions or will Chechen women have to look elsewhere?