Up until this year, my Ramadans had all been spent in Canada.  While I often hear people around me reminiscing about the festivities and exuberance of Ramadan "back home," I have come to appreciate the quiet suhoor mornings by myself, and intimate iftars with friends that have become part of my own Ramadan traditions.  But when I was making plans to attend a conference in Turkey in mid-July, I knew that I wanted to stick around to taste at least the first few days of Ramadan there.
As it turned out, a friend from Toronto was in Istanbul at the same time as I was, which made it more realistic to leave the hotel at strange times of day.  In the early mornings (read: middle of the night), we would head out for suhoor, joining a crowd of mostly Turkish and Arab travelers at a restaurant near our hotel.  Once the adhan was called, we made our way to the local mosque for fajr prayer.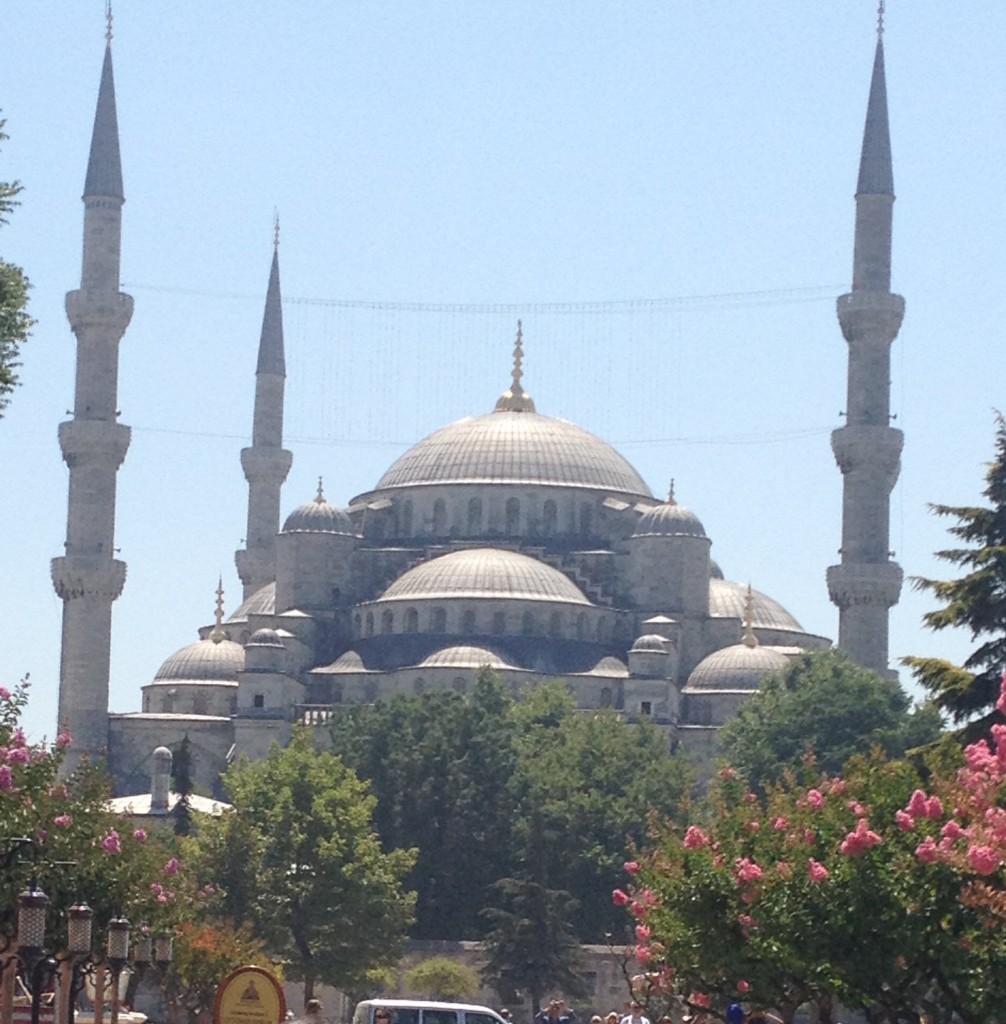 And, for those magical early days of Ramadan this year, the local mosque was none other than Istanbul's Sultanahmet, or Blue Mosque.  Fajr time also has the distinct advantage of being the only time (that I saw) that this mosque is not very crowded, and there is space to just sit and breathe in its beauty.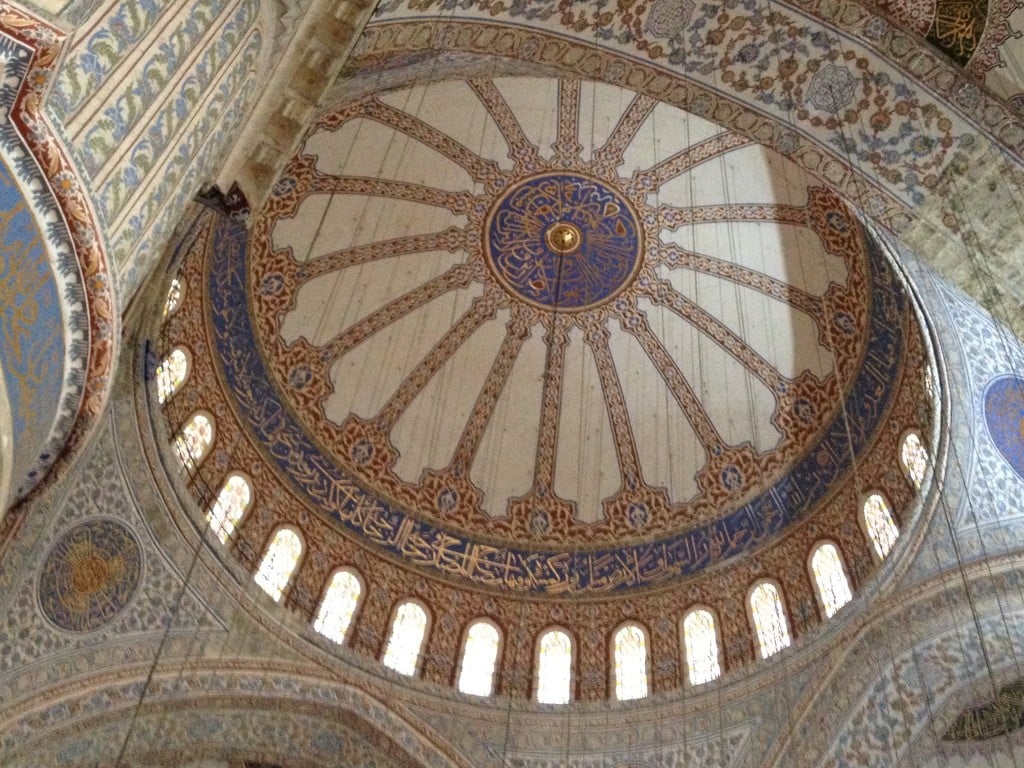 Well, sort of; I will be honest.  I went to this mosque on three different mornings.  On the first, I arrived shortly after the fajr adhan, and sat admiring the building and listening to the Qur'an being recited before the prayer began.  What I didn't know yet was that the recitation would continue for about 45 minutes before the prayer actually started.  While this was lovely in many ways, my sleep-deprived body wasn't having it.  And so what started off with "wow, how amazing, I get to sit here in this gorgeous building and listen to this wonderful recitation" quickly turned to "stayawakestayawakeSTAYAWAKE," as I realised that I could either relax and enjoy it, orkeep myself from falling asleep, but apparently not both.  The second morning, I was more prepared and present, and actually got to soak it all in, but on the third morning, my friend and I were both too tired to stick around, so we went quickly into the mosque, prayed by ourselves, and then staggered back to the hotel.  So the experience of praying fajr each day in this mosque sounds nicer in theory than what I was actually capable of appreciating, but I'll take what I can get.  I am still immensely grateful for the opportunity to be there, even on my foggiest of mornings.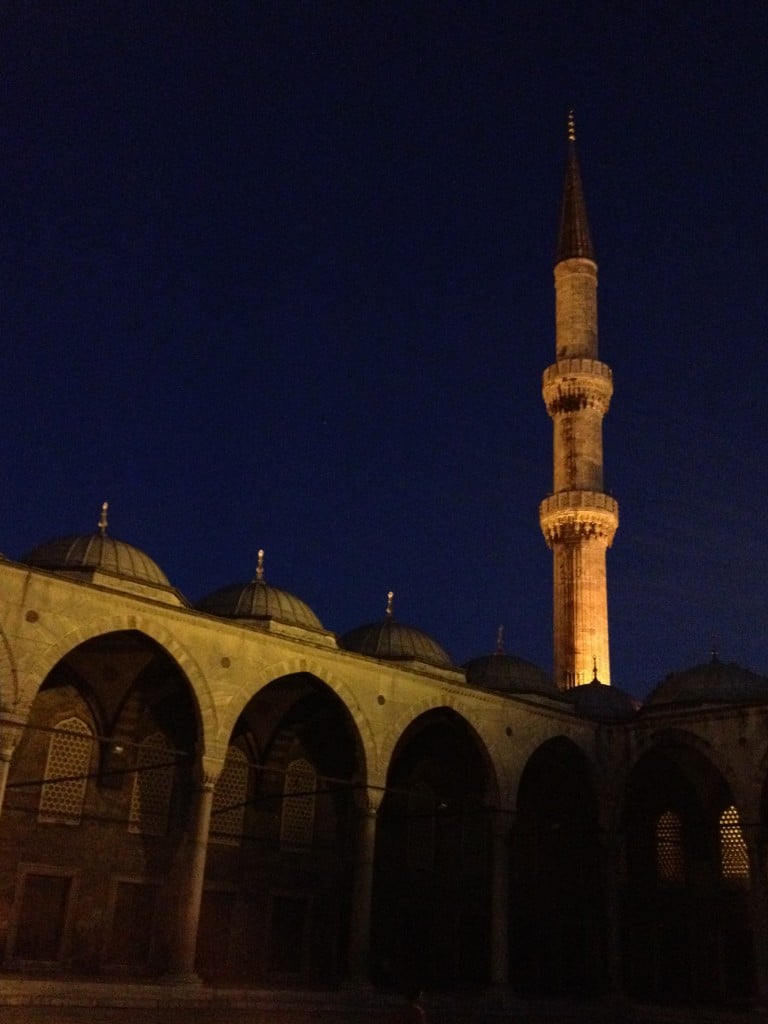 In the hours leading up to iftar, the lawns outside the Blue Mosque, and outside of the neighbouring Ayasofya, as well as picnic tables all in that area, started to fill with people.  While the sun was still up, it was a scene of hundreds of food-less picnics, aside from some kids who were too young to fast, and who were having real picnics while their parents watched and waited for maghrib.
Once the sun set, the streets were busy with people eating and walking around.  On two different evenings, my own iftar meals consisted of whatever street food looked the best: fried bread stuffed with cheese (yummy, but too greasy to be a good idea on an empty stomach), lots of watermelon, corn on the cob, yogurt sweetened with delicious honey (this was from a small market area set up to sell local arts and foods), and ice cream.  Possibly not the most balanced of meals, but oh so good.
Later in the evening, people stayed in the streets, hanging out with friends and family, and listening to live music.  There were concerts held in several different locations throughout the city, and the music (mostly religious-themed, from what I could tell) was amazing, with powerful vocals accompanied by violin, oud, qanun, ney, and drums.
My favourite memory is from my last night of the trip.  I had been walking around Istanbul all day in the heat, and I was tired, with maghrib still about an hour and a half away.  I sat down on a bench near a bunch of picnic tables, content to just sit and absorb what I could during my remaining time in the city.
A man came up to me and started chatting in English: had I been walking around all day, where was I from, how did I like Turkey.  He mentioned that he was fasting, and I told him that so was I, and he invited me to join him and his family (his two sisters, his niece, and his niece's children) for iftar that evening.  Soon, he and I were walking through the crowd, searching first for his sisters and then for a free picnic table, and then he was off to go buy some food, while I stayed with the others.
I speak no Turkish, embarrassingly enough.  The other women spoke almost no English.  The eight-year-old boy, aided in whispered conversations by his sister one year older, asked me what my name was, how old I was, and whether I liked pasta (apparently he was listening during the food lesson in English class?)  One of the women showed me old pictures of herself, her daughter, and her brother.  Another, through gestures and with translation help from the table next to ours, asked if I was married; the woman who had helped translate followed up with "why not?" (sigh).  Mostly, there was a lot of improvised sign language.
They gave me gifts: prayer beads shaped, and scented, like roses, and earrings with a matching heart-shaped pendant.  When the man I had first met came back with the food, the women spoke to him in Turkish, and he explained to me that they had given me the gifts because they liked me so much.  And yet they only barely knew me. There are many teachings in Islam about the importance and value of feeding someone who is fasting, but this wasn't just about the food. The meal, the gifts, their warmth: this is Turkish hospitality, they explained.
In a country full of grand mosques and artwork created to worship God, this simple gesture of inviting me to join them for a meal was a different kind of worship, understated and matter-of-fact: of course I should join them for dinner.  It's Ramadan.
Humbled by their generosity and openness, I repeated my gratitude:  Thank you.  Teşekkür.  Thank you.
For more on Ramadan, and to read the rest of the posts in MMW's Ramadan 2012 series, click here.