My mother and I are in the kitchen on a bright Sunday afternoon right before Ramadan. Spices overwhelm our shared counterspace as my mother toasts and grinds spices for her garam masala, the ubiquitous Indian spice blend.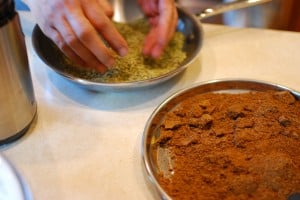 I'm squishing tamarind pulp that's been soaking in warm water through my fingers—my mother assures me that the food processor won't give the same results.
After years of avoiding learning from my mother's kitchen skills, I find myself this year asking her to show me how to make tamarind chutney—a sweet+tangy condiment that's only made during Ramadan at our home, that I eat in unhealthy amounts with everything during the month. It's time I learned how to make it for myself. 
Despite the lack of food consumed during the day, there is an eclectic abundance towards the end as everyone at home prepares their own favorites to share. Our family's iftars consist of dates, almonds, a cool sweetened milk drink called sharbat, and a spiced fruit salad. There is usually some sort of deep fried Indian snack—my sister's dahi vadas, my dad's bhagias (always tending more towards onion ones), samosas (the flat, triangular kinds at my home) prepared en masse and frozen to be fried at a moment's notice, kebabs. All of the snacks go fantastically with the tamarind chutney; many are lovingly shared with friends who live close by.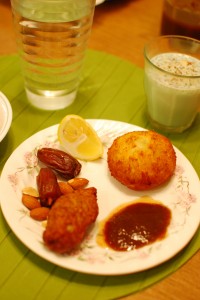 And then there is always something else on the plate too, anything from a variety of different foods that reflect our family members' own likes and upbringings. My mother always makes mandazi (fried triangular bread), barazi (a type of saucy bean accompaniment for the mandazi), and futari (cassava soup) at least once during the month—a reminder of both of my parents' upbringing in Tanzania. Various pasta dishes, farmers market finds coaxed into sides, and other Indian foods round out our meals.
I've moved on to squishing dates that have been soaking in water through my fingers for the imli chutney as my mother and I talk about how she learned how to make it—first from my grandmother, and then mostly by trial and error every time thereafter. It's never quite clear what the proportion of tamarind to dates is supposed to be—the chutney tastes slightly different every year. Luckily, we'll be able to taste it and adjust as we're not yet fasting. 
Growing up as a kid (and, who am I kidding, even now), the food we eat during Ramadan at home has been one of the biggest highlights and blessings of the month. Many of the foods I mentioned only come into existence during Ramadan (or when my siblings and I visited our grandmother; she was shocked to hear we only ate samosas during Ramadan).  This mini food fest, in part, became what we looked forward to as kids after a day of fasting.
But this time well spent in the kitchen is only a small part of what the month is about. There's a sort of hyperawareness of the small moments that make up the day—an awareness that seems to become clearer as the month progresses:
Eating my pre-fajr breakfast with family. Listening to my mother read Quran as I get ready for work. Weekend farmers market visits in preparation for lazy afternoons in the kitchen. Quiet walks around a nearby lake before iftar. Tarawih prayers in the evenings surrounded by women wearing abayas, shalwar kameez, sweatshirts and jeans. Interspersed throughout, reaching out to dear friends and family—both those fasting and not. Free time spent reading Quran and various blogs and reflecting on the month and on myself—am I leading a personal, spiritual life of conviction in a way that is meaningful to me?
When I was a kid, these moments escaped my notice. Ramadan was a time for Dad's bhagias, evenings at the masjid for Tarawih prayers, and gifts of money on Eid for every successfully completed fast. The moments were a blur; the month passed by without much reflection. Perhaps as it should be during those ages of innocence.
I find myself as a grown-up now increasingly looking forward to the month for personal reflection. With every additional year, there is so much to be grateful for. The month serves as a reminder that it's never too late to learn something new—be it learning how to make a chutney or to memorize another surah, to take up or leave habits behind, seek forgiveness for ourselves and others and grow in our lives.
It's also an incredible opportunity for sharing my beliefs with others who are unfamiliar with what the month entails for Muslims. These conversations occur with every passing year and I enjoy them more each time. They're never the same but always serve to help bridge an understanding of some of our beliefs and festivities.
I'm directed to strain the tamarind, removing seeds and unsquishable fibers. The tamarind and date pulp then bubbles for a few minutes on the stove—turns out it needs sugar (the dates aren't as sweet this year). My mother adds freshly toasted and ground cumin, pepper, and salt. We each try a spoonful. It's thick, sweet+tangy the way I like it, perfectly spiced, not quite the same as last year's. We fill a large pickle jar and keep it in the fridge, ready for the month ahead.  
—
For more on Ramadan, and to read the rest of the posts in MMW's Ramadan 2012 series, click here.