Poverty and harsh conditions have led Syrian refugees to take drastic measures in order to save (the honor of) their daughters, marrying them off, even at a very young age. While many husbands are from Jordan, home to many Syrian refugees, there is now a trend too in online trafficking in Syrian brides, who are taken from refugee camps in Jordan to be married off to virtual strangers. Potential husbands hail from all over the Arab world, and agencies specializing in finding Syrian wives have been reported in Libya too. May God protect them.
The increasing popularity of polygamy among Senegalese men hinders the emancipation of women in the West African nation.
Last week 3 Afghan actresses were attacked by a group of men, and one of them, Benafsha, did not survive. The two surviving girls, orphaned sisters, have been taken in by police and have undergone virginity tests, to make sure that are not involved in other "activities". They may face years of prison for so-called moral crimes. May God bring them justice.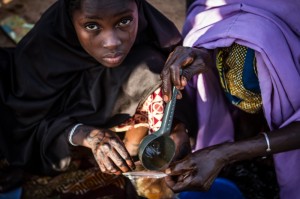 Elma and Drako Balen are a Muslim – Croat couple living in Sarajevo, and even though their families did not object to the marriage of Muslim Elma to Catholic Croat Drako, they are worried about the future of their mixed heritage children in post-war Sarajevo.
As part of a project in Dheisheh refugee camp in the Palestinian West Bank, women are given the means to start their own rooftop gardens, which will hopefully make their families less financially dependent on aid and gives the women a sense of empowerment.
The controversial case of Nevin Yildirim, who beheaded her rapist after months of abuse and forced impregnation, while her husband was absent, proves that in Turkey women usually pay the price when it comes to gender-based violence. May God ease her suffering.
Many Muslim women in the central African country of Burundi are not allowed by their male family members to be seen by male doctors, and with only 3 female gynaecologists in the country, there is a lack of specialized health care for pregnant Muslim women.
Pashtun/Pakhtun tribes on the Pakistani/Afghani border have generally never prioritized education, but with the influence of the Taliban in the region education (especially the education of girls) is even deemed un-Islamic.
Mody al-Khalaf is the first Saudi woman to be
appointed a senior diplomat position
.
A Lithuanian (recent) convert to Islam, who works and lives in Ireland for years now, is taking Dunnes Stores to court, as she was not allowed to work wearing a hijab.
Yemen Times profiles the last woman standing on Change Square: Adaa Ali Saleh Futanni, a 50 year old widow, who has been living in a tent on the square for over 20 months now.
Photojournalist Diana Markosian moved to Chechnya in 2011 for a personal project called Goodbye, My Chechnya, which documents the lives of young Muslim girls.
Two Muslim couples have been charged with the genital mutilation of two girls (ages 6 and 7) in Australia.
According to an investigation, at least two imams in the UK have been found willing to conduct marriages which involve girls as young as 12 years old. One of the clerics has temporarily stepped aside, but denies any of the accusations.
Tatyana Tarasova, a Russian convert to Islam, has received a suspended jail sentence for distributing material that allegedly contained a call to terrorism. She pled guilty.
Sex education remains a taboo topic in Turkey. While it is part of the curriculum in schools, it remains very limited, as sex education for girls especially is frowned upon, since they are not expected to be sexually active before marriage, and therefore it is deemed unnecessary for them to learn about sexuality and healthy sexual practices.
Kadhimiya, a predominantly Shi'ite Baghdad neighbourhood, recently started imposing a strict dress code for women.
The New York Times reports that for some Pakistani women to marry a man of their choice, they have to risk it all.
According to a piece from Al Akhbar, the high unemployment in Iran due to the economic sanctions is disproportionally affecting Iranian women, who make up a majority of university graduates in the country.
Sri Lanka's Daily News profiles women's rights activist Jezima Ismail.
Sudanese activist Nazik Kabalo says that women activists in Sudan are facing prosecution, sexual violence and harsh punishment by Sudan's security forces.