The Islamists controlling Mali's northern city of Timbuktu have announced that from now on they will be arresting indecently-dressed women and girls, and any female who is seen on the streets after 11 pm. Many local women feel deprived of their freedom by this new enforcement of "sharia" law, and secretly hope to be liberated by the south soon.
About 230 Afghan women are facing unemployment now that a rare women-only factory in the country is bound to close, after the Afghan government withdrew a NATO contract to make military uniforms.
Tunisian women are concerned the country's new Constitution will hamper their progress towards gender equality.
The BBC reports on the sexual abuse and rape Syrian ex-detainees (male and female) have witnessed and experienced, while being detained. The report contains graphic accounts of sexual violence.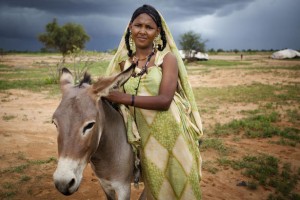 Human Rights Watch has called on Iran to lift restrictions on women's education.
Hadia Tajik, a young Muslim woman of Pakistani descent, has been appointed as Norway's minister of culture.
Thai Muslim women criticise the survey by Durex that Thai women would be the world's second most unfaithful. The survey stated that 59 percent of Thai women admitted to infidelity, but the Muslim women claim that only a small percentage of women actually do cheat on their husbands, and those are, of course, not Muslim.
Saudi Arabia is detaining at least 400 female Nigerian pilgrims, despite the fact that all of them had received a visa to travel to the country to perform the yearly hajj ritual. By last Wednesday the amount of detainees had risen to about a thousand. Only Nigerian pilgrims have been detained so far, and, according to Nigerian sources, completely at random. The latest news is that Nigeria has now suspended all Hajj flights to Saudi Arabia, after 170 Nigerian pilgrims were deported from the country to Nigeria. The story continues…
According to a new report by Oxfam, the lives of four out of five Yemeni women have worsened over the last 12 months.
A senior Kazakh imam opposes the sale of the Fulla doll, as she is dressed in Arab-style clothing instead of traditional Kazakh clothes.
Moroccan Social Development minister Bassima Hakkaoui says she is committed to push forward the law protecting women, which has been stuck in parliament since 2004. About one in three women in Morocco are victims of domestic violence, mainly by the hands of their husbands.
The fifteen-year-old Palestinian girl, Bashaer Othman, who served as a mayor of the West Bank town of Allar for a few months, is returning to school.
Underage marriage remains a problem in Iraq, with some brides as young as twelve. While some condone this practice, others claim it is legal under religious law and it is best for the girls involved.
Al Akhbar publishes an article on the widespread plague of sexual harassment in Egypt.
Afghans rallied last Monday against the public lashing of two teenage girls, who allegedly had an intimate relationship with their boyfriends. One of the teenagers has been executed since, together with her boyfriend. May Allah grant them both eternal peace.
The case of Ahlam Abdul El Saifi, a Brazilian Muslim woman, who refused to remove her headscarf, which is required in order to make a picture for her driver license, has caused an uproar in Brazil's Muslim community.
In an interview with Save the Children, Syrian refugee child Bisan recalls the attacks on the shelter close to her home and how she looked after her younger siblings. Nine-year-old Nur tells about her family's flight to Jordan from Syria.
Since the January 25th Revolution in Egypt, the number of female cops in the country has increased, and they are now more often collaborating with their male counterparts in maintaining the law and order.
A unique electoral exercise in Penang, Malaysia, which involved promoting gender-responsive and participatory decision making at the grassroots level may be the key to reviving local elections in the country.
By the end of this year Tajikistan's parliament is expected pass a new legislation to combat domestic violence by the end of this year, but it is doubtful whether this will be enough to really prevent domestic violence from happening.
The Telegraph profiles young Saudi female artists on their work and identity as Saudi Arabian women.
In Sadr City, Baghdad, Iraq four young girls train to compete in weightlifting on an international level. They are the first female weightlifting team in Iraq.