Zainab Bangura from Sierra Leone is the new UN Special Rapporteur on Sexual Violence in Conflict; she says that her life story makes her confident that things can change, and that one day sexual violence will be history. She visited Somalia last week, where she stated that 70% of the sexual violence that takes place in the camps is actually done by men in uniform.
The brutal murder of a young pregnant mother is the latest in a series of acts of violence against women in Mauritania; a demonstration last week called for a harsher punishment for the perpetrators.
Qantara.de features a review of the documentary In the Bazaar of the Sexes, which focuses on temporary marriage in Iran.
Badam Zari is one of the two Pakistani women in Pakistan's tribal regions running for a seat in the National Assembly, despite the fact that she has only received education up the the eighth grade and is not considered rich or affluent according to local standards.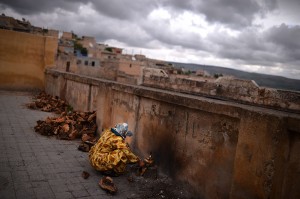 Women in Giza, Egypt are setting up an all-female list for the upcoming Egyptian elections, which aims to represent all Egyptian women, including those of liberal and/or Christian backgrounds.
According to Indonesian police, the rape of three Rohingya Muslim women by Burmese migrants caused the deadly prison riot between Burmese and Rohingya refugees at an immigration centre on the Indonesian island of Sumatra.
Mehreen Faruqi is the first Muslim woman appointed to any parliament in Australia.
The Toronto Star shares some horrific stories of Syrian women who have survived sexual violence in Syria and are now refugees in Jordan.
The recent killing of Shahnaz Nazli, a teacher in Peshawar, Pakistan, has prompted international calls on the government to offer greater protection for teachers and students in Pakistan's tribal areas.
In 2004 Morocco introduced a new, progressive code of family law, but the enforcement of the law has been slow; a new initiative that makes it possible to track judicial decisions, however, is considered a crucial step to ensure that the law is applied consistently.
A piece featured by the Associated Press shares the horrific stories of several Afghan women, who are jailed for so-called moral crimes.
According to reports, a Somali woman has been killed by an Al Shabaab firing squad for being an alleged American spy.
A French Muslim girl was excluded in school for wearing a five-centimeter-wide headband and a long skirt, as this was deemed to be too religious. The parents are suing the school.
Arwa Talal al-Hejaili is the first Saudi woman to be registered as a female trainee advocate.
Internet use is on the rise in Palestine, but so is cyber crime and mainly women have become victims.
In a letter on April 1st, the Kyrgyz Ministry of Culture said it is planning to ban the third season of the Vagina Monologues in the capital Bishkek as it supposedly advocates "unnatural, perverted sex under the slogan of feminism." Many local activists thought, and hoped, it would be an April Fool's joke, but unfortunately it seems to be yet another sign that women's rights are backsliding in the Central Asian country.
Aman Radio will be the first all-female radiostation in Somalia, and it hopes to reach and empower all Somali women.
A local female soccer team in the predominantly Kurdish town of Hakkari in Turkey is, despite the lack of monetary funds and conservative mindset of many locals, very successful; they might be promoted to the first division later this year, and many girls have been able to obtain scholarships through soccer.
Tall as the Baobab Tree is a fictional film, which tells the story of two young Senegalese sisters, who have been enrolled in school, and now fear that they have to give up on their education to help their family, after hardship has hit them.
Egyptian student of Al Azhar Magda Thabit faces an investigation to find out whether she is Shi'a or not, by demonstrating how she prays.
A play by women in Pakistan's northern provinces against the Taliban and for solidarity among Pashtun women is said to be an enormous success.
The Indonesian Health Minister has said that the family planning program by the government has failed to control the country's fertility rate. Early marriage is a major concern; child brides are an important factor to the relatively high number of maternal deaths in the country.
BBC Panorama has uncovered evidence that Muslim women seeking help from British Sharia councils may be put at risk of being pressured to stay in abusive marriages.
Exchange marriages are increasingly common in rural Yemen and are more like business agreement between two families/groups, than a proper marriage. The main victim of this type of marriage is the woman, local activists say.
Commander Kaftar is considered the only female Afghan warlord, who likes to see herself as a hero, but others would argue differently. Now after two decades of fighting and an increasing list of enemies, she is planning the flee the country as she fears for her life.