Last week a factory building collapsed in Bangladesh, and approximately 400 people were killed; most of them were female factory workers. About 150 people are still missing. The BBC spoke to Merina Khatun, who had spent four days trapped inside the rubble before she was rescued, and 14-year-old Halima Akhtar, who was employed as a sewing operator in one of the factories in the building and whose sister is still missing.
On May 11th, Pakistan will hold its elections, and while millions of women are registered to vote, the turnout of women, especially in the tribal areas, is expected to be very low. In many women's polling stations during the 2008 elections not even one vote was cast, something that some female candidates hope to change by campaigning hard to get the female voice heard.
Nurul Izzah Anwar is the most frequently mentioned Malaysian woman in articles about the upcoming Malaysian elections, but a survey shows that the value of coverage of the average male candidate is nine times higher than that of the average female candidate.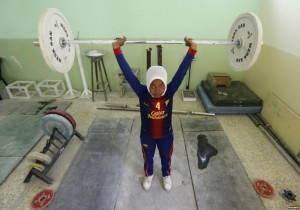 Women under Siege is a website that collects reports on rape and sexual violence in Syria and stores them in a database with a map.
This week a new study was published by the Pew Forum on Religion and Public Life, which tells us everything (?) about what Muslims think about women's rights.
A (large) number of Afghan school girls were hospitalized after a suspected poison attack on a school in the Afghan capital Kabul on May 1st.
An historic mosque in Mumbai, India, has allowed women in the main prayer hall for the first time for the celebration marking the birthday of Fatima, the daughter of the Prophet Muhammad.
According to a report by Human Rights Watch, Afghan female police officers often suffer harassment from their (male) colleagues and lack facilities, such as toilets, that are dedicated to women.
Voice of America speaks to Nehad Abud Komsan, director of the Egyptian Centre of Women's Rights, about the (cultural) obstacles that make fighting Female Genital Mutilation (FGM) in Egypt so difficult.
A Jordanian man has admitted to killing his 20-something sister, in order to "cleanse the family honor" as she was, allegedly, hardly home.
At least one person was killed and nine more injured, when religious violence erupted in Burma/Myanmar, after a Muslim girl on a bike bumped into a Buddhist monk.
Womensenews.org interviews Maryam Namazie about Fitnah, which she refers to as a women's liberation movement against Islamism.
Two British Muslim women have started their own Muslim matrimonial services, as they find that British Muslim women have an especially hard time finding a spouse.
Victims and activists in Egypt are blaming the authorities for inaction when it comes to protecting female demonstrators from attacks.
Divorce by text message, or even on social media such as Facebook, is becoming more common, but some Islamic scholars are yet not sure how to deal with this phenomenon.
Saudi Arabia has launched its first (visual) campaign against the abuse of women.
Amnesty International reports that a young Afghan woman has been shot dead by her father in front of 300 people, for allegedly "dishonoring the family."
Two Bahraini women activists have been detained on terrorism charges and threatened with electric shocks to sign confessions.
Australian teenager Hafsah Negussie claims that she was held against her will at a gas station, after an employee says he confused company policy and refused to serve her or to let her go, because she wears niqab.
A 14-year-old girl in Bihar, India has committed suicide, after her Islamic teacher tried to molest her.
Qantara.de speaks with Saudi film maker Ahd Kamel about her new film Sanctity, which tells the story of a young, pregnant Saudi widow and her struggle to keep herself and her unborn baby safe.
Author Shelina Janmohamed wrote a piece for The Telegraph about how the topic of sex is becoming less of a taboo among Muslim women.
According to a report by the United States State Department, women in Gambia are still facing discrimination and sexual violence. Forced marriage and female genital mutilation are two other problems, especially because there are no laws against these practices.
A government-funded course to introduce women to the sport of sailing has Omani women dreaming of the Olympics.
Thousands of Kazakh women work as shuttle traders, criscrossing Kazakhstan and the surrounding region to buy goods to sell at local markets.
The non-religious marriage between Kholoud Sukkarieh and Nidal Darwish, both of different Islamic sects, has been ratified as a civil union in Lebanon, the first of its kind.
Sabahi features an interview with Somali singer and activist Falis Abdi Mohamed.
Gazan journalist Rana Baker writes about the many misconceptions on Gaza's women.
Police in Toronto, Canada are looking for a man who is suspected of spitting on a Muslim woman, while uttering a hateful remark.
In an interview with The Telegraph, divorcee Nivin El-Gamal tells "all" about her marriage with Sheikh Ahmed Bin Saeed Al Maktoum, her life and beliefs. The author of the article has some very interesting ideas and conclusions too, which make the article even more "thought-provoking."
A Saudi woman has told her husband-to-be that she will not marry him, unless he marries her two friends too. He agreed, and the friendship is said to flourish.
Model Kendra Spears is to marry Prince Rahim Aga Khan, the eldest son of Aga Khan IV. Question is, of course, if she will convert…
More than 400 women and girls attended an all-female music festival in Kabul, Afghanistan, said to be the largest in the country's history.