Sex and the Citadel is a collection of stories by Shereen El Feki, who spent five years traveling across Egypt and several other Arab countries asking people about sex: "what they do, what they don't, what they think and why". Why write about sex? Her choice of subject matter is partly stimulated by how sexual attitudes and behaviours are intimately (pun intended) linked to the regions religions, traditions, cultures, politics and economics. True to her mission to understand sex in Egypt and the Arab region through the stories of its peoples, El Feki also gives some insight to her own story.El Feki was trained as an immunologist and then worked as a health and science journalist at The Economist. Half Egyptian and half Welsh, she is able to be both an insider and an outsider, which seems to have served her well in her research for this book. She also provides much self-reflexivity in the book – especially at the beginning and the end – which provides a clearer picture of how she positions herself as a researcher from the Global North studying the South, as a woman raised in the West (Canada) interacting with Arab women and men of various religious and socio-economic backgrounds. Like the topic of sex, the book is both personal (as seen by her extensive use of quotes from her interviewees and the use of her grandmother's sayings to preface each chapter) and political (although the book focuses on Egypt, it also includes examples from Morocco, Tunisia, Lebanon, Israel, Saudi Arabia, and so on).
This review provides a brief summary of the book's chapters, highlighting specific events or personages that I found particularly interesting, before touching on some aspects (both encouraging and downbeat) of the book.

Summary
The first chapter (Shifting Positions) looks at how sexual attitudes have shifted globally over time, through stories from her El Feki's Welsh mother and her Egyptian friends and research from prominent academics from the Arab world like Abdessamad Dialmy (Morocco) and Abdelwahab Boudhiba (Tunisia).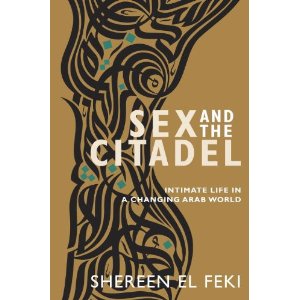 The title of the second chapter (Desperate Housewives) alludes to the universality of anxiety surrounding various marital issues. It looks at issues such as the singles' quest for marriage, types of informal (non-state) marriage, sexual activity inside and outside of marriage, male impotence, reproduction, and divorce – featuring interviews with Heba Kotb, the most well-known sex therapist in the Arab world.
The third chapter (Sex and the Single Arab) attempts to make sense of the sex lives of unmarried Egyptian youth, through a hodge-podge of topics such as classical and contemporary courtship (the latter being aided by "technology-assisted flirtation" using the Internet and mobile phones), female genital mutilation (FGM), the value of virginity, moving out without being married, and sexual harassment. This chapter briefly addresses Egypt's widespread FGM in the context of controlling youthful libido, and interestingly concludes that the clitoris is not usually seen as being an integral part of sexual pleasure for women.
The fourth chapter (Facts of Life) is about sex education, contraception, abortion, and unwed motherhood. The feature on Shababna, an Egyptian telephone helpline for youth to ask about health and sexual issues, could be an best practice example for other Muslim communities to provide much-need sex education for their youth, who are otherwise getting information from films and Internet pornography. Besides the Qatari and Emirati examples of comprehensive sex education aimed at married couples, there are also examples of abortion or support services for unwed mothers.
The fifth chapter (Sex for Sale) focuses on sex work and its customers, which not only gives insights into the economic options of a class of Egyptian women and men, but also into conjugal happiness and the need to hide any same-sex tendencies. Tunisia's legal brothels and Moroccan NGOs that reach out to sex workers are contrasted with the risky nature of illegal commercial sex work in Egypt.
The sixth chapter (Dare to be Different) covers a variety of non-heterosexual sexual practices, reparative therapy for homosexuals, and the love lives of gay men and lesbian women. While interviews with homosexual men were mostly from Egypt, those of lesbian women and transgender women were mostly from Lebanon. The chapter also looks at several feminist LGBT organizations in Lebanon, aimed at providing a best practice for Egypt in the future.
Review
What I enjoyed most from this book was the extensive collection of best practices from Egypt and its neighbours. In my opinion, this valuable collection does not only help Egypt, but also Muslim communities around the world, who may have a shared understanding of concepts and principles surrounding sex. El Feki's personal experience of being introduced as a researcher of "reproductive health and marital relations" instead of the straightforward "sex" shows how to address an audience in a non-offensive but effective way.
The most useful example I found was the initiative of Palestinian Safa Tamish to get sex education into Arab schools in Israel (Chapter 4). El Feki's details show a concrete way of getting around the fear of sex education (which is often seen as only suitable for the West): Tamish manages to soften parents to the idea of sex education by gathering information from the children using surveys.
However, I find El Feki's use of verses from the Quran and hadith literature problematic. While these textual sources provide an overall guidance and climate for people in Egypt and the Arab region to lead their lives, it is mostly through the interpretations that are given to them by authoritative religious figures. Even though I am not from the Arab region, religious and social norms taken from these textual sources have a strong hold in the Muslim environment I grew up in.
I feel that for a non-Muslim audience, it might have been helpful to mention that dominant interpretations, while they hold much socio-cultural and legal power, are still only interpretations. Minority (but ideally, equally valid) egalitarian interpretations (especially those by contemporary feminist scholars) may also have a growing role in the future of Muslim communities.
This book does not spare the reader from truths, no matter how ugly some of them may be. While it was difficult to read about reparative therapy of homosexual men in Egypt (Chapter 6), the voices of men who are happy to have been 'cured' cannot also be ignored, no matter how strongly one might believe that same-sex attraction is inborn.
It was also difficult for me to read how men were sometimes portrayed in a reductive fashion, especially when talking about their attitudes towards women (Chapter 3). Some of the quotes from El Feki's interviewees hinted at a Western imperialist idea of Third World women being oppressed by their men, but I had to accept that they said it themselves. While El Feki filters an immense amount of information, she deliberately provides nuance and historical context to an issue. For example, while sexual harassment is sub-headed as 'battle of the sexes', she links masculinity and youth unemployment with government failings to provide security.
Overall, I immensely enjoyed reading Sex and the Citadel. It is much needed in most, if not all, Muslim communities today, to see examples of how other Muslim communities have responded to the call for sex to be addressed in a mature fashion. This book is particularly useful for religious teachers, social workers, activists for sexual and reproductive health As a Muslim from Southeast Asia, I think this book is also valuable in providing a nuanced representation of the Arab region, which has often been romanticised (both as a sexual and puritan society) in our imagination.