After a pregnant woman in hijab was assaulted and harassed in Stockholm, Sweden, Swedish women and men took to social media wearing headscarves to show support. Last Tuesday, the Swedish Minister of Justice met with activists demanding action.
A Somali woman alleges that she has been abducted, drugged and gang-raped by African Union peacekeepers; a recent report by the UN suggests that rape and gender-based violence are on the rise in Somalia.
A plan to make female high school students in Indonesia undergo yearly virginity tests has received much criticism by activists. It is not the first time that a similar plan has been proposed in Indonesia; earlier plans have been dismissed.
A new anti-FGM campaign in Sudan is being criticized for avoiding the actual word FGM, instead it uses a word that means something like complete.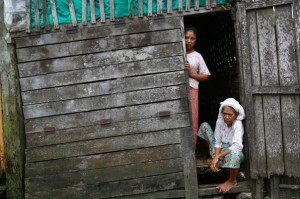 Bangladesh has invested a lot in its women in recent years and made some remarkable progress, but when it comes to land ownership it is estimated that as little as 2% of the land is owned by women.
In Ireland, a worker who told two Muslim women that they could not pray in the park as they would need a permit to do so, has been suspended. The women are seeking legal advice.
Fauzia Shaheen is a Pakistani media expert, who trains female journalists, who are still underrepresented in the Pakistani media.
Both a beard and a niqab have become liabilities in Egypt, after the recent crackdown.
A flogging sentence against a 15-year-old rape victim for premarital sex in the Maldives has been annulled.
Wakeelah Salaam, a Muslim woman from New Jersey, USA, has filed a lawsuit against a mall, the mall security vendor and the mall guard, who told her to remove her face veil. The lawsuit says she was "intimidated, victimized and subjected to discrimination."
Tunisia's oldest women's organization has been forced into bankruptcy, due to a cessation of funds by the current government, a report says.
The Guardian profiles Madinat Aliyu, the only female car-washer in northern Nigeria.
British organization Tell Mama says that the EU does not collect enough data on anti-Muslim attacks; much of the abuse is taking place online and is especially aimed at visible Muslim women.
A proposal by the Canadian Parti Québécois to ban all religious symbols (including the hijab, turban etc.) in Quebec has been met with outrage.
Iranian president Rohani has answer for the lack of women in his cabinet: they are incapable of tackling the complex problems of Iran.
Anarouz is a business initiative that helps rural Moroccan women to gain financial independence by producing handicrafts, but the actual percentage of women that can actually benefit from this and similar initiatives is very small.
The Saudi Ministry of Labor has rejected the plea by businessmen to exempt their businesses near the holy Islamic sites from employing women. The businessmen state that their businesses are suffering because of female employees and that women cannot deal with the pressure and special circumstances of working in these areas. The employment of women in stores that sell products predominantly for women has been a difficult transition for many: in Riyadh alone 43 abaya stores have been shut down, because they did not adhere to the new rules.
Another convert-story in the news this week: British glamour model Carley Watts is contemplating to convert to Islam and will move to Tunisia later this year to plan her wedding to a local man.