Last week, much of the news items dealing with Muslim women was related to Britain and the debate and issues surrounding the (face) veil. First of all, a judge ruled that a Muslim woman wearing a face veil was allowed to wear her veil in court, but must remove it when testifying, though she would be shielded from the public when doing so. Another Muslim woman also chose to wear the niqab in court, though she doesn't wear niqab on a regular basis. She has been sentenced to a year in prison for fraud, and allegedly wore a face veil to hide her identity from the public. In the mean time, The Telegraph reported that some Islamic schools in the UK force young girls to wear face veils. A college in Birmingham meanwhile has decided to make a U-turn on their decision to ban the face veil. The latter decision resulted in a statement by the Home Office minister Jeremy Browne that a debate is needed on the wearing of the face veil in some public spaces, such as schools.
Top policewoman Nigar has been killed in Afghanistan's Helmand province; five men have been arrested. RFE/RL publishes some statements from Lieutenant Nigar's last interview in July. An unpublished UN report indicates that women in the Afghan police force are constantly at risk, especially when it comes to sexual harassment.
Obabiyi Aishah Ajibola is crowned as World Muslimah 2013; the 21-year-old Nigerian woman was not only judged on her beauty, but also on her knowledge of the Quran and her vision on contemporary Islam.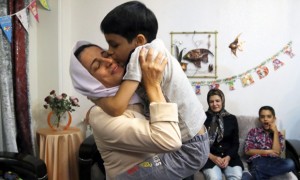 Hona Zarqa is an all-female media organization, based in a Palestinian refugee camp in Zarqa, Jordan, which focuses on topics that concern local women, such as the corruption in government and lack of childcare.
Only five women are on Egypt's Constituent Assembly, which makes many worry about the topic of gender equality in the new constitution.
A new YouTube video emerged that shows a Sudanese woman being flogged by police; it is not clear what she was charged for.
Yemeni human rights minister Hooria Mansur has asked parliament to pass a law setting a minimum age for marriage, after an international outcry over reports that an 8-year-old girl died from internal bleeding on her wedding night. PolicyMic looks at some of the reasons for child marriage in Yemen.
Female Turkish protesters who are taken into custody reveal a systematic sexual harassment prior and during their detainment.
Saudi women married to foreign husbands demand from the Saudi government to
give rights to their children
.
Canada's funding to fight "honor based crimes" is biased, critics say, and undermines a wider push for women's safety.
Many Palestinian women who choose to marry outside their family, are being stripped of their rights to inheritance by their own family.
Rural Kyrgyz women receive training to help them to start their own small businesses, so they can better provide for their families.
The Filipino Commission on Human Rights has issued advice that women in the Philippines should be allowed to wear headscarves in all learning institutions.
Hundreds of bodies have been buried without being identified after the factory collapse in Dhaka, Bangladesh, and without DNA identification, the families of the victims cannot claim any financial compensation.
Tribesmen in Pakistan's Kohat region have killed three women, one of whom was accused of "illicit relations"; the two other women, her aunt and cousin, were accused of helping her.
Many Iraqi women and girls in tribal, patriarchal communities are being forced to enter unwanted marriages; to fight these marriages in court remains a very difficult process.
Hijab-wearing Badia Senouci has said that she and her family were verbally abused while shopping at a Quebec shopping centre; she blames the attack on the province's proposed charter of values.
A Palestinian mother has admitted she has killed her mentally challenged 21-year-old daughter, after she was allegedly found to be pregnant. Several groups have condemned the act and women have protested outside the Palestinian parliament building to demand stricter rules against people involved in honor crimes.
BBC's Picture This features an item on the exhibit She Who Tells a Story at the Museum of Fine Arts in Boston, USA, which features pictures of 12 female photographers from Iran and the Arab world.
Last weekend, 24-year-0ld Shirin Gerami made history by being the first female triathlete to compete for Iran. She finished 76th out of 87 athletes in her age group and was humbled by the support she received from Iranian president Rouhani.
RFE/RL features an article on the new book Afghan Rumor Bazaar: Secret Sub-Cultures, Hidden Worlds, and the Everyday Life of the Absurd by Afghani born author Nushin Arbabzadah on sub-cultures in contemporary Afghanistan.
In the Pakistani Khyber Pakhtunkhwa region, special women-only service desks have been opened in police stations, to make it easier for women to file complaints.