Growing up in Mexico, immersed in a culture that debated "Western" values and was skeptical of its imports, I spent my early years in a society that taught me from the beginning that my sexuality was not mine, but someone else's. Even when the institution of marriage started to crumble and common-law unions became more common, women's sexuality was still viewed as taboo and their pleasure was considered unimportant. I actually recall my best friend's grandma, in elementary school, telling us that the only women that enjoyed sex were prostitutes…
However, my own family was determined to raise me knowing that my pleasure was important, that my body was mine and that sex was meant to be enjoyable with a partner who loved me and respected me. The first time I was in a sex shop was with my mom, and I was about 16 years old. Despite what you may think, my mom was not encouraging me to run off and have sex. Instead, she was realistic. As I discussed in a post last May, my parents were teenaged parents. Thus, my mom was aware that nagging me about not becoming sexually active could backfire as it did in her case with her conservative family. In taking me to a sex shop, my mom aimed to tackle two issues: she wanted to teach me about safe sex and pleasure while getting rid of the curiosity and myths surrounding sex in my society.
While I was fortunate enough to have a very open family when it came to issues of sexuality and health, upon my conversion to Islam, I was back to square one in the sexual arena. Much of my community in northern Alberta was convinced that even discussing sex in front of girls would lead them to engage in pre- and extra-marital relationships. Women (married and unmarried) were shy to ask questions, let alone ask a male sheikh. I was surprised to find that girls my age held a lot of myths about sex. For instance, a few of them believed that all sexually transmitted diseases were transmitted by touching, that they could get pregnant through oral sex, and that sex was meant to be a painful experience. And I don't blame them! These days many Muslim communities dissuade their members from being sex-friendly. The ironic part is that I personally always saw Islam as very progressive in matters of sex, pleasure and sexual health. Leaving aside the pre-marital sex question, I always felt a Muslim couple should have the opportunity to ask questions, to explore their sexuality and to have fun with it. Oops! Did I say fun!? Well, yes, and I mean it!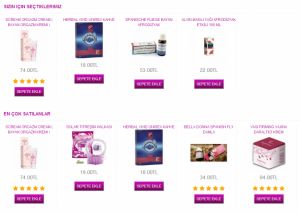 Muslims and sex shops probably go way back (even if we don't talk about it). But this week an online "halal" sex shop in Turkey made it to the headlines in a lot of Western news outlets, including The Independent, the Daily Mail and Reuters. The site sells "halal" products (no pork or its by-products), approved by some scholars (no vibrators), and offers sexual advice on permitted and unlawful practices for couples. The shop does not sell pornography, and offers one portal for women and one for men. The site is available in Turkish only.
Something that caught my attention in an article on the shop by International Business Times is the fact that the items listed are mainly beauty-sexual products such as firming vagina creams and breast enlargement drops. For me, this indicates an overarching attention in "enhancing" the female body rather than focusing on women's pleasure. I visited the site out of curiosity and I noticed that much of the products are creams and oils of different kinds. Some of the highlights are aphrodisiac oils, firming solutions and orgasm creams.
I am unsure about calling this the first "halal" sex shop; there may be some others that just haven't gotten the publicity. I am also skeptical of the whole idea of a "halal" shop for Muslims. Don't get me wrong, I think sex shops can be a great way to engage in sexual intimacy with a partner. However, there are three things I think that are important to consider.
First, Muslims should be engaging in a lot more dialogue about sexuality. From sexual education to sexual pleasure, some mosques and communities need to change their puritanical attitudes towards sex in order to encourage their members to develop healthy sexual relationships. Sex shops alone do not solve the "sexual question." Second, I wonder to what degree the women's portal of this store really focuses on women's pleasure? Sorry, but firming creams and enlarging drops are not particularly my idea of "pleasurable." I personally believe those products have more to do with certain social standards (i.e. large breasts are sexy and firm vaginas are more satisfying) than with female pleasure. Where are the fun costumes, the pretty lingerie, the colorful condoms and the board games? You know… the kind of thing that many of us would actually consider pleasurable?
Finally, I think the term "halal" is worth some consideration. I am by no means a scholar of Islam, but because of that I also feel that the definition is purely legalistic. I feel that the definition of "halal" needs a human face… you know, sex shouldn't be considered halal if there is no consent, intimacy and pleasure, which would lead us to a sex shop that truly focuses on those principles. But once more… I am still a "wannabe" Islamic scholar and a woman who believes pleasure should be a "must."