In Iraq, much of the sex trade has now shifted to social media, where female pimps are offering prostitution services all over the country.
Egyptian campaigners against Female Genital Mutilation (FGM) say that the number of cases of female circumcision/cutting in Egypt is on the decline, but completely rooting out this age old tradition will take a lot of persistence and time.
Domestic abuse is on the rise in Afghanistan; high unemployment rates, rampant drug abuse and impunity are all factors that contribute to the recent increase.
Four major retailers have pledged to set up a $40 million compensation fund for the victims of the Rana Plaza disaster in Bangladesh, which killed over 1,100, predominantly female, workers.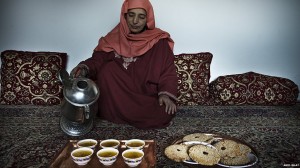 Indonesia Dina Eka Safitri overstayed her Saudi workers visa, and was one of the many workers who were deported to their home country.
A French mother is extremely worried that her ex-husband might be taking their 20-month-old daughter into Syria to join a jihadist group.
International Business Times profiles Pakistani mountaineer Samina Baig, who conquered Mount Everest earlier this year.
According to Sudanese activist Hala al-Karib a darker skin colour was valued for centuries in Sudanese culture, but with the increasing influence from the Arabic peninsula a lighter skin colour has become the ideal, which has resulted in a rise of skin bleaching practices among Sudanese women.
Al Shorfa speaks with Fawzia Nasher, the chair of the Yemeni Businesswomen Council about her work.
Iranian newspaper Ghanoun is under attack for publishing an interview with lawyer Soudeh Hamed Tavassoli, in which she says that Iran's testimony laws are discriminating women.
Journalist Karim El-Gawhary features the stories of about two dozen Arab women in his new book Women's Power in Arabic.
Saudi activists have called for another day of defiance of the driving ban on December 28.
Niqash speaks to three influential Iraqi women activists about the status of women in Iraqi society today.
An increase in the number of educated Kashmiri women and a new ruling on property rights, have resulted in rise of complaints of women, who were denied a share of the family property.
Despite threats and security issues some young Somali women are eager to participate in the country's first talent show.
Qantara.de features the story of Müzeyyen and Thomas Dreessen, an inter-religious couple, who despite resistance have found a way to make their Muslim-Christian family work.
France will ease the hijab ban for volunteers on school trips; wearing headscarves in the school during school related activities is still forbidden for volunteers.
America Bibi was born 65 years ago in Pakistan's tribal areas and named after her father's dream to start a new life in the USA. She is now an influential and very vocal activist in her village and deemed to be "as strong as America."
An organisation in Chicago, USA is helping women in Afghanistan earn a living by weaving carpets.