Last week the current Syrian regime announced during the peace negotiations that women and children are free to leave the city of Homs and said it would provide all the necessities, so they would not need for anything. One woman relates her horrifying experiences in Homs, before she fled the city last year. The first round of peace talks are scheduled to end today/Friday, but haven't really lead to any substantive results yet. Despite their demand to be included, women are largely absent from the talks in Geneva.
Six siblings of British Nazma Ditta have been jailed for attempting to kidnap and threatening to kill Nazma's girlfriend, because the siblings disapproved of their sister's same-sex relationship with a non-Muslim "white" British woman.
Female inmates of Kabul's Badam Badagh prison complain that the overall care is inadequate and that staff mistreats prisoners and ignores bullying between inmates. Authorities deny the claims.
Minda News features an article on the role women have played in the Bangsamoro peace process between government of the Philippines and the Moro Islamic Liberation Front (MILF). After about 40 years of negotiations, a final agreement is expected to be signed either in February or March this year.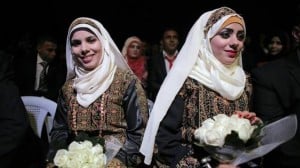 Hooria Mashhour, Yemen's human rights minister, has urged to Yemeni parliament to consider a ban on child marriage, which has seriously hindered the development of the country for generations.
Female MPs of Tunisia's Ennahda and Ettakol political parties celebrate the new Tunisian constitution, claiming it is a big historic step for Tunisian women.
A British Muslim woman has said she won't testify in court, if she has to remove her face veil doing so.
According to a new study, the Israel has been missing out on millions of dollars by not encouraging the employment of Arab women.
Indonesia is looking at a more aggressive birth-control program to further lower the birth rate of the country, as the prognosis now is that the population will double by 2060, which would be devastating for the already struggling economy.
In a recent amendment, rapists in Morocco can't escape their punishment anymore by marrying their victims. In Jordan, however, this is still legally possible and for many victims it is perceived to be their only option, especially if the victim conceives.
A video in which a young woman is
undergoing a alleged "exorcism" ritual
has gone viral in Azerbaijan, where it sparked a nation-wide debate and many parodies.
According to one researcher, the number of male victims of domestic violence in Afghanistan is on the rise; in most cases the wife and/or mother-in-law were cited as the perpetrators.
In most cases, abortions are illegal in Malawi, but they are said to be on the rise among (Muslim) teenagers; many activists are striving to legalize abortion in the African country, but many Muslim and Christian organizations are reluctant to support that.
Traditional force feeding is said to be on the decline in Mauritania, but it is largely replaced by "chemical gavage," where girls and young women take drugs such as growth hormones and corticosteroids to gain weight, which is considered to be even more dangerous to their health.
An improved and more sustainable access to water in Pakistan's desert region of Tharparker, makes that many young girls can now attend school and women have now more time to focus on other activities, such as spending time with their children.
A group of around 50 Somali women in Harrow, UK have protested against the adoption of a child of Somali descent by a lesbian couple, stating that this goes against their religious beliefs.
IPS features an article on the thousands of Moroccan porter women, who carry goods on foot from Morocco to the Spanish enclaves of Ceuta and Melilla.
The Maldives currently holds the world record for highest divorce rate; not only is divorce relatively uncomplicated, at least for men, it is also said that as more women join the work force, the historically already high divorce rates have been increasing even further.
Sawsan Chebli has been appointed as one the spokespersons of the German Foreign Ministry, making her the first Muslim woman in Germany in that position.
The majority of children will not learn the basics of education in Pakistan, which affects girls in particular as they attend school in smaller numbers and often drop out at a young age.
A Muslim cleric in Ghana has been arrested for sexually abusing his girl students.
Experts are concerned about a perceived rise in suicides among adolescent women in Tajikistan's Badakhshan region. What causes this rise is yet unclear, but it is certain that this region lacks the adequate care to provide support to women and girls.
The Local Sweden features the story of a female convert to Islam in Sweden and RFE/RL features the stories of two ethnic Russian converts in Tatarstan, Russia.
Josefina Bell-Munajj and Khadijah Jackson are the women behind the construction of the first Panamanian mosque for Panamanian natives specifically.