March 8 was International Women's Day and, as usual, there was a sudden rise in news items that feature women, some of which will be featured in this week's Friday Links. At the same time, women around the world were involved in protests. A few dozen Iraqi women took to the streets to demonstrate against the new draft law, that would permit the marriage of girls as young as nine and automatically give child custody to the father. Thousands of Lebanese women took to the streets to demand that the government finally approve the country's first law against domestic violence. In Turkey too, women took to the streets to demand attention to the problem of domestic violence. Dozens of Algerian women marked this day with a demonstration to remember the hundreds of women killed by Islamists during the 1990s. In Iran, for the first time in five years, people were permitted to celebrate International Women's Day, and many women activists used this opportunity to urge the current regime to do more to address discrimination against women in the country. A religious leader in Tajikistan spoke out against International Women's Day (re-branded Mother's Day in 2009), claiming this is neither a religious nor a national holiday and therefore inadmissible.
The war in Syria has shattered the health care system, and for women, medical assistance is now almost non-existent, which has lead to a rise in maternal and infant deaths.
Despite the dangers associated with the work and the relatively low pay, a growing number of women are venturing into the media sector in Pakistan, hoping that their voices will be heard.
According to a report by campaign group Justice for Iran, which reviews 35 years of the Iranian female dress code, at least 30,000 women and girls were arrested in the last decade for violating the rules of dress.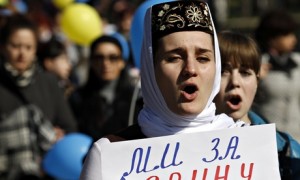 Tunisian sex workers demand that their brothel in the coastal town of Sousse be reopened, so they won't have to beg for charity.
The autonomous state of Puntland has outlawed the practice of Female Genital Mutilation; an estimated 70 percent of the women in Somali region have undergone FGM.
Statistics show that Lebanese women are still victims of social, political and economic discrimination.
An estimated third of Syria's Kurdish fighters are women, as determined as their male counterparts to topple the Assad-regime and ensure the future of their people.
A Moroccan woman has been sentenced to ten years imprisonment for killing her alleged rapist, who abused her for several years.
Although most reports on female Syrian refugees focus on Lebanon and Jordan, female refugees in Turkey also face exploitation, early marriage and sexual harassment.
Women outnumber men in medical colleges across Pakistan, but only half of these women will end up working in the medical field, due to the many obstacles they face.
The Tajik capital Dushanbe now has an all-female police unit, which patrols the city on bikes, and which will mainly concern itself with issues that mainly affect women, such as domestic abuse.
Four Saudi princesses, who claim that they have been held captive in a royal compound in Saudi Arabia for over a decade, are taking to social media to speak out about their situation and human rights in the Kingdom.
In 2004 the Moroccan family code underwent a reformation, which did improve the situation of women in the country significantly, but ten years later issues like polygamy and access to education are still among the top concerns of Moroccan women activists.
The "liberation of Afghan women" was part of the rhetoric to justify the invasion in Afghanistan, but the country's struggle for gender equality and women's rights did not start with the invasion, nor will it end when the troops leave later this year.
EU foreign policy chief Catherine Ashton has been criticised by local hardliners for meeting some several prominent women activists during a visit to Iran.
Social media have become an important platform for young Saudi's to meet potential future spouses and interact directly with the other sex.
According to the Council of Islamic Ideology in Pakistan, laws banning under-age marriages are un-Islamic.
Free legal clinics and hotlines run by volunteers from the Association of Senegalese Lawyers give thousands of Senegalese women access to legal advice and assistance.
Female representation in Egyptian parliament is still considered to be marginal, but a new effort to try to prepare Egyptian women for electoral contests hopes to change that.
Terre des hommes features an interview with Mauritanian anti-slavery activist Aminétou Ely.
One Sri Lankan school has banned the headscarf; last Friday two students were told to remove their hijabs if they wanted to attend classes.
When the family of Khairunnissa Shaikh was without an income, she decided to learn how to drive their mini bus, and has been supporting her family that way since. Many are surprised, however, to see a fully veiled woman driving a mini bus in Mumbai, India.
The Guardian features a series of pictures on the street style of Tehran, Iran.