According to statistics provided by RAINN, the United States-based Rape, Abuse and Incest National Network, "1 out of every 6 American women has been the victim of an attempted or completed rape in her lifetime." The organization further notes that women who have experienced sexual assault are at higher risk for depression, post-traumatic stress disorder, and thoughts of suicide.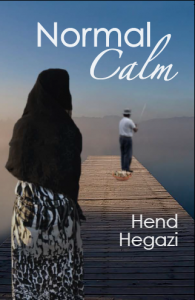 Such important consequences of rape led American writer Hend Hegazi to tell the story of a rape survivor in her first novel Normal Calm. It is the story of Amina, a young American Muslim girl of Arab origins, who is just like any other girl in her community: she goes to college, has friends, lives with her parents, and has dreams to start a good career, and find the love of her life. But, unlike many of the girls around her, Amina is a survivor of rape, and hiding this secret is no easy task for her, especially when young men start proposing. One man she falls in love with does not react well to finding about the rape. Later on, Amina is introduced to Mazin, who holds the qualities of a decent man, but she is not in love with him.
Normal Calm puts forward some of the difficulties a Muslim American woman could face in her life. Besides the usual challenges young American women face in their lives, Amina's difficulties tend to be compounded by her conservative family, which views Amina as "unmarriageable in the eyes of her parents and the entire Arab community after her rape," as the author says in a description of the novel.
Hend Hegazi proves to be a good novelist when it comes to her style of writing, and the way events are built upon each other in the book. While reading it, you get the feeling of needing to finish it to know the changes that will happen in Amina's life.
Very few fiction books tackle the challenges faced by young Muslims in non-Muslim communities, although this is perhaps changing: Painted Hands, The Girl in the Tangerine Scarf, and Ten Things I Hate About Me represent a few fairly recent novels that talk about young Muslim women in the West. In Normal Calm, the main plot revolves around a love story, and the challenges the protagonist face to reach her dream at the end. Amina searches for her true love, in addition to dealing with the restrictions imposed by her family. For example, she is not allowed to move out and live on her own after the age of 18, like many American men and women do. For her parents, that is culturally unacceptable. Amina also faces discrimination at job interviews because she is covered, and this is a challenge we don't usually read about in romantic novels. Even when it comes to her job and career, her father, Osman, does not allow her to work a third shift (late night shift). He is afraid of what other Arab families might think of her, and that no one will marry his daughter.
As a reader, I felt the rape incident, at the beginning of the book, was introduced too early. While we have a little introduction and understanding of Amina's life at that point, we know nothing about the rapist, Rami, or his relationship to Amina, since they were colleagues at the same university. The fact that they knew each other is significant: according to a RAINN report, 2 out of 3 rapes in the United States are committed by someone known to the victim. Knowing earlier on about the relationship between Amina and Rami would have helped us understand better the context of the incident and the emotional and psychological effects the incident had on her.
On another note, and as mentioned previously, rape has many emotional effects, such as depression, and post-traumatic stress disorder. But the book does not give enough attention to these consequences. The focus on the rape centers more on the physical and practical than on the psychological; for Amina and her family, the main concern is whether she is still "marriageable" or not, more than the kind of stress and psychological problems she has experienced or may have yet to go through, and the book could have explored those dimensions in more detail.
This first novel by Hend Hegazi shows the author's potential to produce powerful and compelling stories. Normal Calm is an eye-opening novel about the many things that Muslim women fight for in their daily lives to achieve their dreams, just like any other woman around them.