Elections in Afghanistan are scheduled for April 5. While many activists don't expect that the outcome will change much for the situation of women in country, millions of women throughout the country have registered themselves as voters. Jamila Karimi is a MP, known for staying far from corruption, who hopes to be re-elected in the conservative northern city of Kunduz. Three female candidates are running for the office of vice-president, which is a first for Afghanistan.
Lebanon finally passed a controversial law that aims to curb domestic violence. Rights activists are saying, however, that the lawmakers did not take their proposed amendments in consideration and as such there is not much reason for celebration.
Women in the West African nation of Gambia are uniting to ensure more female representation in the country's government, on all levels.
Female literacy has surged recently in Iran and women now outnumber men in higher education, which could be explained as a result of single-sex schooling.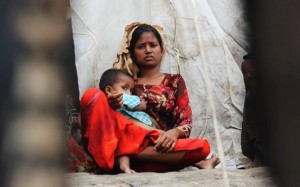 The two Tunisian policemen who raped a young woman last year have been sentenced to seven years in prison.
Nermin Fawzi Sa'd explains how the opportunity of working from the home for female engineers in Jordan (and other Arab nations) is often the only way that these women can pursue a professional career in this field.
The majority of Zanzibar's seaweed farmers are women, but recent harvests have been poor due to warming of the waters around the island. One solution would be to revive this once-successful industry by moving the seaweed farms further into the ocean, but there is one problem: most of the women cannot swim.
Three Turkish women have been elected as mayors in metropolitan cities during the recent elections; currently no major cities have female mayors and overall representation of women in Turkish politics remains poor.
Sharia police in Banda Aceh, Indonesia have rounded up 15 young women last Saturday at a coffee shop; the women have been accused for wearing improper attire and loitering outdoors after midnight.
Victims of wartime rape in Bosnia are losing hope of justice; it has been over 20 years, and many victims (and perpetrators) have now passed away.
For the series
Afghan Voices
by the
BBC,
Afghan female rapper Ramika
speaks about her art and how rap gives her an opportunity to express herself.
The imam who married a 12-year-old girl to a 26-year-old man in Australia has been fined $500 dollars and is currently awaiting deportation back to Pakistan. The "groom," who was staying in Australia on a student visa, had his visa revoked too.
Darfur is experiencing a recent increase in violence; this week, 15 villages were raided in northern Darfur.  Thousands of people, predominantly women, children and elderly, had to flee their homes for a wandering existence in the wilderness.
The government of Pakistan's Sindh province is planning a literacy program that will reach women and girls in remote areas via cellphone; rural Sindh has one of the lowest literacy rates for women in the country.
Turkmen police are now doubling as morality police: cracking down on couples showing affection in public in the capital of Ashgabat and checking them for not only their ID's but their marriage licenses too.
A young woman in Hyderabad, India has been asked to leave a club for wearing "Indian attire;" she was wearing the hijab.
Girls-only facilities in Dadaab refugee camp in northern Kenya, home to Somali refugees, have made it possible for girls and women to both play and view sports, such as table tennis.
Aaida Mamuji, a female boxer from Canada, is returning to the ring after a two-year hiatus in which she focused on finishing her PhD.
Palestinian-American activist Nahla al-Kayali was honoured by the US White House as a leader for change.
A Muslim woman in Sweden says that while going through security at a small airport, an officer was tugging on her hijab in public, despite the fact that she requested that her hijab would be removed in an enclosed space.
A Muslim group in Malawi is under fire for claiming that according to Islam, women cannot be leaders. Malawi has a female president.
Female inmates in a prison in Western Java, Indonesia are given to chance to learn how to make beautiful accessories out of discarded pieces of batik, a traditional Indonesian cloth, and make some money while incarcerated.
A woman in Belgium of Moroccan descent says she has been fired for taking short breaks for prayer on the job and speaking to clients in her native language.
Last week Thursday a Nigerian Muslim cleric was caught trying to kill a young woman who had sought his spiritual advice.