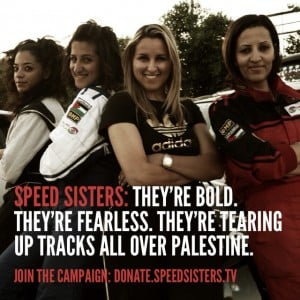 "Breaking-barriers", "challenging ideas", and "crashing stereotypes" are just some of the words used to describe the activity of a popular group of Palestinian athletes known as the "Speed Sisters."
In 2009, this group of intrepid Christian and Muslim women started out as a racing team of eight, with the support of the Palestine Motor Sports Federation and some support from the British Embassy in Jereusalem. Now the team has four remaining members: Betty Saadah, Nour Dawood, Mona Ennab and Mahra Zahalka.
They have drawn incredible support from Palestinians and have become regulars in what is a male-dominated sport on a global level.
Currently, filmmaker Amber Fares is directing and producing a film about the lives of the racers and their passion for racing. She chronicles their struggles and their achievements, and the support and encouragement they receive from fellow Palestinians. She is crowdscourcing the project and there are only a few days remaining (so please donate generously!)
Fares told me about her inspiration for making this film:
"I would like to give people a glimpse into a different narrative of this place. Of Palestine, but of the Middle East as a whole. I think that we have gotten so used to seeing this area of the world as one particular thing that we forget that there is life here as well".
The racers work hard; they trained with second-hand and borrowed equipment for years until the remaining four members were able to secure funding from private donors and some sponsors for their own cars and team.
Media that has covered their story has often presented these women as struggling for freedom from a culture that is oppressive. Articles note that Palestine is close to Saudi, which restricts women from driving. The connection is ridiculous. It misrepresents the women, for whom that particular struggle is not the most pressing issue.
Presenting the Spped Sisters as fighting against patriarchal norms seems to be a much catchier story that garners clicks and attention. The reality that these women are proud Palestinians living under apartheid conditions – which restrict their movement, access and thus their their racing – is boring. And too political.
That brown men disapprove of their racing is always an angle that is easy for mainstream media to offer up an eager public, who love hearing stories about how Arab and Muslim women need to liberate themselves:
"While the Speed Sisters have been accepted by their rivals, the more traditional segments of Muslim society consider the lady racers to be committing haram, an Islamic term that means going against the word of Allah."
That really is not the case, according to the drivers, who insist that the support they get from Palestinians far outweighs the naysayers.
I spoke with Amber Fares and she summed it up beautifully :
"I think one of the things that the media likes to do is to play up on a social stigma of women driving that doesn't exist.  I think the foreign media especially looks at what is happening in Saudi Arabia and like to apply it to the entire Middle East. So no matter how much we try to explain that women driving cars in Palestine is not an issue, they like to frame the story around having to fight for their right to drive."
These women are not unlike other female athletes who face challenges in regards to participating in sport. There are the demands from family and community. Female Athletes are weighed down by cultural expectations regardless of their race and religion, and by assumptions of which sport they should be doing. They face societal stigma for their participation, especially in a sport that might not be considered feminine.
Many female athletes face sexism and criticism – even those in North America and Europe.
The road has not been easy for the Speed Sisters, and initially there was hesitation and some negativity from family members that they have managed to navigate through successfully.  The Speed Sisters are also similar to women who participate in sport and *do* receive support from what the West might consider conservative Muslims communities, such as the women who take part in Skateistan in Afghanistan, surfing in Bangladesh, and Mixed Martial Arts in Malaysia.
These women compete because they love their sport. They are not out on a mission to satiate the masses thirsty for a sporting success and saviour story of Muslimahs.
The Speed Sisters have been given full access to tracks, equipment, learning and the Sporting Association by the racing federation in Palestine and are offered financial assistance from adoring crowds when possible, according to Fares.  That they are presented as needing salvation from a draconian culture is unfair and distracting from their skills and goals. Says racer Betty Saadah: "It's crazy, the love we get in Palestine. It's a blessing!"
In reality, the members of the first all-female racing team in the West Bank and Occupied Territories are not only brilliant athletes; they are also dedicated to drawing attention to the Occupation under which they live.
Fortunately, there have been some pieces published about their dedication to fighting Israeli oppression and not framing the team in a manner whereby they feel the need to be liberated from Palestinian culture. According to racer Mahra Zahalka, one of the most important aspects of racing is that the world gets to see how resilient Palestinians really are:
"The act of Palestinian women racing for me is so important. IIt shows real freedom. Everywhere people think Palestinian women are held back, but actually here we are racing in a sport that is known as a man's. Racing lets people know the Palestinian people can never be trapped in a hole. We go out and we race, just like any place in the world."
The Speed Sisters have managed to thrive in conditions that are politically and socially restrictive. It is not easy to find long stretches of land without intrusive and aggressive check-points on which to practice. Racing in the West Bank is more arduous for financial and political reasons. Racing is extremely expensive and the government is not able to provide adequate funding to the federation, let alone a women's team.
Israel has heavy restrictions on the cars exiting into Jordan or into Israel itself, rendering servicing and racing regionally impossible. And any Palestinian without an Israeli identity card is not allowed to race in Israel. Currently, Noor Dawood is the only one who has the proper ID and participates against Israeli competition – not without her fair share of obstacles:
"I was the only Palestinian racing against six Israeli girls. They didn't want a Palestinian to take it – they insulted me, tried to discourage me, did everything they could to make the situation difficult."
Fares confirmed that the team has struggled with political restrictions. While they were filming, they were stopped by Israeli soldiers and even shot at with tear gas.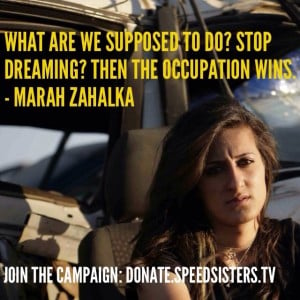 There cannot be enough emphasis directly from the Speed Sisters that they define their struggle as being one of political oppression, and not of trying to liberate themselves from sexist and Islamic oppression of the female gender, even if the media would love to portray it that way.  As former team member Maysoon Jayyusi says, "I find Western obsession with the fact that some of us are Muslim and racing annoying, My family is religious and they accept that I race."
Young girls look to the team as role-models and request their autographs. The racers speak with school kids who think they are amazing and they talk to community groups who are in awe of their strength and determination. Their spirits are applauded and draw attention to the fact that life is moving at top speeds in Palestine.
Hopefully Amber Fares' film will be fully funded and these women will be able to tell their stories in their own voices to a wider audience – instead of the absolute car-wrecks of media pieces devoted to their finishing first in the race to "liberation" from whatever journalists seem to imagine that Muslim and Arab women might be struggling with.
*Endnote: THIS FILM IS CONTINGENT ON FINANCIAL SUPPORT FROM THE PUBLIC. Please consider supporting their online fundraising campaign, which officially ends on May 21. After May 21, you can contact Amber Fares directly or the Speed Sisters account (via Twitter or Facebook) to donate.*