This post was written by Laila Alawa (@lulainlife).
There's a new face in town this congressional election season in the United States, and she isn't here to contribute to the general elderly white male trope that is usually the case, plastered across campaign posters and events. Cheryl Sudduth is set to run for Congress, hoping to represent the 11th congressional district of California. Ms. Sudduth hopes to improve the public education system, and close the achievement gap for the community's underserved.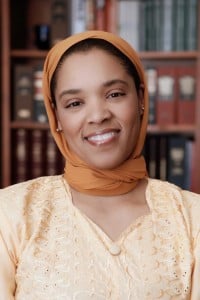 She's not your ordinary congressional hopeful, though. African American, Muslim, and a woman, she poses a visible triple threat to others running for the congressional position in her area. Yet her running for Congress extends much further in effect than to those within her district.
Growing up, I never quite found much color or diversity in those who ran for state and federal government positions in the yard signs and posters that were plastered about town and in newspapers. It led me to feel a disconnect between the opportunities I deemed possible and those I thought might be a little more than a ways out of my reach. I found opportunities in the examples of women of color I could identify with – and those opportunities were in professions like literature, education, medicine and science. Serving as the town mayor or as a state representative? It was just out of the question. How could I even think I had a chance to run? I set aside the dream of serving my community on a governmental level away years ago, but in seeing the living, breathing example of Cheryl Sudduth, I have started to think, maybe there is a chance for an Arab Muslim American woman to run, too.
Time and again, Muslim American community leaders, advocates and lecturers extol the need for us to enter local, state and federal arenas. How can we expect our issues to be addressed if we are not present at the table to confront them? Currently serving in office are Representatives Keith Ellison of Minnesota and Andre Carson of Indiana, elected in 2006 and 2008, respectively. Yet it remains a stark reality that a Muslim American woman has yet to be elected to national office. With a lack of role models to guide them, it is only natural that the number of women throwing themselves into the ring to run for federal or state government positions are few and far in between. It is a fact that across the board, there is a higher likelihood for women to drop out of their pursuit of a career if they cannot find like-gendered role models that have pursued the profession before them. With that in mind, why isn't the Muslim American community giving Ms. Sudduth's campaign more airtime and acknowledgment?
There is a propensity within the community to support individuals once they have already reached their goal – or if they fit a certain kind of "expected" Muslim identity. In this case, Cheryl Sudduth is neither. A covered, African American Muslim woman, she is struggling to meet fundraising goals and has interestingly not garnered the buzz she deserves both within and outside the Muslim American community. In this, a reality check needs to be had within our community: African Americans make up 35% of the Muslim American demographic, and outside of that, no single ethnic group consists of more than 30% of the total. The lack of support and undercurrents of suspicion against an African American Muslim candidate from Muslim communities in the US are unwarranted, but have been recognized as a normalcy by advocates on the issue, with perceptions from immigrant Muslim communities wavering between "aren't Africa American Muslims from Nation of Islam?" to "They're less knowledgeable than us on the religion, anyways." All these perceptions, however, are rooted in fallacies and misunderstandings holding us back as a cohesive Muslim American community. In essence, the idealized Muslim immigrant-origins candidate running for a position in government is a dream, at least for now. The probability of such a candidate is outweighed by the potential – and reality – of African American Muslims, a larger population, rooted in hundreds of years of this nation's history, and running for positions while immigrant-based populations are still playing catch up in forming national identity. As a result, we owe it to the progress of our religious community and the greater national communities to support trailblazers like Cheryl, candidates that are alone in their battles, but deserve support and exposure regardless.
For those of us living in the United States, we have a responsibility to make sure that stories like Cheryl Sudduth's aren't the only ones out there. It will be a true sign of progress when we can stumble upon election campaigns for candidates like her and be reminded of other campaigns being run by Muslim American women. Furthermore, there's also a need to recognize and support Muslim women of all backgrounds – women that do not necessarily fit the "mainstream" portrayal of Muslim communities. Until her campaign is no longer an anomaly, committing ourselves to become more engaged in our local, state and federal governments in whatever way possible is a responsibility that cannot be put off any longer. At the end of the day, if we aren't running, who will?