A new ad for a fashion label features a man in a burqa (oops, just spoiled the ending!)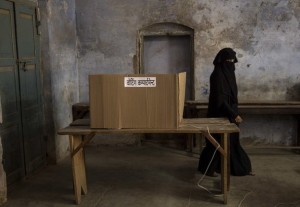 The photographer whose photos of girls from Guinea-Bissau were used as part of campaigns related to the girls kidnapped in Nigeriawrites about how African girls are not, in fact, interchangeable.
A Feminist Wire piece by Rochelle Terman looks at the problems with Ayaan Hirsi Ali's portrayals of Muslim societies and Muslim women.
Teenage Muslim girls from Indonesia, Yemen, Mali, Pakistan, Nigeria, and Afghanistan speak out on the importance of education for girls and their reactions to the kidnapping of over 200 female students in Nigeria.
A recent TIME magazine post about hijab being "a pain in the summer" was widely criticised on social media.
Bina Shah writes about the importance of sex education for girls in Pakistan.
Nesrine Malik at The Guardian writes about the "scare stories" about Muslims that keep coming up in the media.
A Telegraph article on Islamophobia in the UK asks "why do so many young men hate Muslim women?"
Cheryl Sudduth of California is the second Muslim woman to run for the United States Congress.
An article about the lack of wheelchair access in many UK mosques talks about how accessibility issues have a particularly strong negative impact for disabled Muslim women.
An SBS report looks at Muslim fashion in Australia.