The crisis in Iraq continues and worsens; last week a female (Sunni) politician was killed while fighting ISIS. It has been reported that ISIS fighters meanwhile are looking for wives among the women that have stayed behind. A women's organization is trying to provide shelter to women who have been harmed and/or driven out of their homes.
Last week a 20-year-old woman was gang-raped, killed and hanged from a tree in Pakistan's Punjab province.
Since she is close to Boko Haram, lawyer Aisha Wakil, better known as "Mama Boko Haram," has been and is actively involved in negotiations with the group. According to reports, another 60 women were kidnapped by Boko Haram earlier this week.
Egypt has sentenced a man to a year in jail for taking pictures of a sleeping woman on a bus. He was arrested just three days earlier. Meanwhile, activists continue to fight to end sexual harassment.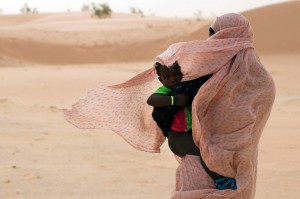 Three North American Muslim women talk about their reasons for removing the hijab.
A recent report claims that Iran pressures gays and lesbians to have sex change operations. One woman shares her experience as a lesbian in Iran.
Uyghur mother Patigul Ghulam has been arrested by the Chinese police for drawing attention to the case of her missing son. Ghulam has been detained before, placed under surveillance and house arrest, and it is unclear when (and perhaps if) she will be released.
Human Rights Watch calls on Malaysia to stop the arrests of transgender women.
A short documentary film about the friendship between a Buddhist and Muslim woman in central Myanmar/Burma was cancelled at the last minute at a film festival in the country in conflict.
Al Jazeera features a program on its website that offers a rare glimpse behind the scenes of three weddings in western Algeria.
The Iranian interior minister was summoned to parliament to answer important questions about the lax implementation of the religious dress code when it comes to women wearing leggings.
Libyan activist Salwa Bughaighis has been killed in her home; she was a critic of the armed militia that now rule parts of Libya.
Recently, Morocco's prime minister has commented that it would be better for women to stay at home, which has sparked protests and outrage among many Moroccans.
A play in India offers a different perspective on Mumtaz Mahal, the woman for whom the Taj Mahal was built.
In the USA, the husband of Shaima Alawadi, a woman of Iraqi descent who was brutally killed in 2012, has been sentenced to 26-years-to-life for murdering his wife. Initially, he had tried to make the murder look like a hate crime.