Women in Iraq's Anbar province have come together to form "Women of Justice," a group aimed to fight ISIL. Meanwhile an article on Global Voices Online suggests that many remain "obsessed" with the Kurdish female fighters.
Yet another article tries to explain why women would join ISIL, and the Canadian government called for proposals for a study on the same topic. A Dutch mother travelled to Syria to help her daughter escape from ISIL, after she left the Netherlands to join the group earlier this year. Austria is trying to make sure no more "jihadi brides" will leave to country join ISIL and Kyrgyzstan is trying a similar thing by training 50 women to teach other women how to differentiate between traditional Islam and "extremist" Islam.
A woman in the USA has been accused of actively recruiting people to join ISIL in Syria.
Afghan lawmaker Shukria Barakzai was targeted in a suicide attack, that killed three last weekend; she was unharmed.
Egypt's first trial of a case of Female Genital Mutilation (FGM) in which the girl did not survive, has found the father and the doctor not guilty.
A Pakistani court has sentenced four to death for murdering their pregnant relative earlier this year in May for marrying without the family's consent.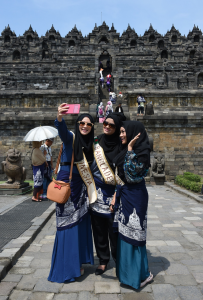 Human Rights Watch says the Indonesian police force still subjects female applicants to "virginity tests as part of their physical exam, despite the fact that this was banned four years ago.
The ongoing conflict in Syria has been disastrous for many, but some women have benefited from the upset of traditional family roles.
Afghan student Qudsia, who died last Sunday in a suicide attack, has become the face of a campaign for scholarships for female students.
The news that over 200 women and girls were raped in Darfur a few weeks ago has failed to make headlines around the world.
Al Jazeera features an item on the film Casablanca Calling, which tells the stories of three female religious preachers in Morocco.
Photographer Alixandra Fazzina spent five years in Pakistan, documenting the lives of local women through her photographs.
Despite inheritance laws that do not differentiate between the genders, in reality most properties are traditionally inherited through the male line in families in Kosovo, and other Balkan countries.
Yemeni women share their experiences with verbal harassment and how they deal with it.
A 3-year-old Afghani girl was raped by a neighbor, who attempted to kill her after; the crime has shocked Afghani's from all walks of life.
Moscow Times reports that Chechen authorities are investigating an alleged honor crime in the Chechen capital of Grozny, which involved the death of a 27-year-old woman.
Earlier this month the Al Shabaab group briefly re-took the Somali island of Kudha, kidnapping 20 and beheading two young women.
Many Kashmiri women suffer from depression and stress-related mental health problems, which directly impacts their fertility.
Kyrgyz authorities claim that they have arrested 11 individuals for alleged bride kidnapping.
According to a report by the Iranian prosecutor, British Iranian Ghoncheh Ghavami has not been charged for attending a volleyball match in June this year, when she was arrested, but over her links to the opposition.
Malaysian female MMA fighter Ann Osman has been named as one of TIME's Next Generation Leaders.
A Swiss court has overturned a headscarf ban by a school, which prohibited a 13-year-old girl to wear hijab in class.