Last week over 200 women and girls, many of them minors, were reportedly raped in North Darfur by Sudanese military men. Later this week, two young women have been gang-raped in Central Darfur, Sudan. Meanwhile, Sudan has denied access to the UN in Darfur to investigate the report of the mass rape.
According to a report, ISIL is using women to lure European Muslims (male and female) to join ISIL in their "Islamist utopia." As well, women within ISIL share cooking tips on how to prepare nutritious snacks for their fighting husbands. A Malaysian article suggests that the few Malaysian women who joined ISIL did so because of marriage proposals and/or failing studies.
Pakistan's music industry is male dominated and not very welcoming to women, but some female musicians have been able to find their place and be successful.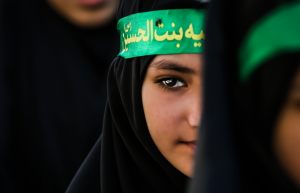 Violence against women is said to be on the rise in the relatively peaceful province of Bamyan in Afghanistan, while the number of incidents in the volatile province of Helmand is declining.
The recent acid attacks in Iran coincided by the passing of a controversial bill, which would allow private citizens to enforce morality laws.
Palestinian widows in Gaza lose much of their legal rights as a widow, usually because of a general lack of knowledge or their deceased husband's family.
French Muslim women say that they are often left out when it comes to the French feminist movement, as many French feminists are of the opinion that religion, and in particular Islam, and feminism are an impossible combination.
The British Iranian woman who has been jailed in Iran for attending a volleyball match, has gone on a "dry" hunger strike, not only refusing to eat, but to drink as well.
Women in Somalia, who have reported sexual harassment, abuse and/or rape often face threats, intimidation and stigma, which could seriously hinder an investigation by the African Union on the sex abuse allegations against its troops in Somalia.
All female Muslim employees in supermarkets, restaurants and similar businesses in Malaysia's Kelantan state have to cover their hair and wear loose clothing, according to a new state campaign, which will fine women not adhering to these rules.
The BBC features an item on forced gender reassignment surgeries in Iran.
A group of global leaders is calling on Bangladesh not to lower the minimum age for marriage.
Afghan president Ashraf Ghani has promised justice in a gang rape case that took place eight years ago, after the victim shared her story in a radio program; the rapists have never been confronted, as they are considered to be powerful people.
One elderly Saudi lady shares her life story, and how she ended up living in a small apartment with several of her children and grandchildren living on charity.
In Mangaluru, India, two pharmacy students were asked to remove their hijabs to college, but after their parents argued that a rule against hijab was not mentioned in the prospectus, the girls were allowed to wear the hijab at least for this year.