In Iraq, ISIL is said to have killed over 150 women and girls for refusing to get married to ISIL fighters. Seven people have been arrested in Spain and Morocco in several raids targeting an alleged network recruiting women to join ISIL, including a woman from Chile. According to a UN expert one of the Austrian teenage girls who left to join ISIL has been killed and the other has disappeared. Last Wednesday, UK police stopped a plane on the runway to prevent a 15-year-old girl to leave the country to join ISIL in Syria. Two young Australian women have been reported to have traveled to Syria to join ISIL.
One ISIL militant is turning to social media to find a Chechen bride for a 15-year-old Syrian fighter, and calls on all fathers/brothers to consider their daughters/sisters.
On Thursday, about 35 were killed in a raid by Boko Haram on a village in the northeastern state of Borno, Nigeria, and kidnapped at least 100 women and girls.
A new bill defining and addressing sexual offences is expected to be presented to the cabinet in Somalia before the end of 2014, which would update a law dating from 1930.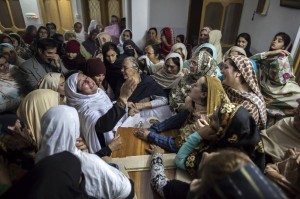 Two Syrian mothers of different backgrounds share their experiences after their sons disappeared, and the difficulties they are facing locating their sons.
Falling in love with the wrong person, especially as a woman, can have enormous consequences in Pakistan.
With most of the Egyptian Muslim Brotherhood leaders are either in exile or jailed, women have been taking on more roles and responsibilities within the organization, which survival now largely depends on the "Sisters."
Sudanese government forces have been accused of gang-raping women and girls in the Blue Nile state.
Women make up the minority of Afghan aid workers in Afghanistan, and even though numbers are slowly improving, it  remains an uphill battle.
British Muslim Runa Khan has been sentenced to over five years in jail for promoting terrorism on social media; in an interview she tries to explain her actions.
The Guardian features an item on US activist of Gambian descent Jaha Dukureh and her quest to stop FGM (female genital mutilation in her family and society.
Since Houthi rebels have taken control of the Yemeni capital Sana'a, there has said to be an increase of cases of harassment of women.
A conservative religious group in Malaysia says that the best recipe for a successful nation is that the men focus on work outside the home, while women focus on childrearing and other domestic duties. Obviously, not everyone agrees.
A senior judge in Britain has spoken out against wearing the face veil when testifying in court.
Recently prominent Saudi scholar Ahmad Al Ghamdi shared his opinion that the full face veil isn't compulsory in Islam, which resulted in a debate in the country, which only heatened after the scholar appeared in an interview on the topic accompanied by his wife, who wasn't wearing a face veil.
In Britain a new faceless, hijab-wearing doll has been launched to cater to the Muslim community. The Deeni Doll is created by former teacher Ridhwana B.