More Iraqi women, both from Sunni and Shi'ite communities, are donning a more conservative religious dress.
Al Jazeera features a documentary on the rise of religious schools, or madrasas, for girls and women in Afghanistan.
Human Rights Watch calls for the investigation of the death of Nilufar Rahimjonova, who died earlier this year in an Uzbek prison, where she was serving a 10 year sentence. She was said to be in good health.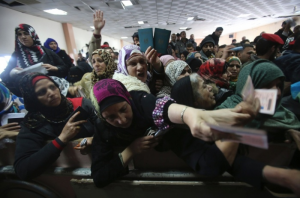 A reporter reunites with Marwadah Priyanka, a tsunami survivor in Banda Aceh, Indonesia, who lost both her parents in the 2004 tsunami.
Many women in Gaza still suffer from the war last summer, but stress-relieving exercises, like yoga, are helping them to heal.
Indonesia will ban virginity tests at state-run schools for would-be civil servants, media reports stated earlier this week.
A Turkish TV show has been fined for showing husbands dancing with women, while their wives looked on.
The BBC profiles a couple of Kashmiri widows and their stories.
The Economic, Social and Environmental Council (ESEC) has described the employment situation of women in Morocco as alarming.
Qantara.de features an interview with Egyptian theatre director Laila Soliman.
Turkish president Erdogan has said that birth control is a form of treason, as it threatens the country's "blood line."
A Man's Desire for a Fifth Wife is the title of an Afghan film, featuring a love story where three men compete over one woman, which screened in Kabul recently.
One reporter, a visible Muslim woman, shares her experience with harassment in Paris, France.
An article in the Daily Mail features the sensationalized conversion story of one British mother.
Carol Earle, a 39-year-old Australian hijab-wearing woman, seriously contemplates a professional career in Thai boxing.