Women's athletic wear has become a billion dollar business. Designers and sportswear companies such as Adidas and Under Armour have designers catering to the needs and fashion preferences of women, from working out in style to walking about in comfortable prêt-à-porter items.
But recently a new category of sportswear has unveiled itself and is racing up into the mainstream sportswear industry: sports hijabs. Active muslimahs have definitely made an impact and businesses are listening.
When I started wearing hijab many years ago, I was in the midst of the summer football season. I had a full kit and equipment. My hijab was the most integral piece of my outfit- and still missing.
I was decided on covering but my skill in wrapping left much to be desired. I opted for a plain white cotton two-piece hijab. It didn't require pinning and was unlikely to fall off. The underpiece kept any loose hair (known as 'stragglers') back.
It wasn't an optimal choice as it had some lace trim. But, I never really cared what I looked like on the pitch. The material was lightweight and I tucked it into my shirt. My focus needed to be squarely on my game. Eventually, I found other two-piece hijabs- without the lace.
Unfortunately, most of the time I was not allowed to play because of it. So that was that, right? Nope.
I ran, worked out, did massive amounts of cardio and was also part of the University of Toronto rowing team. I needed a sports hijab. And this was in the late 90s.
I finally went to a sports store and bought a shirt. They were introducing a new type of fabric that had wicking properties. I cut up the shirt and created a band underpiece. It wasn't easy to buy a $60 shirt and chop it up but I had to. I used it when I rowed in regattas or was sweating heavily during a workout. I used to find great one-off items at different stores or in random bazaars and I would snatch them up. But I really wished I could have something with breathable material that didn't fall out of place. A choice of different styles to choose from, suiting different activities, would have been amazing.
I was certainly not alone. Freelance Journalist, Rowaida Abdelaziz, told me in an interview via email that being the only hijab-wearing woman on her basketball and track and field teams in New Jersey meant that she picked her hijab carefully: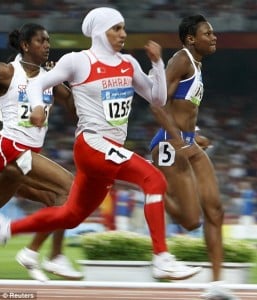 "I had a number of hijabs dedicated for my sports. These hijabs were usually from the Middle East. They were either given to me as gifts from family members or I had chosen them myself from my own travels. I was careful on picking which ones to play with. I carefully choose fabrics that were lightweight and small, so it was easy to put on and I wouldn't feel like I was suffocating. It also had to be durable so withhold numerous washes and such, like picking anything else really. I had an idea what I was looking for because I played basketball for my local sports club in Egypt when I lived there for some time. Naturally it was much easier then as it was almost part of the uniform and because it was Egypt, they weren't very expensive."
Hijab-wearing muslimahs who are athletic and live healthy lifestyles in public spheres require certain clothing items to work out comfortably. No long strands of georgette or chiffon twisting out of place. No pins falling out and unraveling your hijab. Clothing for active hijab-wearers have been designed by many Muslim women, available through outlets such as ResportON based in Montreal, and Capsters in the Netherlands (they let me try one!). There is alsoJYSM Fitness and Friniggi sportswear that also focus exclusively on sports hijabs. In the case of ResportOn, designer Elham Javad sought to design something that would be suitable and meet the requirements of IFAB (regulating body of FIFA) so that hijab-clad women could participate in football at all levels of competition.
To say that this was life changing is an understatement. The creation and manufacturing of these hijabs means that millions of women will no longer be excluded from competing in a sport they love.
In some cases brand new waterproof designs, like those of Veil, could be used for rowing, canoeing and other watersports. In response to a growing need from Muslim women, British retailer House of Fraser, has announced they are partnering with Shorso to offer sport hijabs and modest swimwear to customers.
At present, no major sportswear company such as Nike or Adidas has committed to producing sports hijabs. However, given all the interest from athletic Muslimahs, it may garner their attention in the future. Would I be interested in a brand-name Nike hijab or am Adidas turban? Probably not. Doesn't mean that millions of others wouldn't be.
Hijab companies have been experimenting with nylon and spandex and other materials to create the perfect hijab. But is that perfect hijab allowed to even be considered while playing? So many sports federations have not even amended their rules to allow hijab in international competition.
Rowaida makes an excellent case that while having so many options for sports hijabs is great overall, it might open the possibility of regulating bodies making irrational and uneducated decisions as to what is permissible.
"Seeing these 'new hijab friendly' uniforms all over the internet is definitely interesting to see, but in my opinion, it's not what is going to make or break an athlete, your skill will. It also gives more room for referees and regulators to nit-pick on details they have no say in."
Not all sports have draconian rules with regards to headcoverings:fencing, table tennis, athletics, weight lifting, rowing and many others all have hijab-wearing athletes in major world competitions. There have been magnificent veiled victories
Modest swimsuits have been on the market for at least a decade. Covered beachwear has been a staple for many water-loving Muslimahs. There are a variety of different designs to appeal to beach bums or serious Muslimah swimmers; from burqinis to vibrant bathing costumes.
I asked Sumayyah Bhayat of Mpumalanga, South Africa about her experiences as a competitive swimmer and hijab-wearing woman. She has been in situations where she has been pressured by teammates and coaches to "lose the hijab" in order to compete. She did not buckle. Sumayyah has always worn a full-length swimsuit while racing and a full bathing cap. When she is done swimming, she puts on a longer hijab.
"It was always a struggle trying to find appropriate swimwear. Although my suit isn't exactly the ideal hijab, it's the best i can do in the water. The suit I now have is the full length Tracer Light made by TYR, but it is sleeveless and has an opening on the back, so I wear a Second Skins swim shirt over."
In one instance, she was disqualified from a meet for wearing a full- swimsuit and was only allowed to continue after her coach and a lawyer intervened and advocated for her with officials.
While hijab in sport remains very much a contentious issue, as we see hijab styles and different sports-related products becoming more popular, it will certainly create a sense of normalcy among the public and sports communities.
Competition in this modest-fashion industry, specifically sport, is welcome, and it does not have to be specifically "Muslim." For example, there are nowitems that are basically undercover hijabs. Items used to offer the same coverage as a hijab but not linked with being Muslim at all.That is also a new type of sportswear.
Hopefully, coverings that can be used to protect from rain or sun and help women during fitness and physical activities, will be a source of inspiration and a vehicle to acceptance of hijab-wearing athletes. If their skill or passion alone will not facilitate inclusion, then maybe a smart sportshijab may smash open a door.