I have been going to pagan festivals since I was sixteen, teaching at them since I was nineteen, and in some form or another have been helping put them on since I was twenty. For many years I just went from festival to festival with a few containers of product and made a decent living in the summer hocking witchcraft supplies. I met a lot of cool people, made some lifelong friends, and like every other pagan with big dreams, held the dream to one day organize my own festival. As I entered my thirties, I began a journey to make the dream reality with my coven sister, Heather Killen, who had already been running a successful festival for some years, to make Pagan Fires. It hasn't been easy, but as things are getting closer and all the pieces are falling into place, the fear is turning into excitement and gratitude. (Check out the super cool intro video about the festival here!)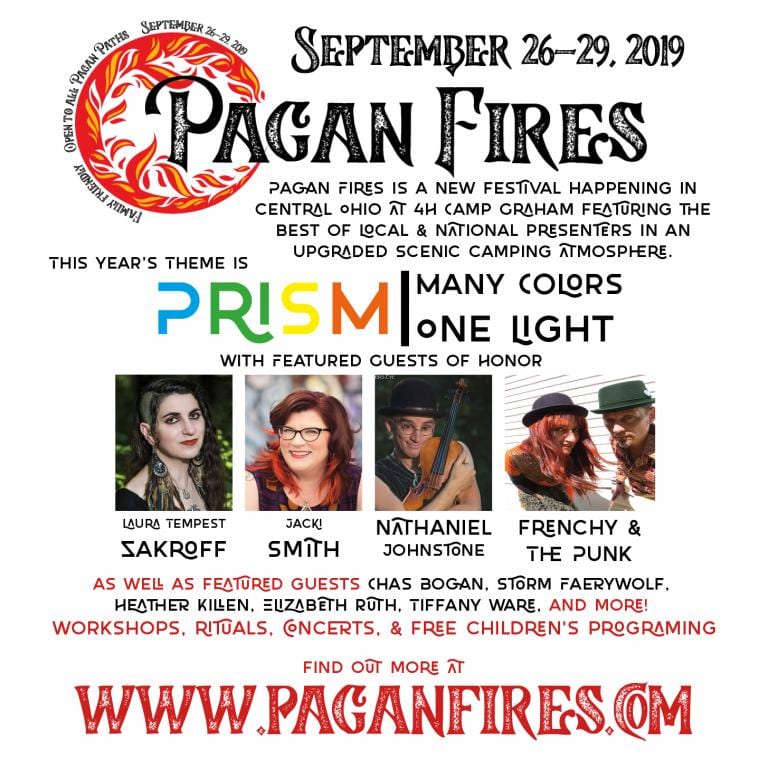 We have an amazing lineup; Keynote by Laura Tempest Zakroff, Main Ritual led by Jacki Smith, workshops with Storm Faerywolf, Astraea Taylor, Elliot Director, Elizabeth Ruth, Chris Holmes, and 3 Pagans and a Cat Podcast. Oh, lets also not forget performances by Nathaniel Johnstone and Frenchy and the Punk! The schedule is packed with incredible people, life changing magic, and I have no doubt we are going to have an awesome experience all the way around.
As the date draws near I have also had many of my festival organizer friends share their horror stories, insights, and numbers with me; which has been helpful but also a bit petrifying. There are things I have learned about the festival world that I didn't really know about, even being on staff at multiple events.

Planning? Yes! Banging your head against a wall at times? Yes! Herding cats? Absolutely! But also:
Did you know that most pagan festivals never break even from ticket sales? Unless they are sponsored by a preexisting community or counsel of people who have had years to slowly raise funds, the average festival functions with somewhere around a $1000-$10,000 end of event deficit. This is why there is usually so much fundraising going on. The alternative is to push the expense onto the attendee, which isn't always possible with a smaller festival.
Most festivals fail within the first three years due to lack of support and getting that support is really difficult in a community that tends to live at odds with money. The Pagan Poverty Mentality is a major issue all around but nowhere else is its impact seen like it is with pagan festival ticket sales. This isn't to say those of us living with sparse income are to blame for all these festivals ending the last decade or so, but it is to say that the way events are valued within our culture is directly affected by the financial dynamics found within contemporarypaganism. When the economy tanked events of equal or lesser value held in different communities thrived while many of our own did not.
Events that do survive have a healthy base of committed and reliable volunteers who are often asked to do things that in a normal work environment would entitle them to a hefty paycheck, making long term retention difficult. Sometimes events even have to hire staff to ensure they are meeting the needs of their insurance policy. It is very common to attend a festival who had to hire security and/or medical staff because they could not find trained volunteers or who have partnered with an organization to get the necessary support staff. In many instances, once an organizer retires or dies the event folds shortly after.
Festival organizers rarely make a paycheck. This one I knew, but I was surprised at how few of them actually make it the point where they can even cut themselves a check for $100 after over 400 hours of work. Despite this, the number one complaint at a Pagan festival is ticket price and it is expected that the organizer will not get paid.
With indoor conferences becoming more popular, outdoor events are in decline. People are weighing the option of spending $250 on a festival ticket or $350 for a hotel room and a $75 conference ticket, perceiving the hotel to be of more value due to expected amenities. It makes sense, would you rather rough it on vacation in the elements or would you rather relax with room service and a shower? This is a trend we are seeing everywhere, but not one I had expected to see in paganism. This is expected to be worse with recent gun violence concerns.
In the 90's and early 2000's the main way to meet other pagans was through events but the internet has made it easier to not only do so, but also to find others in your specific branch of interest. This means that we as a collective of subcultures are finding our communities through internet resources and are less likely to seek exposure to multiple paths or to mingle with them.
Admittedly, this has me a little nervous about going into my first experience as a festival head. The next time you are at a festival keep in mind that what you are witnessing is the product of a lot of goodwill and an uphill battle with constantly changing terrain. Paganism doesn't have one central governing core, but we do have core groups of people who keep things like festivals, meetups, and conferences alive. If you feel like you have met your tribe or that an event matters to you, consider supporting them through volunteerism or fundraising efforts. These once vital events may not be around forever!
Pre-registration for Pagan Fires 2019 closes this weekend but tickets will be available at the gate.