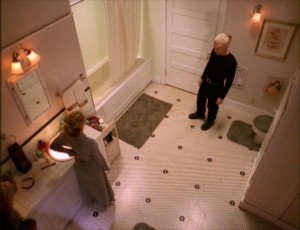 This is the first of a series of essays anonymously defending the character of Spike from Buffy the Vampire Slayer written by my friend Scholastica and edited by me. To this day, the fandom is divided about whether Spike was better as a villain or as an anti-hero, whether Buffy and Spike really loved each other or not, and especially about what is called "the bathroom incident" or "the attempted rape scene" in the Season 6 episode Seeing Red. There are mentions of abusive relationships, sexual violence, and other uncomfortable "trigger warning phrases" throughout this series of essays. However, Scholastica and I feel that these things need to be said because we both love Buffy, the titular character, and the character of Spike. So please read these essays with an open mind. Civil discussions are welcome, but keep in mind I moderate comments here.  You have been warned.

One of the most controversial plot lines of Season Six of Buffy the Vampire Slayer is the torrid and abusive affair that springs up between the newly-resurrected titular hero of the series and the soulless but chipped vampire Spike.  The half-season story arc involves violent and secretive sex between the two characters, angry verbal spats, and one brutal scene in an empty alley.  All of this ugliness culminates in the horrific bathroom scene of Seeing Red, in which Spike attempts to assault Buffy.  In the aftermath of this painful scene, Spike journeys to Africa, and audiences are led to believe he is trying to remove his chip so that he can return to being the Big Bad.  Instead, the vampire undergoes strenuous trials and ends the season by regaining his soul.
Internet commentary reveals that Seeing Red is one of the most divisive episodes of the show.  Former fans of the character often find themselves unable to forgive Spike's actions.  For the vampire's detractors, the attempted rape is proof that his love for Buffy was never real.  "Spuffy" shippers who continue to love Spike after Seeing Red are sometimes accused of justifying or dismissing rape.  Now, I have no intention of excusing Spike's actions in Seeing Red.  He attempts to rape Buffy and needs to undergo penance.  I believe he does. However, the episode does not change how I feel about him or his relationship with Buffy.  This essay, the first in a series that defends Spike as a character, explains why.
Before beginning, however, I would like to put forward a disclaimer:  I view Buffy the Vampire Slayer as a practicing Catholic.  I do not mention this fact because I am trying to convert anyone or dreg up controversial Church teachings, so I would politely ask that no one troll this essay or the next ones about subjects they do not address.  I realize that Joss Whedon is an atheist and that, like most shows on television in the twenty-first century, the bulk of the romantic relationships depicted on Buffy are illicit by Catholic standards.  I happen to believe that Christians should still engage with art that disagrees with their worldview, and the wonderful thing about the Slayerverse is that it brings up all sorts of fascinating moral and philosophical issues that viewers from diverse backgrounds will likely interpret differently.  I bring up my own religious background mainly because it would be impossible for me to address such topics as the nature of love and morality, free will, ensoulment, and redemption without drawing openly upon the Thomistic philosophical tradition that undergirds so much of my Catholic faith.
Ironically, these issues are much easier to explore in rockier relationships than in easy-going ones, making Spike and Buffy's romantic entanglement a perfect avenue.  The "Spuffy" relationship exemplifies in many ways the increasingly complex moral universe of the show itself. Throughout seasons Two through Four of Buffy, all soulless vampires were claimed to be incapable of moral good.  By Season Five, this assumption no longer seems set in stone.  Moreover, as the series progresses, it portrays more and more human villains.  By the end of Season Six, even the heroes are shown making serious moral mistakes.
Set against the backdrop of this increasing moral complexity, the attempted rape in Seeing Red seems like an awkward late-series attempt to restore the paradigms set up in the early seasons of Buffy.  For the past two seasons, the writers themselves have appeared unsure how to treat the "monster" who wants to be a man for his beloved.  The bathroom scene is apparently their answer to the question of whether or not Spike can be good without the oft-mentioned soul.  Unfortunately, it does not really accomplish this task because the scene itself feels forced and unnatural.  Like many viewers, I consider the attempted rape to be borderline character assassination of Spike.  Not only do I object to the way it is presented on the show, I also believe that it does not fit with what has been slowly established about Spike's background and personality through the past seasons.  Thus, for the rest of this essay, I will explore my manifold objections to the scene.
Objection #1: The Scene is Unnecessary to Advance the Narrative
This objection is actually the least bothersome for me because I do understand the sort of hero's journey the writers were trying to tell:  A beloved character hits rock bottom and commits the most heinous sin the show's feminist universe can imagine.  It should be unforgivable, but the possibility of forgiveness is raised nonetheless.  Confronted with his own interior ugliness, the character goes on a quest to redeem himself.  Most of the psychological force of this narrative is blunted because the writers were also trying to trick viewers into thinking Spike was on his way to Africa to remove the chip.  Nevertheless, it would make for a good story if it were not for the other objections on my list.  The point of this objection is not that the story they were trying to tell is lacking in cathartic satisfaction.  Rather, it is that it was not the only way to spur Spike towards redemption.  The beauty of fiction is that writers have an infinite number of ways to get characters from point A to point B, and while not all stories are equally compelling, there were plenty of other options for Spike that could have served just as well.
For instance, there were a number of Spike lovers who would have preferred a soulless redemption for the vampire.  I actually have a lot of sympathy for this position.  This may surprise some readers, given that Catholics are generally pretty big on souls, but I think it makes a lot of narrative sense.  Because I plan on delving into the issue of vampire souls in more depth in my next two essays, I would prefer not to spend too much time discussing it here.  Suffice to say that I believe the soul canon in Slayerverse is sufficiently murky that a soulless redemption could have been believable.  Moreover, a good portion of Spike's appeal is due to his ability to defy the apparent norms of vampire metaphysics, and a soulless redemption would have seemed like a natural extension of this aspect of his character.  I am not saying this is my preferred solution, but it would have been a plausible option.
The general impression I have gotten from fans who prefer soulless redemption is that a lot of their objections to Spike's ensoulment have to do with the heavy effect it has on his character.  Whatever else the acquisition of a vampire's soul may bring, it does seem pretty intertwined with feelings of intense guilt. While I do consider contrition a necessary component of redemption, I can also understand why advocates of soulless redemption dislike the guilt-fest.  In Season Seven, the newly-souled Spike is put through a tremendous among of physical and mental suffering, retreating in the first half of the season to a dank basement where his insanity is given full play.  He comes dangerously close to being transformed from a fun-loving punk rocker to a brooder like Angel, Buffy's first vampire lover.  I'll admit that I loved seeing Spike get his taste for a good fight (and his awesome coat) back in Get it Done.  With or without his soul, I prefer to see the sort of penitence that fits his personality, not Angel's.
For me, the real advantage of a soulless redemption arc, however, is less about avoiding all the Angel-style broodiness and more about how the other characters react to the change.  For so much of Season Six, Buffy and the Scoobies justify their mistreatment of Spike by citing his presumed soullessness.  One of the unfortunate side effects of him getting his soul back is that it allows Buffy to change her opinion of him without having to confront the past cruelty she inflicted upon him.  While she does admit in one scene of Never Leave Me that his changes began before his ensoulment, she does not really dwell on his pre-soul moral growth.  Instead, whenever she addresses his detractors in Season Seven, her defense of him always begins with "It's different now.  He has a soul."  The soul comes across less as a requirement for morality than something all the cool kids have to have in order to please their peers.
Despite these considerations, I do have a slight preference for souled redemption because the quest to regain his soul works very nicely with the chivalric tropes I believe underline Spike's character.  However, I still dislike using attempted rape as the catalyst for this soul quest, when there were a number of other ways to push Spike to embark upon it.  For instance, our boy could have continued to backslide into lesser crimes, much like the ones he committed in Season Five.  Such a narrative would make his decision to seek a soul the result of the realization that his good intentions were not enough without a moral compass.  Instead of reversing all the moral progress that has been made, his soul quest would be the natural culmination of the previous season's character arc.  Alternatively, he could have sought the soul after the brutal beating Buffy gives him in Dead Things, either as an effort to understand her pain or to prove her harsh assessment of him wrong.  He could also have sought it after her rejection of him in As You Were, in order to be considered worthy of a continued relationship with the Chosen One.  He could even have sought it after the painful post-Anya scene in Entropy, when he seems so depressed that he almost welcomes death at Xander's hands.  Any of these options would have seemed more in character with Spike in Season Six.  Regardless of what alternative one prefers, the point is that there were many ways of getting him to that cave in Africa without the bathroom scene.
Objection #2: It is only partially true that Buffy is responsible for stopping Spike
This is another relatively minor point, but one I cannot help making.  Technically, yes, the whole horrible scene ends because Buffy gives Spike a good kick that brings him up short.  Personally, I would have liked to see Spike stop himself (barring, of course, completely eliminating the scene altogether).  However, I suspect that the writers ended it the way they did in order to show a woman successfully fighting off a potential rapist, and I think that is a worthy enough message to send to female viewers that ultimately I accept the need for Buffy's kick on those grounds.  A woman should never assume that words alone will end an assault and victims should fight back.  However, I will point out that Buffy's kick might only have halted the attack temporarily.  She does not kill him or incapacitate him in any way.  Nor does she immediately try to escape.  If he had truly wanted to rape Buffy, the kick might only have given him a moment's hesitation before he tried again.  In fact, I suspect that many real-life rapists might actually become more enraged by the kick.  Spike is clearly horrified.  So while her actions do (rightfully) halt the attack, I think it should be taken into consideration that the vampire is not evil enough to try again.  This does NOT remove his responsibility for the original attempt and I am not trying to argue that he should be given credit for not continuing his attack.  What I am saying is that perhaps it should give us pause that plenty of souled human males would have gone back for a second round of struggling.  I think this reveals something about his understanding of the situation and his intentions, which I will explore in a later objection.
Objection #3: The scene feels out of character for Spike at this point.
I actually think that it is out of character for him at every point in his personal evolution, but especially so by Season Six.  I am not saying that their relationship is a particularly healthy one or that Spike's evil inclinations are fully in the rearview mirror.  What I am saying is that raping the woman he loves no longer seems like something he would try to do, if it ever had been part of him to begin with.  I found his attempted rape out of character for at least three reasons: 1) the scene does not fit with how sex has been connected to violence in their relationship up to this point 2) the scene provides no plausible motive for the attempted rape that fits either Spike's personality or his relationship to Buffy and 3) the scene ignores the character development that has happened through the past two seasons.