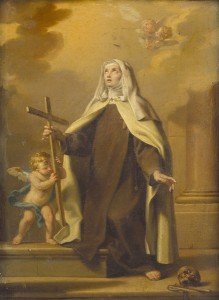 In recent months, I discovered a saint that I never met before: St. Margaret of Cortona. I first learned her name while I was browsing my parish's Lighthouse Catholic Media kiosk. There was a CD about her paired with Saint Augustine as a saint for sinners. Given how familiar I was with Augustine's story, I had to wonder how this other woman could've compared in terms of flagrant sinning and heartfelt penance.
It's a brand new year and in the story of my life, I begin a new chapter as I turn 27 years old. When people reach their birthday, they often reflect on the previous year. In many ways 2016 to me was a year of friendship. I came to value my friends in Heaven, in the city that I call home, in my old hometown, and online. St. Margaret of Cortona became one of these new friends. At the same time, my friendship with two other ladies fell apart. These friendships were with Rory Gilmore and Taylor Swift.
I know what you're thinking. Rory Gilmore is a fictional character and Taylor Swift is a celebrity. I'm not actually friends with either of them. That is true, but for the longest time, I felt like these two females were like best friends to me. Rory Gilmore was the friend I had in middle school, back when Gilmore Girls was on TV. I related to Rory because she liked to read, she went to a school where everyone wore uniforms like I did, and she wanted to go to college and be a journalist, which were my dreams at the time. Taylor Swift felt like my best friend when I started living in Texas. Her songs of the boys who broke her heart resonated with 16-year-old me and she stayed with me as I transitioned from high school to college and from college into young adulthood.
2016 changed all that. I started binge watching Gilmore Girls in anticipation of the new mini-series revival coming to Netflix in November. (Incidentally: Spoilers ensue for Year In The Life.)
Initially, I felt nostalgic, seeing Stars Hollow and watching Rory survive Chilton and make her way to Yale. When she got started at Yale, though, I started feeling disappointed in her. She was still in love with Dean to the point that she slept with him, even though he was married. She hooks up with Logan in Season 5 and decides to drop out of Yale when she steals a boat as a reaction to Logan's father telling her she's not cut out to be a journalist. I skipped Season 7 and jumped straight into Year In The Life in the hopes that things would get better, but the mini-series turned out to be a mixed bag. Rory's character regressed from bad to worse.
She was perfectly happy being Logan's mistress until she realizes that he was going to honor his "arranged marriage." And mind you, I actually liked Logan for a while. I also didn't like her "struggles" in making a living as a freelance writer. She didn't put much effort into chasing stories that would land her a byline. The only story she did pursue bored her to death and she slept with a guy dressed as a Wookie in the process. There was a website that wanted her to write for them, but she showed up to the interview completely unprepared and later lashed out at the website's owner when she gave the job to someone else. Then, of course, was the end of the mini-series. I don't want to spoil for those who didn't watch. All I can say is I rolled my eyes and went "Here we go again."
As far as Taylor Swift went, she started 2016 off well, but the pedestal I had for her shook when she broke up with Calvin and started having a feud with him. Bad news in regards to Taylor Swift kept coming. I hated that she dated Tom Hiddleston and felt happy when they broke up. I was hoping she'd start making a new album, as she did every two years, but instead, towards the end of 2016, she released a song she did from former One Direction band member Zayn for the Fifty Shades Darker soundtrack.
It felt like a stab in the back. I looked the other way when she became friends with Lena Dunham and tried to make peace with her removing her songs from Spotify. But for someone who claimed to be a feminist, contributing a song to a movie that continue to glamorize an abusive relationships was the last thing I wanted her to do. What's worse is that the lyrics are sad, and not in the sad, beautiful, tragic way some of her other songs were. "I Don't Want To Live Forever's" lyrics capture a state of despair and co-dependent tendencies. I wanted Taylor to be happy and thought that she was after releasing 1989 and being in a relationship with Calvin. The Taylor I knew doesn't exist anymore.
So back to Margaret of Cortona. What does she have with these two ladies? Well, like Taylor Swift, her life was sort of like the beginning of a fairy tale. She had a tumultuous relationship with her father and a stepmother who could give Lady Tremaine or Regina Mills a run for their money. Margaret, however, had an independent spirit, which gave her the strength to stand up to her wicked stepmother. Unfortunately, she was also "by nature one of those women who thirst for affection, in whom to be loved is the imperative need of their lives," according to Fr. Albert Goodier. She became willful and reckless and eventually left her family.
Starved for love and being a woman who was quite beautiful, Margaret eventually became the mistress of a wealthy nobleman and ends up having his child. It's not unlike how Rory Gilmore spent almost a decade being Logan's mistress and feeling complacent in that relationship until he honors his marriage to someone else. But unlike Rory Gilmore, whose story arc in Year in the Life can be summed up as being the Poor Little Rich Girl, Margaret actually tried to make something of her life even after she leaves her love her and her family disowns her.
St. Margaret of Cortona went to live with an order of Franciscan monks who helped her take care of her kid. She dedicated the rest of her life to atoning for her former sinful life. Like Saint Francis, she worked for her meals and took whatever her employers paid her. Eventually, she would give her wages to those who needed it more. She founded a hospital, created a confraternity so that the hospital would always have employees, and eventually helped to restore a church.
So why am I writing about St. Margaret of Cortona now? According to Fr. Goodier, St. Margaret had her change of heart around the age of 27. As of right now, I am the same age as Taylor Swift and five years younger than Rory Gilmore. If there's one New Year's Resolution that I want to keep this year, it's that I pick some better role models. I think St. Margaret of Cortona would be a good one for me, as well as for single moms and any other woman with relationship issues.
St. Margaret of Cortona, pray for us.